Thai authorities say Saudi woman who launched social media campaign seeking asylum will not be sent home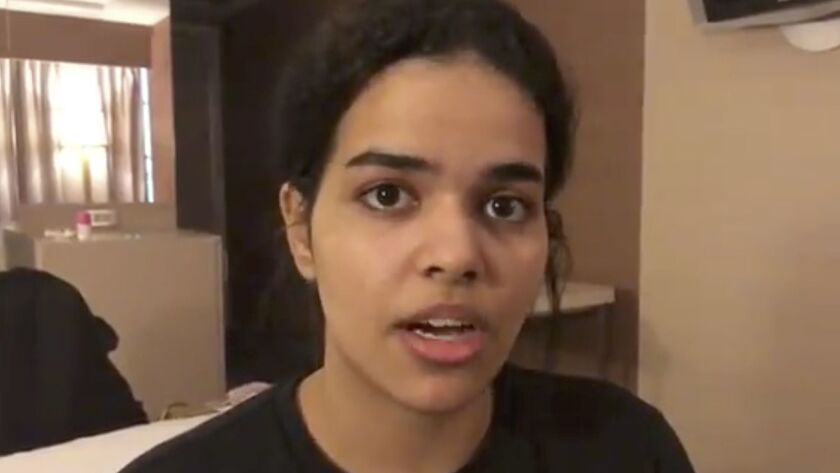 Reporting from Singapore —
The 18-year-old Saudi woman, saying she feared for her safety because of an abusive family in her homeland, barricaded herself in an airport hotel room in Bangkok, Thailand.
She wedged a mattress against the door and waged a social media campaign to garner the attention of United Nations officials in hopes of gaining asylum in Australia.
It was all Rahaf Mohammed Alqunun could think to do after Thai officials stopped her Saturday and took away her passport after she arrived in Bangkok on a flight from Kuwait.
"Please help," Alqunun tweeted. "I am in bangkok about to be forced on a flight back to Saudi where my life is in danger."
By late Monday, Thai authorities said they would not send Alqunun home against her wishes and granted members of the United Nations refugee agency access to her. The developments seemed to indicate that Alqunun might avoid a return to Saudi Arabia, where, she told human rights advocates, she endured constant beatings and death threats from her male family members.
Other Saudi women have also turned to social media to share concerns about the unequal and often brutal treatment found in Saudi Arabia, where women aren't allowed to travel without the permission of a male guardian. The nation has a record of domestic abuse, human rights watchers say, and Saudi women have repeatedly tried to flee the country with varying degrees of success.
"Women are effectively treated as property of their males," said Sarah Leah Whitson, executive director of Human Rights Watch's Middle East and North Africa division. "If there were a normal way to resolve family grievances in Saudi Arabia, if young women could live out their experiences and challenge things in a normal way, they wouldn't have to flee their country."
Alqunun tweeted Saturday from Bangkok's Suvarnabhumi Airport that she was in danger and trying to prevent the Saudi Embassy from forcing her to go back home.
Alqunun had fled to Thailand from Kuwait, which does not require a male guardian to provide permission for women to travel. She had been vacationing in Kuwait with her family, Whitson said.
When Thai officials learned Alqunun had no return flight or money, they detained her and put her in an airport hotel. They initially planned to return her to Kuwait on a Monday morning flight.
But Alqunun continued to tweet, garnering tens of thousands of sympathetic followers, and contacted human rights groups and the United Nations seeking help. She refused to leave the hotel room and missed the flight to Kuwait.
"I want asylum," she said in a short video posted to her Twitter account.
Representatives of the United Nations High Commissioner for Refugees were eventually granted permission to visit Alqunun. The agency said she was safe and that they would continue interviewing her after she had some rest.
Through a friend, Alqunun declined to be interviewed, citing the advice of the United Nations.
The friend, who declined to give her name for fear of her safety, said Alqunun was desperate for protection because of abuse at home in Saudi Arabia.
"She was abused by her parents," the friend said. "They don't respect her [and] treated her without dignity. They imprisoned her for six months in her room because she cut her hair; that's how they are."
Alqunun told Human Rights Watch that she was beaten by male relatives and faced death threats. If she returned to Saudi Arabia, she feared she could be killed.
Alqunun tweeted Monday night that her father had arrived in Bangkok. She also said local authorities had returned her passport.
"As of now, she does not wish to go back and we will not force her. She won't be sent anywhere tonight," Thailand's immigration police chief, Maj. Gen. Surachate Hakparn, said during a news conference at the airport, according to the Associated Press.
"She fled hardship. Thailand is a land of smiles," he said. "We will not send anyone to die. We will not do that. We will adhere to human rights under the rule of law."
Whitson said Alqunun's fate was reversed by how quickly she raised international attention.
"It made all the difference," Whitson said. "I have no doubt in my mind Thailand would have deported her had it not been publicized as it had. I think the chances are good she will probably be resettled."
Alqunun's friend remained skeptical.
"We're confident of the U.N.'s intention to help Rahaf, but we're not sure of the Thai authorities," she said.
david.pierson@latimes.com | Follow me @dhpierson
Times staff writer Nabih Bulos in Baghdad contributed to this report.
david.pierson@latimes.com | Follow me @dhpierson
Times staff writer Nabih Bulos in Baghdad contributed to this report.
---
Must-read stories from the L.A. Times
Get the day's top news with our Today's Headlines newsletter, sent every weekday morning.
You may occasionally receive promotional content from the Los Angeles Times.