Her political career under siege, Theresa May says 'Brexit' won't be any easier if she's gone
Reporting from London —
With her political career hanging by a thread, British Prime Minister Theresa May delivered a stark warning Sunday to the lawmakers trying to oust her over her proposed "Brexit" divorce deal: Negotiations won't be any easier if I'm gone.
Under growing pressure from her own party and faced with a looming Brexit deadline, May took the battle over Britain's split from the European Union directly to her opponents, challenging them to put the country first and rally behind her.
"A change of leadership at this point isn't going to make the negotiations any easier," she said in an interview on Sky News' Sunday politics show. "And it's not going to change parliamentary arithmetic. What it will do is bring in a degree of uncertainty — that's uncertainty for people, and their jobs."
Instead of hunkering down behind closed doors while rebels within her Conservative Party try to secure the 48 letters of no confidence needed to trigger a leadership challenge, May has come out fighting.
It's an unusual strategy for a prime minister who is often considered socially awkward and typically keeps her cards and emotions in check. But in the last 72 hours she has spoken candidly about her Christian faith, her Type 1 diabetes and the pressures that being prime minister has put on her and her husband, Philip.
"It's been a pretty heavy couple of days," she said in a recent interview, revealing that her husband had to turn off the television because of the attacks directed at her by fellow lawmakers. She also acknowledged that when she came home late Wednesday after a grueling five-hour Cabinet meeting, her husband immediately poured her a glass of Welsh whiskey.
May's strategy of winning over constituents by insisting she's not in this for personal glory, but out of a deep sense of responsibility to the country, has resonated, political analysts say.
"Theresa May is moved less by a sense of strategy than a sense of duty," said Matt Cole, a historian of modern Britain at the University of Birmingham. "She has a sense of public service. She is not a political calculator. It would explain her incredible resilience."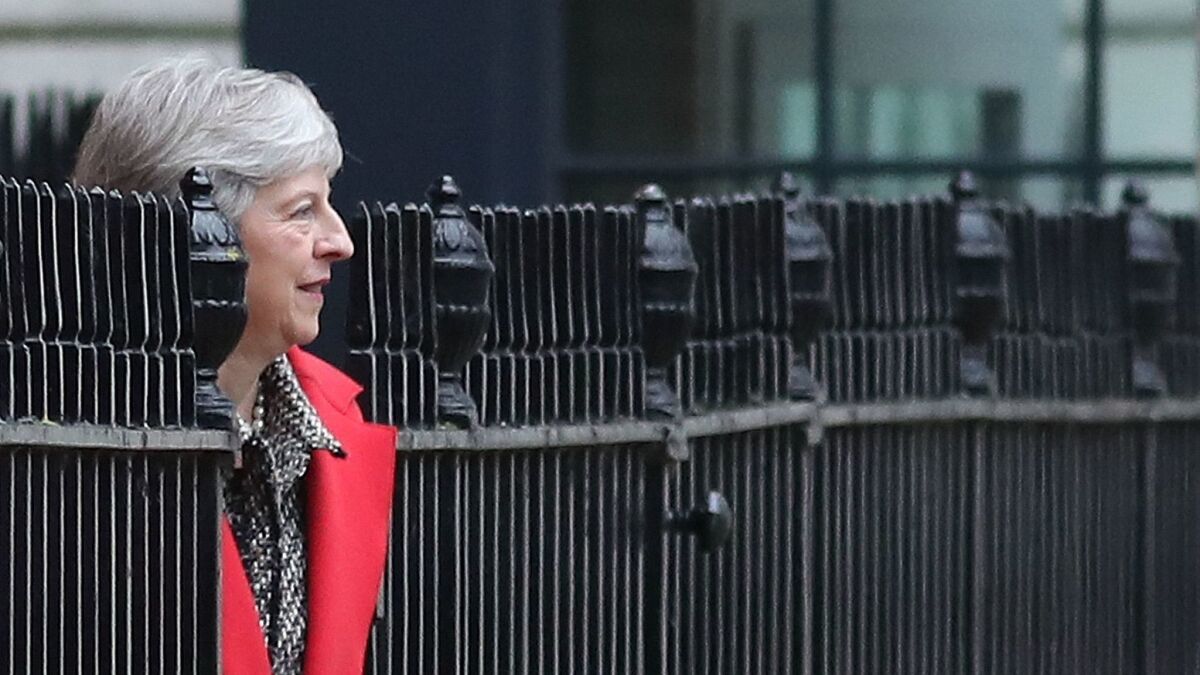 Not only has May had to deal with a torrent of personal attacks, but in the last week two Cabinet colleagues resigned over her proposed Brexit agreement, including Dominic Raab, who was in charge of negotiations with the European Union. Five other ministers and aides also quit and the hard-core Euroskeptic wing of her party is trying to mount a leadership challenge.
"She knows that she's hanging on to power with a very thin grip," said Matthew Flinders, director of the Sir Bernard Crick Center for the Public Understanding of Politics at the University of Sheffield.
"What has she got to lose by coming out and saying: 'This is what I'm doing and why. I'm giving 100% and I'm not saying it's easy, but I'm doing my best.' The British public really responds to people who do that. The tenacity and honesty will always play well.
"And — it's very British to say: 'I will not quit,'" Sheffield said.
Still, as the pound plummeted last week when news of the Cabinet resignations broke, the country was given a taste of the uncertainty that could be in store if Britain crashes out of the EU in March without any deal in place.
May's previous mantra was that "no deal is better than a bad deal" but she intimately understands the details laid out in the 585-page draft Brexit withdrawal agreement and believes they will keep the economy stable, save jobs, enable the country to prosper and deliver on what 52% of Britons voted for in the 2016 referendum — to pull out of the EU. The proposed deal includes a $50-billion payment to the EU by Britain to secure a divorce. It also aims to ensure frictionless trade between Ireland, a country that will remain a EU member, and Northern Ireland, a British province that will leave the EU.
The issue around the Northern Ireland border has been the most fraught element of negotiations and many lawmakers remain deeply unhappy that the draft agreement would see Britain stay within the EU customs union until a new trade agreement with the bloc can be hammered out. May argues that it's a temporary solution and that ultimately the country will have complete control over its laws, borders and money.
The prime minister's attacks on those who are trying to thwart the deal with the EU have been pointed, accusing them of being driven by self-interest, not the welfare of Britain.
"There are those in the House of Commons who just want to stop Brexit. I believe it is essential for people's trust in politics, and trust in Parliament, that we deliver on Brexit for people," she said.
May is banking that her tough-talk will encourage EU leaders to ignore the political infighting in Britain and endorse the proposed deal at their upcoming meeting Nov. 25.
She's also hopeful that vote will persuade enough members of Parliament to back the deal that she can secure a majority in Parliament.
But if the tide continues turning against May and she does face a leadership challenge, there is the very real issue that there is no clear choice within the Conservative Party to replace her.
"Nobody wants to take on the role she's got — it's like a poison chalice," Flinders said. "I think she'll survive and get a chance to take the deal to Parliament. And then — all bets are off."
Boyle is a special correspondent.
---
Must-read stories from the L.A. Times
Get the day's top news with our Today's Headlines newsletter, sent every weekday morning.
You may occasionally receive promotional content from the Los Angeles Times.