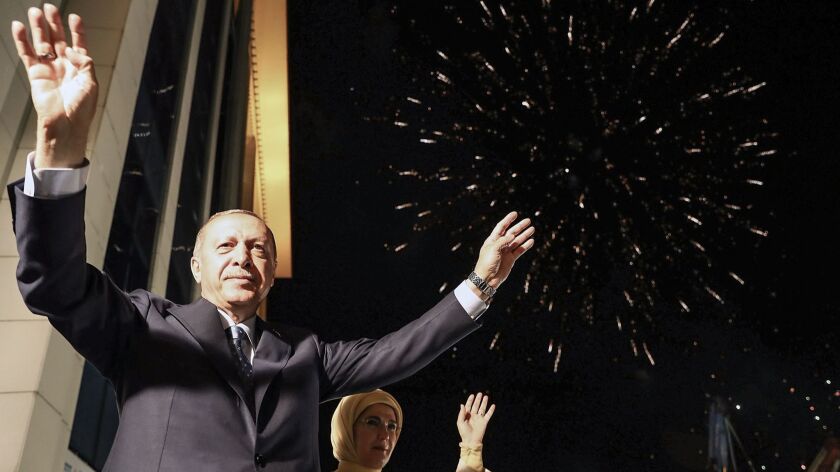 Reporting from Istanbul, Turkey —
Turkish President Recep Tayyip Erdogan on Monday marked his election victory by pledging the country would move past economic and security problems with his ongoing leadership and sweeping new powers.
The country's Supreme Electoral Council declared Erdogan the winner in Sunday's election, giving him another five-year term under a new system that eliminates the position of prime minister and gives the president executive powers such as preparing the budget, determining security and appointing ministers.
"We have received the message that our nation has given at the ballot boxes," he said before thousands of supporters in Ankara, the capital, on Monday.
Erdogan, of the Justice and Development Party, or AKP, won more than 52% of the presidential vote, defeating Muharrem Ince of the Republican People's Party, who won more than 30%, according to preliminary results.
Erdogan, whose critics accuse of authoritarian behavior, has been the country's leader for 15 years, first as prime minister and then as president.
His term as a president with greatly expanded powers will expire in 2023, the 100th anniversary of the founding of the modern Turkish republic. He pledged that economic gains would make the country one of the top 10 economies in the world.
Erdogan's supporters celebrated as results showed the Justice and Development Party won 43% of the 600 seats in the parliament, and its allied Nationalist Movement Party, or MHP, won 11%, giving their group a majority.
"It was no surprise people voted for the AK Party again," said Harun Armagan, the party's deputy chairman for human rights. "What we have done in the last 15 years, there is no example of that in Turkish history. Economic prosperity, a healthcare system, railroads, airports and standards of human rights and democracy."
Polling predicted Erdogan would receive less than 50% of the presidential vote, sparking optimism among opposition groups, which formed an alliance to defeat him. They had hoped a new center-right party, made up of defectors from the MHP, would draw votes away from him.
Ince said the opposition would continue its push against the Erdogan government.
"As someone who got the approval of 1 in every 3 people in Turkey, I will keep up the struggle," he told supporters Monday.
His party won 23% of the seats in parliament. The pro-Kurdish People's Democratic Party, which supporters had feared would not cross a 10% threshold needed to enter parliament, won 11% of the vote, despite electoral violence in several areas in the majority Kurdish southeast.
Under the new presidential system, Erdogan will have the power to appoint a Cabinet as well as vice presidents and issue decrees that can be overturned only by a majority vote by parliament. He will also control the appointment of most of the country's judges and prosecutors.
The first order of business for Erdogan will probably be dealing with a faltering economy, said Aydan Erdemir, a senior fellow at the Washington-based Foundation for Defense of Democracies. Erdogan would probably seek direct control over the country's central bank. The Turkish lira has lost 20% of its value so far this year, and inflation stands at 12%.
In his speech Monday, Erdogan also said the country would continue its fight against terrorist groups, an issue that has exacerbated relations with Turkey's allies in the North Atlantic Treaty Organization.
In 2016, Erdogan's supporters thwarted a coup attempt that left 250 people dead, and Ankara has blamed followers of the U.S.-based cleric Fethullah Gulen for the incident, asking Washington to extradite him. The country has been under a state of emergency since then, with more than 50,000 people imprisoned for alleged ties to terrorist groups. Turkey's war on the Kurdistan Workers Party, or PKK, meanwhile, has put it at odds with Washington, which supports Kurdish militias in neighboring Syria that have links to the group.
"Turkey made its choice in favor of a more determined fight against the PKK and [Gulenists]," Erdogan said Monday. "We will go after terror organizations with stronger determination."
International election observers said Monday that the state of emergency, which has put hundreds of journalists in prison, meant the campaigning for the election was not done in a fair manner. They lauded the high voter turnout — 87% — and said the election had generally followed Turkish law, but pointed out that in about a quarter of polling stations visited by them, officials interfered with observers who tried to monitor the process.
Farooq is a special correspondent.
---
UPDATES:
5:25 p.m.: This article was updated throughout with Times reporting.
This article was originally published at 12:05 p.m.
---