Turkish president calls surprise early elections for June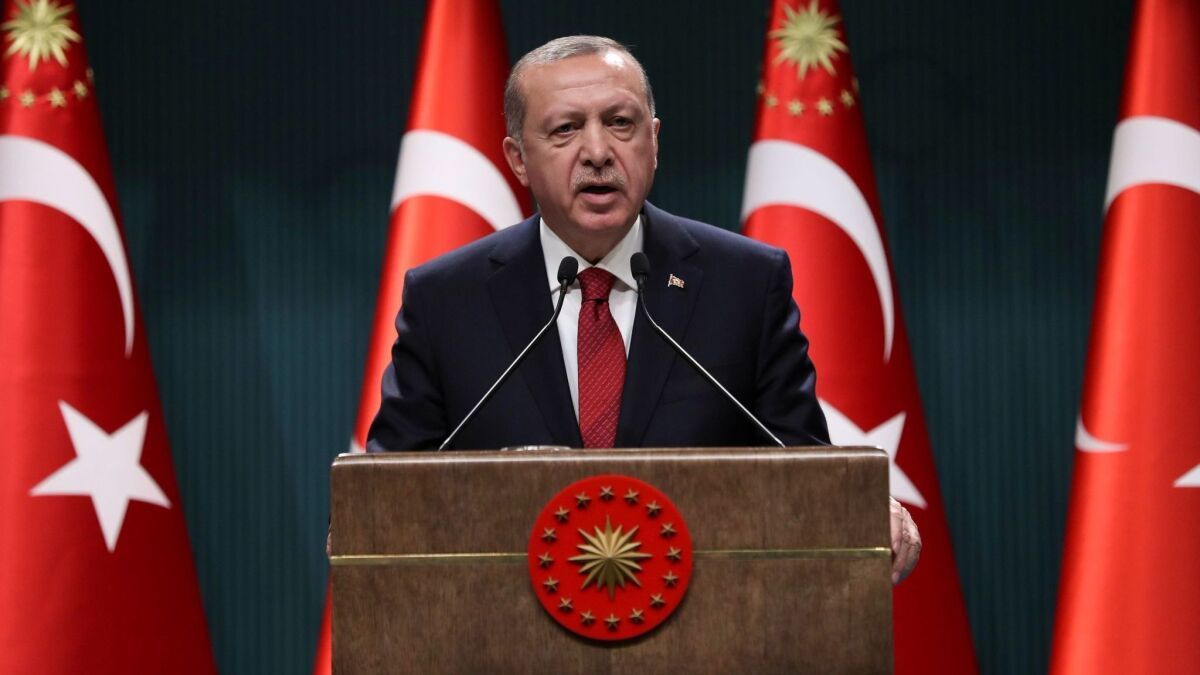 Reporting from Ankara, Turkey —
Turkish President Recep Tayyip Erdogan on Wednesday called early elections for June, meaning that a new political system that would allow him to consolidate powers would take effect a year earlier than scheduled.
After a meeting with Devlet Bahceli, the leader of Turkey's main nationalist party, Erdogan announced that the presidential and parliamentary elections originally scheduled for November 2019 will now be held June 24 of this year.
He said the new system needs to be implemented quickly in order to deal with numerous challenges ahead, including Turkey's fight against Kurdish insurgents in Syria and Iraq.
Turkey is switching from a parliamentary system to a presidential system that abolishes the office of the prime minister and decreases the powers of the parliament, following a narrowly approved referendum last year. The changes, which critics say will further reduce checks and balances, will take effect with the next elections.
"Be it the cross-border operations in Syria, or incidents of historic importance centered in Syria and Iraq, they have made it imperative for Turkey to overcome uncertainties quickly," Erdogan said in apparent reference to the aspirations for independence by Kurds in both countries.
Erdogan said: "Switching to a new system of government has increasingly gained urgency so that decisions regarding our country's future can be made and implemented with greater strength."
The snap elections were called a day after Bahceli, the leader of the Nationalist Movement Party and an Erdogan ally, made a surprise call for an early election in the summer.
Bahceli argued there's "no point in prolonging this any longer," citing efforts by unnamed groups to foment chaos in Turkey.
Erdogan, who has moved to further tighten his grip on power since a failed coup attempt in 2016, needs a 51% majority to be reelected in the first round of the presidential election. This year, his ruling conservative, Islamic-rooted Justice and Development party formed an election alliance with Bahceli's MHP.
Nationalist sentiment is running high over Turkey's recent military operation in Syria, which ousted Syrian Kurdish forces from a northern enclave. Ankara has labeled the Syrian Kurdish fighters as terrorists because of their affiliation with outlawed Kurdish rebels fighting in Turkey.
Although caught off-guard, opposition parties said they were ready for the early election.
Last month, Erdogan's ruling Justice and Development Party, with the help of MHP votes, passed a set of changes to the country's electoral laws that critics said are aimed at helping Erdogan consolidate power and could lead to election fraud.
In a related development, Turkey's parliament voted on Wednesday to prolong a state of emergency that was declared after the failed coup.
The state of emergency was extended for a seventh time, despite calls for its end. It allows the government to rule by decree, often bypassing parliament. Such decrees have allowed the government to close down media outlets and nongovernmental organizations.
The European Union, which Turkey seeks to join, says the country is backsliding on bringing its laws in line with EU standards and has called for the country to lift its state of emergency. Last month, a U.N. report concluded that Turkey's state of emergency had led to human rights violations, including arbitrary detentions and dismissals, torture and ill-treatment.
---
Must-read stories from the L.A. Times
Get the day's top news with our Today's Headlines newsletter, sent every weekday morning.
You may occasionally receive promotional content from the Los Angeles Times.