Turkey to delay operation against Kurdish forces until U.S. gets out of Syria, Erdogan says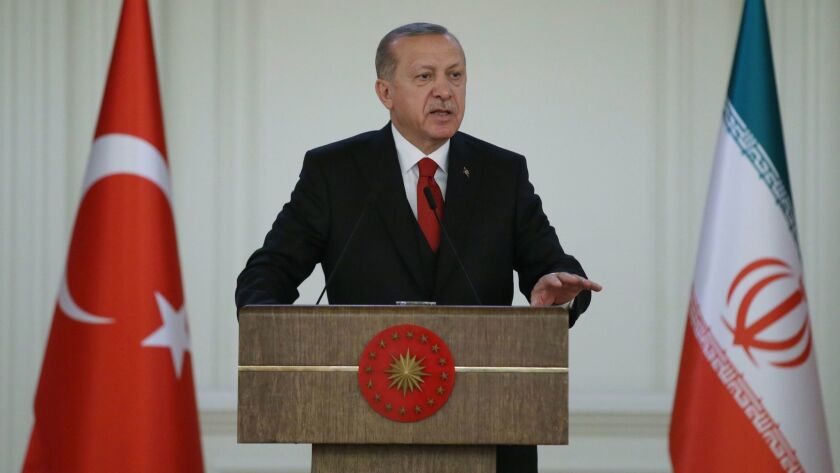 Reporting from Istanbul, Turkey —
Turkish President Recep Tayyip Erdogan announced Friday that he would postpone military operations in northeastern Syria against U.S.-backed Syrian Kurdish fighters, but that Turkey would take over the U.S. mission to clear what remains of Islamic State from the region. The planned incursion could have seen thousands of U.S. soldiers and their Kurdish allies fighting a NATO ally.
"We have postponed our military operation against the east of Euphrates river until we see on the ground the results of America's decision to withdraw from Syria," Erdogan told a meeting of the Turkish Exporters Assembly in Istanbul.
"Of course this is not an open-ended waiting process," he added.
Erdogan's announcement came two days after President Trump sent shock waves through the region when he abruptly announced that he would pull U.S. troops out of Syria, in what critics say amounts to a betrayal of the Kurds, the U.S.' local vanguard against Islamic State.
Last week, Erdogan said Turkey would be launching an operation east of the Euphrates River in northeast Syria to clear out the Kurdish fighters, who are considered by Turkey to be an offshoot of the militant Kurdistan Workers Party.
More than 2,000 U.S. soldiers, along with thousands of special forces operatives, contractors and aid workers have been in the area for years, training and equipping the Syrian Democratic Forces, a Kurdish-dominated group of militias the U.S. backed to push back jihadis in eastern Syria.
Turkey, though, has been asking Washington to sever ties with the group since 2015.
In his speech Friday, Erdogan said he welcomed Trump's statements "with pleasure and an equal amount of caution" because of what he described as "negative experiences" dealing with the U.S.
"Since the beginning of the Syrian crisis, our diplomatic contacts with the United States have left us disappointed in terms of their results," Erdogan said.
"The Trump administration inherited the problems that we experienced particularly during the Obama presidency."
Erdogan said meetings and phone calls with Trump — the most recent on Dec. 14 — convinced him that the U.S. leader "shared the same views on a range of issues related to the Syrian question."
The most recent announcement by Washington — that US forces would leave the region in 60 to 100 days — was "the clearest and most encouraging statements to date from the U.S. administration," Erdogan said.
Trump, who said Islamic State had all but been defeated, could now expect Turkey to help clear out the remaining pockets of Syria still under Islamic State control, Erdogan said. He said Turkey would be working with the U.S. on coordinating such an operation.
Turkey, Erdogan said, had already demonstrated its ability to defeat Islamic State, referring to a 2016 operation that pushed Islamic State forces from Jarablus, and a recent offensive to drive Kurdish forces from Afrin, in Syria's northwest. Erdogan said Trump asked for Turkey's help in their most recent conversation.
"He said to us: 'Will you clear Islamic State from here?' [I replied] 'We cleared them [before] and we will clear them again, as long as you give us the necessary logistical support, and they [U.S. troops] withdraw.'
Still, Turkey's patience with Washington is limited and dependent on a U.S. withdrawal, he said. "We reserve the right to take action when that period expires."
The proposed delay constitutes a "clever maneuver to keep the status quo," said Selim Sazak, a U.S.-based analyst who studies Turkey.
"Erdogan gets the optics of a victory without sending home any coffins. The U.S. averts a flare-up. … Then, in 100 days, we see where we are," said Sazak, adding that the move also provided a "reality check" to the Kurds and proved that the U.S. "doesn't care about Kurdish statehood."
Special correspondent Farooq reported from Istanbul and staff writer Bulos reported from Amman, Jordan.
---
Must-read stories from the L.A. Times
Get all the day's most vital news with our Today's Headlines newsletter, sent every weekday morning.
You may occasionally receive promotional content from the Los Angeles Times.