Manhunt underway for suspect in Istanbul nightclub shooting; death toll at 39
Reporting from Istanbul, Turkey —
The new year began with ominous echoes of 2016 — dozens dead in Turkey in an apparent terrorist attack, a nationwide manhunt underway and anguished questions about what it will take to bring terrorism to heel.
"What the hell is the government doing? What is being done to stop these attacks?" asked Keenan Ipkiran, a university instructor whose student Mustafa Jalal Ahmet Abbas was among 39 people killed early Sunday in an attack on a nightclub in Istanbul.
No group claimed responsibility for the attack, in which a gunman opened fire with an AK-47 in the crowded club, much like the attack on the Pulse nightclub in Orlando, Fla., in June. The Turkish government pointed the finger at the militant group Islamic State, which has killed more than 100 people in Turkey over the last year and a half.
The attack on the Reina nightclub appeared different from the group's usual operations, however. Islamic State almost always sends its attackers with a suicide vest, said Gareth Jenkins, an Istanbul-based security analyst with the Central Asia-Caucasus Institute and the Silk Road Studies Program. If Islamic State did carry out the New Year's attack, it was an anomaly because the gunman was apparently planning to escape with his life.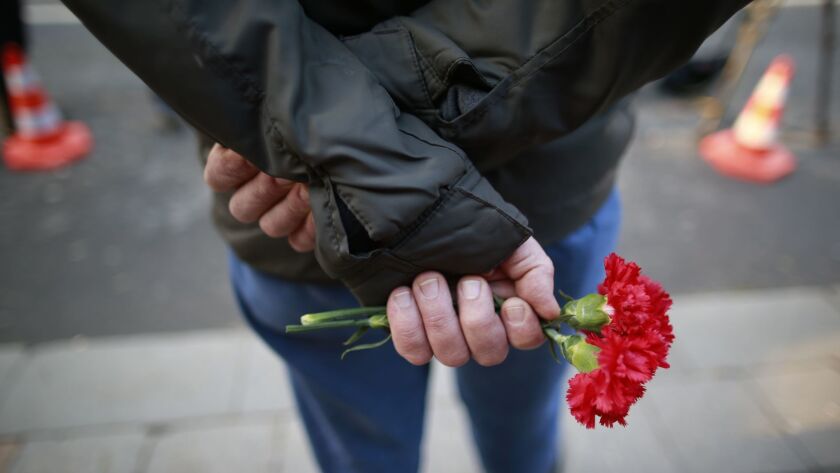 Turkey has also sustained repeated attacks from an outlawed Kurdish group, the Kurdistan Workers Party, or PKK. And the government was the target of an attempted coup on July 15 that it blamed on followers of an exiled cleric, Fethullah Gulen, although he has denied any involvement.
The nightclub attack occurred an hour and a half after midnight, as at least 700 people were celebrating New Year's at Reina, a fashionable garden venue overlooking the Bosporus. The club is across the street from a police station.
Security camera video showed a man in black clothing calmly walking down the street, first opening fire on a police officer assigned to guard the club's entrance, then gunning down two men at the entrance and walking inside.
These things happen all over the world, but this attack was different. This is usually a very secure place.
— Gareth Jenkins, an Istanbul-based security analyst
From an elevated dais in the entrance, the gunman proceeded to fire at the partygoers inside, reloading his rifle from magazines carried in a backpack, before discarding the gun and an outer layer of clothing and escaping from the scene.
"Before I could understand what was happening, my husband fell on top of me," said Sinem Uyanik. "I had to lift several bodies from on top of me before I could get out." Her husband was not seriously injured.
The attack lasted seven minutes. In addition to the dead, 70 people were wounded, many of them visitors drawn by Istanbul's reputation as a cosmopolitan center. A majority of the dead were from other countries, the state-run Anadolu news agency said.
Authorities are still working to identify all the dead, who included at least seven Saudis, four Iraqis, two Indians, two Tunisians, one Canadian, one Syrian, one Israeli, one Belgian and one Lebanese.
Lebanese tourist Haykal Musallem, 35, had come to Istanbul with his new wife. He left her at a table to use the restroom, and has not been seen since.
"I can't understand. I did not expect this to happen here," said Stephanie Deek, a friend of Musallem, waiting outside the city morgue, her last stop after spending the day at hospitals and police stations looking for her friend.
"I left his wife in a hotel," she said. "She does not know what happened. The last thing she knows is he jumped into the water to escape. I don't know how I will tell her."
The Reuters news agency later reported that Musallem's family in Lebanon had confirmed his death.
A number of WNBA players, including three members of the Los Angeles Sparks, were in Turkey to play in an off-season league and were reported to have been next door to the club during the shooting. WNBA President Lisa Borders issued a statement saying all the players were "safe and accounted for."
Abbas, the student who was killed, was an Iraqi studying at Kemerburgaz University in Istanbul. Ipkiran had taught him English as part of a program for students who wanted to continue their education abroad.
"He was one of the brightest students," Ipkiran said. "He didn't talk much in class, but he paid attention and was a good kid. How could this happen?"
In the last few weeks, authorities said they have arrested about a dozen suspected Islamic State operatives in Istanbul allegedly planning attacks for New Year's Eve. Across the country, some 17,000 police officers had been assigned to thwart just the kind of attack that occurred at the Reina club, including hundreds disguised as partygoers.
In spots popular with tourists such as Istanbul's central Taksim Square, undercover officers in Santa Claus suits carrying two-way radios were watching for just such an attack.
"These things happen all over the world, but this attack was different," said Jenkins, who has been to the Reina in the past. "This is usually a very secure place, with lots of bodyguards and bouncers checking people, and because it draws celebrities and even people from criminal networks, it's surprising that not only was he able to get inside, but also that he got out again."
The last Islamic State attack in Istanbul was a gun and suicide bomb assault on Ataturk Airport in June that killed 45 people. Authorities have said the attackers came into Turkey from Syria, but little headway has been made in that investigation.
Part of the problem, said Jenkins, is that Turkey has a substantial intelligence shortage. Since the July 15 coup attempt, more than 15,000 police officers, including many of the top officials in the intelligence and organized crime divisions, have been fired or suspended for suspected ties to Gulen.
"You can assign a new officer to monitor traffic, for instance, and he will pick up the trade quickly, but with intelligence it takes a long time to build up the expertise and especially the network of human sources you need," Jenkins said.
In the day leading up to the attack, police in Ankara, the capital, detained eight suspected Islamic State members believed to be planning New Year's Eve attacks. In August, the Interior Ministry said it had arrested 856 suspected Islamic State members up to that point in 2016, and more than 50,000 suspected Islamist fighters have been denied entry to the country since the start of the war in Syria in 2011.
Turkey's top cleric, Mehmet Gormez, issued a statement condemning the attack. "There is no difference whether this inhuman massacre is carried out at a bazaar, a place of entertainment or a place of worship," his statement said.
In Washington, National Security Council spokesman Ned Price also issued a condemnation, and affirmed U.S. support for Turkey, a NATO ally, "in our shared determination to confront and defeat terrorism."
Most Turks celebrate New Year's in some fashion, often bundled together with secularized Christmas observances. But nationalist groups and some religious clerics have been particularly vocal in the last few weeks, saying the practice does not befit the country's Islamic traditions.
At the entrance to the Reina club the day after the attack, police had erected blue tarp across the doors, and the pavement was still covered in soap after having been washed.
Dozens of police officers, some with automatic weapons, stood guard and checked pedestrians walking along the road, part of a citywide manhunt for the gunman.
"Their priority has to be getting this guy," Jenkins said. "He would have to have had help for such an operation. They needed to do surveillance on the place, to make sure what the security arrangement was, and I would be very surprised if a person did all this on their own."
Farooq is a special correspondent.
ALSO
Two countries, one economy: A Mexican town whose chief earners are in the U.S. worries what happens if they're sent home
The children of Mosul talk about life under Islamic State. They saw things no child should see
With the two-state solution a distant dream, Palestinians ask if it's time to push for a one-state solution
---
UPDATES:
3:20 p.m.: Updates throughout with staff reporting, new details on the attack and a report that Los Angeles Sparks basketball players were next door to the club when the shooting occurred.
This article was originally posted at 9:50 a.m.
---
Must-read stories from the L.A. Times
Get the day's top news with our Today's Headlines newsletter, sent every weekday morning.
You may occasionally receive promotional content from the Los Angeles Times.