In Istanbul, an escape for youth from authoritarian rule, with alcohol, pole dancing and tattoos
Reporting from ISTANBUL, Turkey —
In a dimly lit Istanbul club, young men and women smoke cigarettes and dance to a mix of synthwave, dissonant electronica and post-rock. And it is all tattoos and nose rings, cocktails and shots.
The guitars of the Chicago-based noise-rock band, Shellac, blast from speakers. A woman wearing cut-off denim shorts wraps herself around her lover, their bodies grinding together.
In the Istanbul neighborhood of Kadikoy, liberal youth find escape from the crushing authoritarianism of modern-day Turkey.
"It is a place where we feel we can breathe," says 30-year-old Miray, who runs an underground pole-dancing studio, sipping at a martini. "It is a space where we can be ourselves."
Miray, like others in this article, gave only a first name, fearing government retribution. In the Turkey of Islamist President Recep Tayyip Erdogan — a center-right populist steeped in authoritarianism — dissent is not tolerated. Being convicted of "insulting" the president carries a maximum sentence of four years.
But then there's Kadikoy. Perched on the Asian side of the Bosporus Strait — which splits this city of 15 million in half — the neighborhood represents the steadfastly secular and tolerant face of this nation.
Its markets bustle, stocked with fresh seafood. Groups gather at restaurants, sipping on raki — an aniseed-flavored alcoholic drink — and enjoying calamari and Turkish appetizers, or mezze, long into the evening.
Cafes offer tarot readings and thick Turkish coffee. Street-side salesmen peddle posters of famous films. Comic book shops are stocked with "Rick and Morty" T-shirts and collectible "Star Wars" figurines.
However, 16 years of living under Erdogan and his Justice and Development Party has left many youth in Kadikoy wondering if there is any point engaging with politics.
That represents a dramatic turnaround for a generation that experienced a heady moment of political awakening during the vast anti-government protests in Gezi Park five years ago.
"With Gezi, many youth found a narrative they could identify with, emphasizing peace, collective living and respect for the environment," says Tuba Emiroglu, an academic who has researched the evolution of the Gezi movement. "Now, many people have given up — or are looking for a way to leave Turkey."
In the past, Kadikoy has been the site of anti-government protests, such as a large rally in April 2017 denouncing a referendum that gave Erdogan sweeping new powers. But a series of electoral setbacks, waves of brutal Islamic State attacks and Erdogan's escalating, relentless crackdown on any opposition that accelerated following a failed coup attempt two years ago, have convinced many liberal youth that there is no political space for them in this nation of 80 million.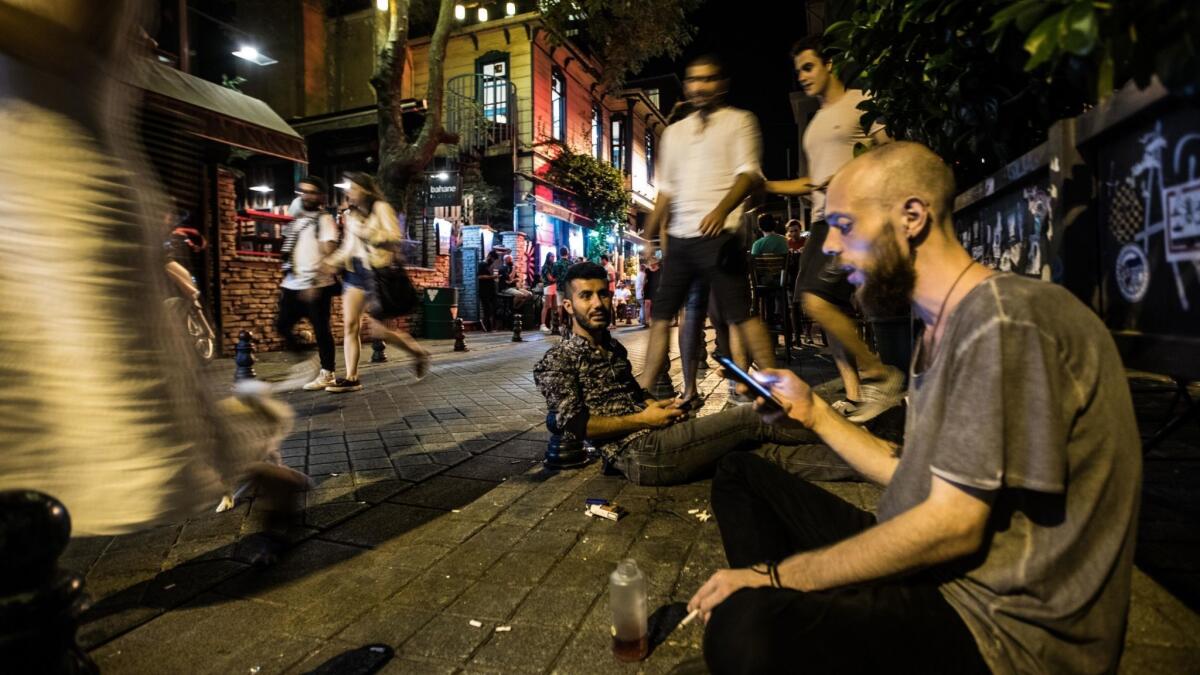 "I was 8 years old when Erdogan came to power," says Selen, a 23-year-old psychology student. "He is all I have ever known. Nothing we do makes any difference."
She and her friends are sitting in long grass in a small park in Kadikoy — packed with millennials — sipping oversize cans of beer, discussing psychology late into the night.
A tall, skinny statue, its bronze alloy face cast in the form of a gas mask and a hard hat, looks out over the park, clutching a lantern. It memorializes Berkin Elvan, who was shot in the head and killed at age 15 with a high-velocity tear-gas canister while out fetching bread during the Gezi protests.
"I respect Erdogan for the systematic way he accumulated power, starting out as the Istanbul mayor," says 26-year-old Yunus Emre, one of the few people interviewed willing to give a full name. "Thinking about Turkish politics just makes me depressed. It is not something we really talk about anymore."
Hundreds of thousands of people lost their jobs or were imprisoned after the failed coup two years ago, part of a widening crackdown that rights groups have condemned.
"We all started crying, when we heard," says 31-year-old Merve, as she sat in a Kadikoy cafe, recalling the imprisonment of her younger sister.
Merve's sister — a newly graduated teacher, totally apolitical — was fired from her job in 2016 and later charged with being a member of a network led by Fethullah Gulen, which Ankara brands a terrorist group and claims was behind 2016's abortive coup.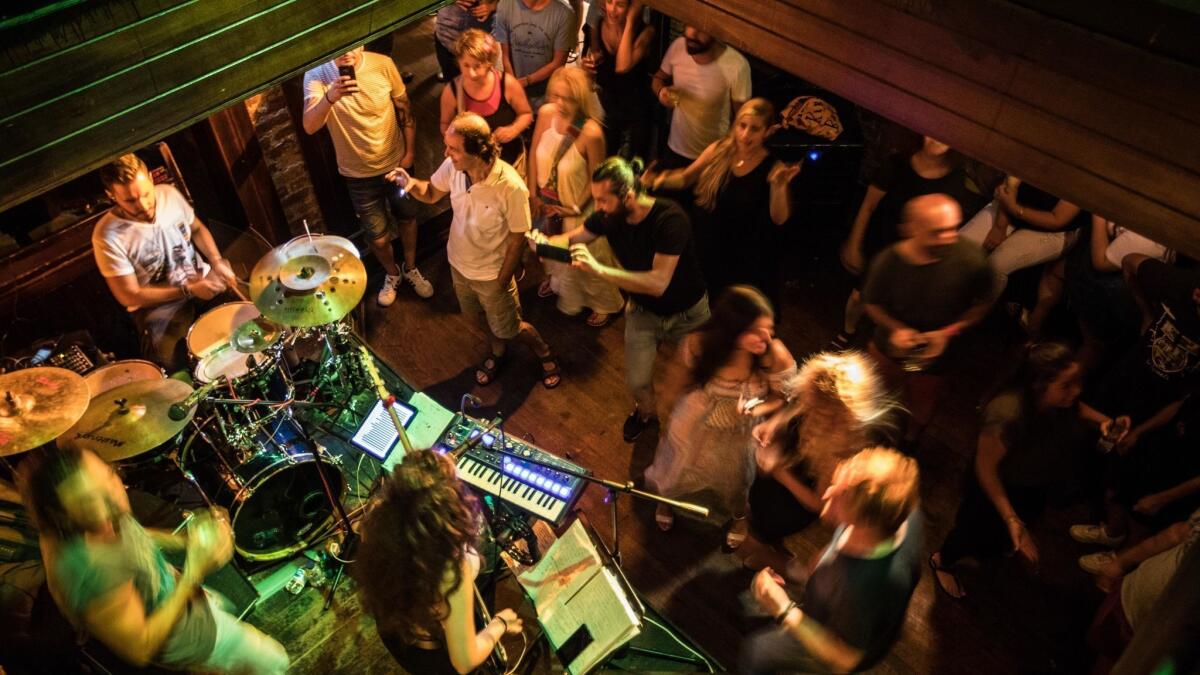 Merve says her sister spent seven months in prison awaiting trial, before having the charges — based on cellphone records two years before the attempted coup — thrown out this year.
"What happened to the justice system in Turkey?" Merve asks.
Back at the club, a techno-trance song by the cerebral Warp Records artist, Clark — "To Live and Die in Grantham" — blares. The dance floor is filling out. Bartenders and waitresses hasten to fill orders.
A beer bottle smashes. A group does a round of Jagermeister shots.
Many people in Kadikoy wonder how far Erdogan would go in messing with their lifestyles; he has previously promised to raise a "pious generation."
"He will never stop," says a 29-year-old architect, Ayse, drinking a cocktail and smoking a Marlboro Red. "Instead, we are changing with him."
She cites her changing dress code as an example of the pressure she feels. Erdogan regularly defines women as "mothers" who should have at least three children.
Pro-government media outlets blame female victims of soaring male violence. This contributed to a subtle adherence to an unofficial doctrine of modesty, Ayse says.
"I used to wear miniskirts and tight shorts," she says. "Now look at me, I'm wearing a long black dress. I feel intimidated in parts of Istanbul now."
But it is not only women's issues. Taxes on alcohol have increased some 600% during Erdogan's rule. Since 2013, the government has forbidden issuing alcohol licenses to businesses within 100 meters of a mosque, of which Erdogan has built tens of thousands.
A number of popular clubs in a remote area of the Black Sea — where youth go for raves, letting off steam — were recently banned from playing music after midnight.
Erdogan has meantime dramatically expanded Imam Hatip schools — core classes are Arabic and Koranic studies — from 450 to a reported 4,500 during his rule. The conversion of state schools into Imam Hatip has become a serious concern for secularists.
"He has made intolerance acceptable," says 40-year-old Filiz, sitting at a small bar remembering a friend who died from a heart attack during the Gezi protests. "He dismisses us and our lifestyles completely."
Just around the corner on Kadikoy's main bar street, youth sit on the pavement, chatting and drinking, eating stuffed mussels and minced intestine sandwiches. Buskers strum guitars.
It is around 2 a.m. and the bars are closing. People stumble off into the night, heading down toward the Bosporus, where there's a bar open until dawn.
Sign up for Essential California for news, features and recommendations from the L.A. Times and beyond in your inbox six days a week.
You may occasionally receive promotional content from the Los Angeles Times.