U.S. serviceman is killed in Ukraine during NATO drills that included California National Guard unit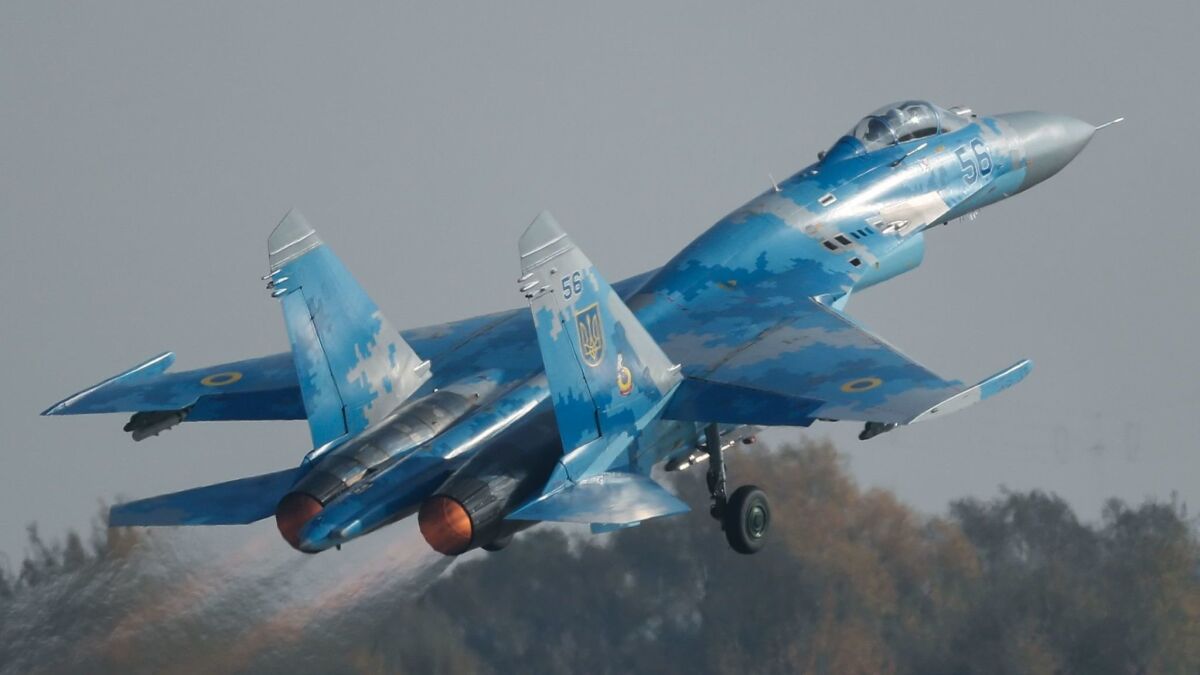 Reporting from Moscow —
A U.S. serviceman was killed in Ukraine on Tuesday when a Ukrainian Air Force Su-27 fighter jet crashed during large-scale training exercises in the embattled former Soviet republic.
The Ukrainian military issued a statement that said both pilots — one Ukrainian, one American — were killed when the jet crashed in the Vinnytsia region, about 140 miles southwest of Kiev, Ukraine's capital.
"We are sad to report that according to the search-and-rescue group, the bodies of two pilots were found," the Ukrainian Ministry of Defense said in a statement posted to its website.
The pilots were taking part in a "training and combat flight" as part of multinational military exercises with the United States and seven other NATO countries. The exercises, called Clear Sky 2018, include members of the California's National Guard's Fresno-based 144th Fighter Wing group, according to a Facebook post. The post showed F-15C Eagle fighter jets arriving in western Ukraine a week ago.
The U.S. Air Forces in Europe and Air Forces Africa, which is overseeing the American component of the training session, said it was still investigating the crash.
"We have seen reports claiming a U.S. casualty and can confirm a U.S. service member was involved in this incident," it said in a statement posted to its website. "It is currently under investigation and we will continue to provide more information as it becomes available."
The United States and some of its European allies have been conducting military training exercises in Ukraine since 2015 in support of the country's ongoing war with Russian-backed separatists in the eastern part of the country. This was the first combat air training between U.S. and Ukrainian forces since those exercises began.
Armed rebel groups backed by Moscow took over large swaths of Ukraine's industrialized eastern regions in 2014 just weeks after Moscow annexed Crimea. Ukrainian forces were ill-prepared to battle the Russian-backed separatist forces, which created a self-declared republic now heavily financed by the Kremlin.
Despite a ceasefire, daily casualties continue to mount on both sides. More than 10,000 people have been killed, mostly civilians, and more than 1.2 million people have been displaced as a result of the conflict.
The United States blames Russia and its president, Vladimir Putin, for continuing to support the rebel forces and not doing enough to end the bloody conflict, now in its fourth year.
The military exercises have infuriated the Kremlin, which sees them as Western powers "fermenting the war" between Russian-backed rebel fighters and Ukrainian national troops.
The United States this year began sending Javelin antitank missile systems to Ukraine, angering Moscow. Washington fiercely debated whether to send the lethal weapons to Ukraine for months, with the Trump administration initially reluctant to make the decision. The first Javelins arrived in April.
Twitter: @sabraayres
Ayres is a special correspondent.
---
Must-read stories from the L.A. Times
Get the day's top news with our Today's Headlines newsletter, sent every weekday morning.
You may occasionally receive promotional content from the Los Angeles Times.