As Venezuela crisis deepens, troops block border to halt arrival of food and medicine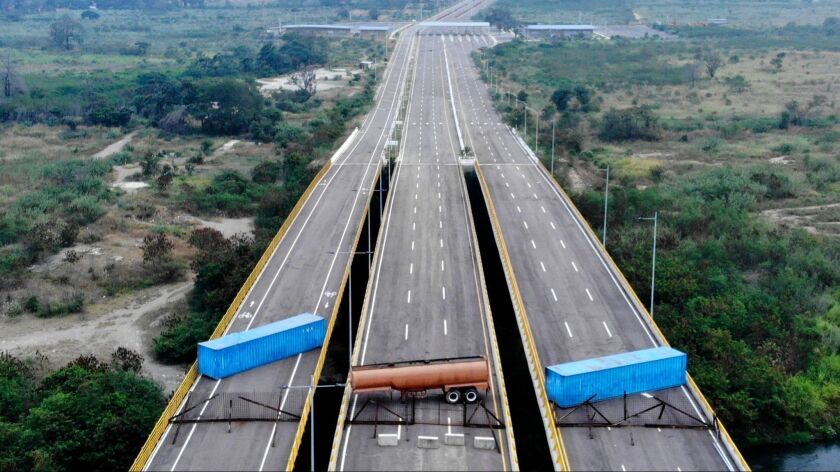 Reporting from Caracas, Venezuela —
Venezuelan authorities have set up barriers to block the entry of donated food and medicine from neighboring Colombia amid an escalating political dispute over humanitarian aid that other nations have rushed toward the embattled country's borders.
The self-proclaimed opposition Venezuelan government — which controls no territory or border posts — has called on Venezuelan troops and police to allow the entry of tens of millions of dollars in aid pledged in recent days by the United States, Canada and various European nations.
Much of the aid, including the first shipment of food and medicine from the U.S., is now en route from Bogota to unspecified staging points in Colombia, the country's Foreign Ministry confirmed Wednesday. Colombia, a close U.S. ally, shares a long border with Venezuela.
But President Nicolas Maduro — whom the opposition, joined by the United States, has denounced as a "usurper" — has rejected the aid, which he contends is a prelude to a U.S.-led invasion of Venezuela.
Maduro, who has accused Washington of mounting a coup against him, vowed that "not one invading soldier" would enter Venezuelan territory.
"There will be no intervention, no coup, no war in Venezuela," Maduro said this week in Caracas, the capital.
Venezuela is embroiled in a deepening economic and political crisis that has seen severe shortages of food and medicine — which the opposition blames on the incompetence of Maduro's socialist rule. Maduro blames a U.S.-orchestrated "economic war" against him for the shortages. Millions have fled the country as conditions have worsened.
The long-running crisis moved to a new stage Jan. 23 when Juan Guaido, an opposition legislator, declared himself the country's interim leader and demanded that Maduro step down.
The aid dispute has become a major standoff between the dueling governments and an initial test of the self-proclaimed leadership of Guaido, who has been recognized by the United States and other nations. Guaido has repeatedly called on the Venezuelan troops to allow the aid in, a move that would defy Maduro's orders.
Russia and China remain allies of Maduro, who succeeded the late Hugo Chavez, a longtime U.S. antagonist.
Venezuela's military top brass has pledged public loyalty to Maduro's government, despite opposition offers of a sweeping amnesty if officers switch sides to Guaido's acting administration.
On Wednesday, a Colombian government official confirmed that Venezuelan authorities had closed the bridge at the biggest border crossing connecting the two countries, near the city of Cucuta on the Colombian side and the town of Urena in Venezuela.
The bridge has been shut to foot traffic as well as to vehicles, said the official, who spoke on condition of anonymity.
Government officials say the flow of Venezuelan migrants to Colombia, mainly from the crossing near Cucuta, has remained constant for months, averaging roughly 33,000 people a day.
Social media accounts reported increased deployments of troops on both sides of the border, but there was no official confirmation from either government.
The developments come as international aid is expected to arrive in Cucuta within days. The U.S. has pledged $20 million and Canada $40 million in humanitarian aid. Aid is also expected to be rushed to the Brazilian border with Venezuela as well.
Colombian Defense Minister Guillermo Botero arrived at the White House on Wednesday to meet with President Trump's national security advisor, John Bolton, who has repeatedly called for Maduro to step down in favor of Guaido's self-proclaimed government. In a statement, the ministry said the two men discussed drug trafficking and other issues, but did not specifically mention humanitarian aid logistics.
Special correspondents Mogollon reported from Caracas and Kraul from Bogota. Times staff writer Patrick J. McDonnell contributed to this report.
---
Must-read stories from the L.A. Times
Get all the day's most vital news with our Today's Headlines newsletter, sent every weekday morning.
You may occasionally receive promotional content from the Los Angeles Times.