Venezuela says assassination attempt used drones loaded with 2 pounds of plastic explosives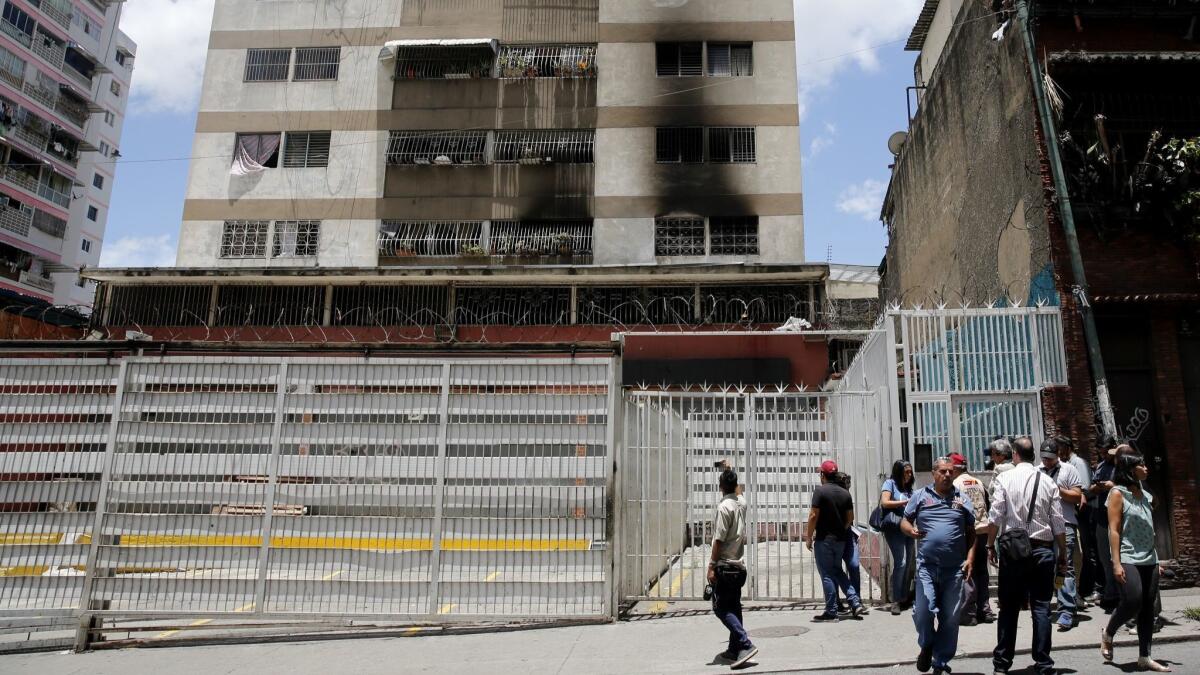 Reporting from CARACAS, Venezuela —
Venezuelan officials on Sunday gave a more detailed description of the two drone bombs used in an attempt to assassinate President Nicolas Maduro, saying that each craft carried about 2 pounds of plastic explosive and that the plot was foiled, in part, by equipment designed to jam radio signals.
Six suspects were in custody in connection with the Saturday attack, which failed to hurt the president but left seven soldiers injured, three of them seriously.
The government also confirmed that one errant drone crashed into an apartment building near the central Caracas street where Maduro spoke at an outdoor event commemorating the founding of the national guard. The device subsequently exploded as it fell to the ground, causing no injuries but leaving dark scorch marks on the side of the building.
Nestor Reverol, the interior, justice and peace minister, said in an interview on state television Sunday that the attack on Maduro was carried out with two remote-controlled drones that carried up to 1 kilogram each of C-4 explosive.
"We're dealing with the crime of terrorism and attempted assassination that was foiled," Reverol said.
The minister said that such drones, a model known as DJI M600, are commonly used for "industrial jobs" and capable of lifting relatively heavy loads, such as a video camera and a recording kit.
Plotters flew one of the bomb-laden devices over the presidential stage with the goal of activating it near Maduro, but the area was equipped with devices that block invasive radio signals, Reverol said.
The device exploded over an area where uniformed guardsmen stood at attention in ranks, injuring seven.
A second drone "lost control in the general area of the event and struck a building known as Don Eduardo near Bolivar Avenue, detonating at the height of the first floor as it fell to earth," Reverol said.
One downtown resident, Mairum Gonzalez, told the Associated Press she heard a deafening explosion and ran in terror to her fifth-floor balcony. "It was so strong the building shook," she said. "I said, 'Oh my God, what happened.' It terrified me."
Video of Maduro taken during the Saturday attack showed him and his wife, Cilia Flores, flinching at the sound of an explosion, then looking skyward. The cameras of the state-run television channel then cut away to pandemonium breaking out among assembled soldiers fleeing to seek cover.
Reverol gave little detail about the six people detained in connection with the attack except to say that two of them have been formally charged. Several vehicles have been seized and hotel rooms searched as part of the investigation. Security videos are being examined for clues as well, he said.
"The material and intellectual authors of the crime inside and outside the country have been plainly identified," Reverol said, adding that more arrests are expected.
One of those arrested was wanted in connection with an earlier attack on a military installation, Reverol said. Another was arrested in 2014 in connection with a series of nationwide protests against the Maduro government that convulsed the country for several weeks.
Maduro is deeply unpopular because of Venezuela's collapsed economy, hyperinflation that could reach 1 million percent this year and his autocratic style of governing. More than 2 million Venezuelans have fled the country in recent years seeking better lives.
This was the first attempt on Maduro's life, though in June 2017, Oscar Perez, an investigator with the Venezuelan equivalent of the FBI, stole a helicopter, flew over the capital and hurled grenades at the Supreme Court.
Perez, who was known as "Rambo," claimed he was leading a revolt against the Maduro government. In January, he and other members of a small rebel group were killed by government forces.
On Saturday night, in a televised speech hours after the attack, Maduro blamed "ultra-right Venezuelans in alliance with ultra-right Colombians" for the attack, singling out Colombian President Juan Manuel Santos as responsible. He also called on President Trump to arrest "terrorists" in the United States who he said were involved in the plot.
So far, Maduro has offered no proof to back up the charges of Colombian or U.S. involvement. In an interview with Fox News on Sunday, Trump's national security advisor, John Bolton, stated "unequivocally" that the U.S. was not involved.
"If the government of Venezuela has hard information that they want to present to us that would show a potential violation of U.S. criminal law, we'll take a serious look at it," Bolton said.
On Sunday, the Colombian government issued a statement dismissing the allegations as "absurd," describing the charges as typical of Maduro's practice of blaming Colombia "for any type of situation."
Saying Venezuela is in the midst of a "civil war," Venezuelan Atty. Gen. Tarek William Saab said more details on the assassination attempt would be revealed Monday.
Late Saturday, an anonymous group known as "Flannel Soldiers" claimed responsibility for the attack on social media, but the claim could not be substantiated.
An opposition group known as Broad Front issued a statement late Saturday warning that Maduro may use the alleged attack to clamp down further on opposition leaders and "repress the constitutional rights of the people to continue protesting for the defense of their rights."
Special correspondents Mogollon and Kraul reported from Caracas and Bogota, Colombia, respectively.
---
UPDATES:
5:30 p.m.: This article was updated with new details on the drone attack and the explosives used.
This article was originally published at 12:10 p.m.
Sign up for Essential California for news, features and recommendations from the L.A. Times and beyond in your inbox six days a week.
You may occasionally receive promotional content from the Los Angeles Times.