As trade-war-weary China sends money, old foe Vietnam is unsure whether to cheer or fear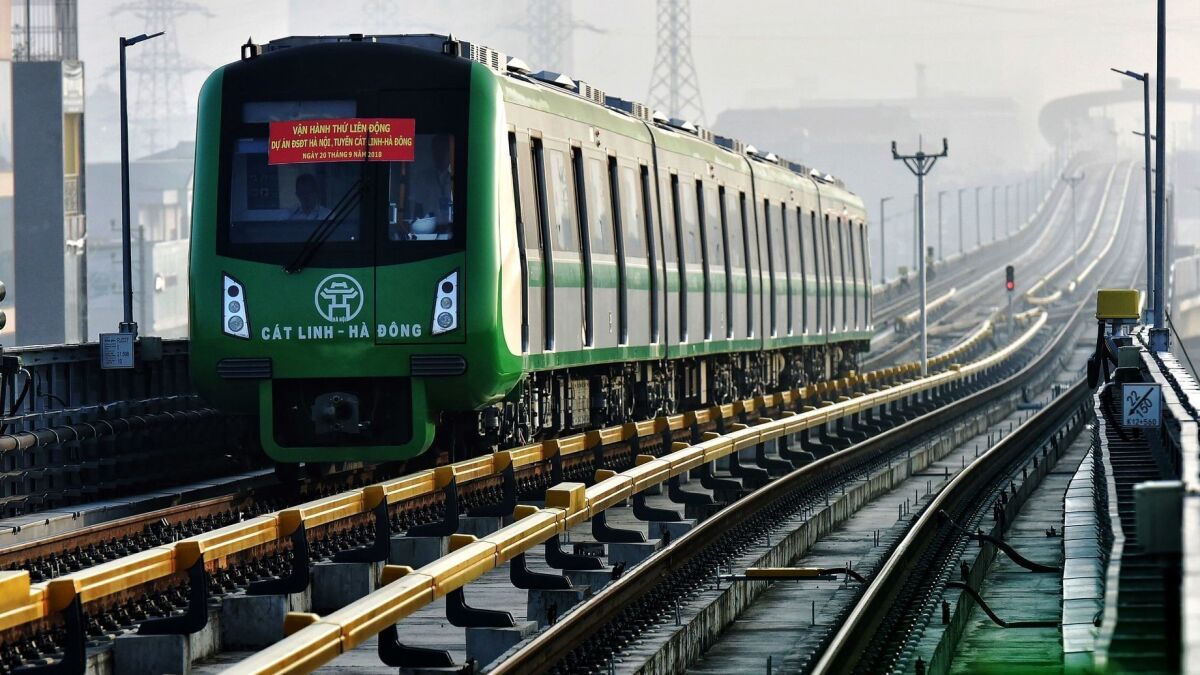 Reporting from HO CHI MINH CITY, Vietnam —
As communications manager for a decade-old chain of boutique hotels, Phuong Hong has a close look at the latest business trend in booming Vietnam: the coming of Chinese money.
Although her company saw some benefit from the nearly 5 million Chinese visitors to Vietnam in 2018, she also viewed the influx with skepticism. She complained about the prices and quality of service she recently experienced at a Chinese medical clinic.
"Doing business with Chinese people is OK, but Vietnamese people are so open, so friendly," the 38-year-old said recently at one of her company's hotels.
The flow of Chinese money into Vietnam — largely to escape the trade war with the United States — has drawn a cautious welcome from Vietnamese, who worry about the prospect of a longtime foe increasing its economic control in their country.
Chinese money permeates Vietnam these days: Besides China being the top source of tourists in 2018, Chinese investors are snapping up properties in Ho Chi Minh City's buzzing real estate market while Chinese companies are building infrastructure and eyeing land in special economic zones Vietnam is opening to lure foreign investment.
While the Vietnamese government has aggressively pursued investment from the European Union, Japan and South Korea, it has been less openly welcoming of China, in part due to public opposition to a heavy Chinese economic presence. But the country's manufacturing sector depends on raw materials from China, and analysts said officials in Vietnam have tried to work with Beijing on economic issues while not appearing pro-Chinese in the eyes of the Vietnamese people.
Maxfield Brown, senior associate with the business consultancy Dezan Shira & Associates in Ho Chi Minh City, Vietnam's largest city, said that when the U.S. and China began a tit-for-tat trade war by escalating tariffs on the other's goods, many multinational clients with factories in China approached the firm, asking whether they could avoid duties by transshipping their U.S.-bound goods through Vietnam.
Chinese interest in Vietnam is likely to go far beyond that, Brown said.
"I think you'll probably see in the short term money flowing into manufacturing operations, and on the people-to-people level you're going to see a lot of tourism coming to Vietnam," he said. "Real estate is an interesting area at the moment, as well."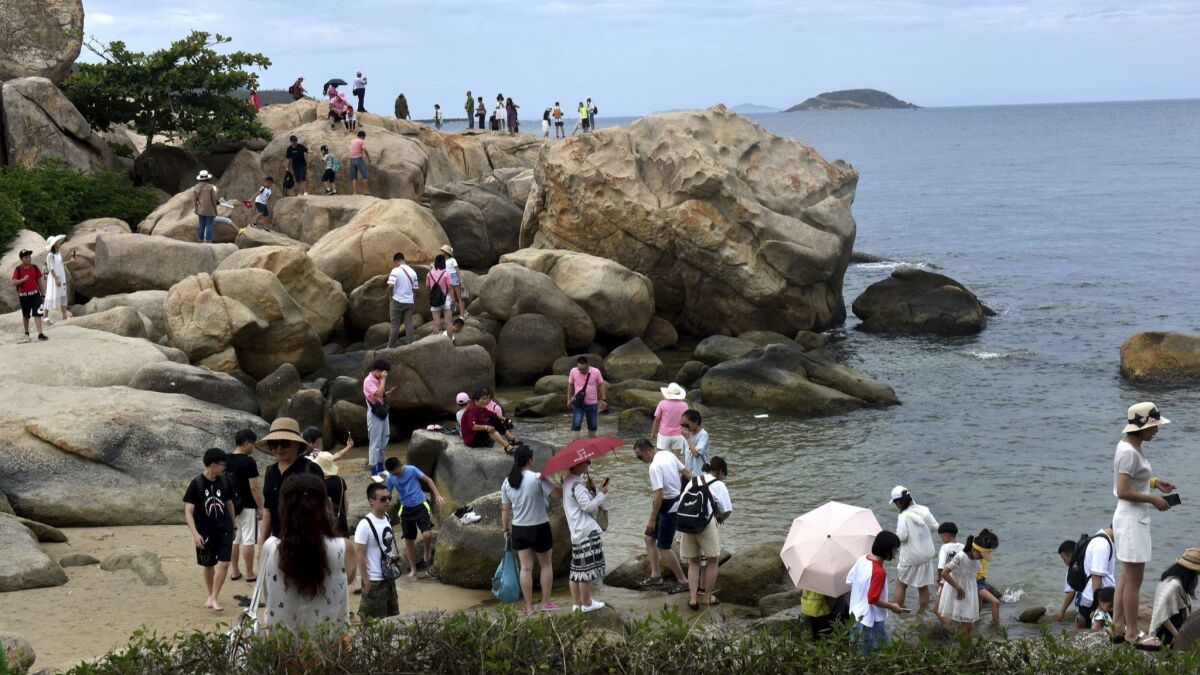 These inflows would accelerate Vietnam's economic growth — already averaging a fast 6%-7% per year since 2012 — by adding jobs, raising wages and helping to expand the middle class. The Boston Consulting Group forecasts that nearly one-third of Vietnam's 93 million people will attain middle-class status or higher by 2020, an about-face from the rampant post-Vietnam War poverty of the late 1970s.
"There are so many companies coming to look at Vietnam now that there are people talking about labor shortages, especially around Ho Chi Minh City," said Frederick Burke, partner with the law firm Baker McKenzie in Ho Chi Minh City. Malls and luxury apartments have sprung up on land once earmarked for factories, too, he said.
Chinese firms and multinationals with factories in China hope to avoid U.S. tariffs that took effect in 2018, particularly a round in September that hit $200 billion in exports from China. Some have already announced plans to move; others are making frantic inquiries to business consultants in Ho Chi Minh City about how to ship made-in-China goods through Vietnam without paying U.S. tariffs.
Foxconn Technology, the world's largest contract assembler of consumer electronics, has spoken to officials in Hanoi, the capital, about setting up an iPhone plant, the Vietnam Investment Review reported. Foxconn, whose Chinese factories employ hundreds of thousands, declined to comment but said it had invested in Vietnam since 2007 and hired 23,000 people there.
Chinese bike parts maker HL Corp. told investors in August that tariffs had influenced its decision to move production to Vietnam.
Vietnam has other advantages for investors, too. It enjoys most-favored-nation trading status with the U.S., ensuring that it faces the fewest trade barriers and lowest tariffs. Its manufacturing workers earn 30% of what counterparts get in China, Dezan Shira & Associates says, and the government is close to finalizing free trade deals with the European Union and with 11 Pacific Rim countries.
In the Ho Chi Minh City property market, where demand leads supply, Chinese bought 31% of higher-end homes sold in the first nine months of 2018, up from 2% in 2016, real estate services firm CBRE calculated based on transactions in which it took part. The company attributed the influx to Vietnam's decision to relax foreign ownership rules to attract more international investors.
China is pushing Vietnam to accept more infrastructure aid as part of its $1-trillion Belt and Road initiative that's designed to expand trade routes and project Chinese influence across dozens of countries. A $670-million Chinese loan paid for a commuter rail system that opened last year in Hanoi.
Companies from China are also eyeing 99-year leases in three special economic zones that Vietnam's National Assembly is expected to open this year for foreign investment. Chinese direct investment comes to about 7.7% of Vietnam's total now — $11.2 billion invested in 1,616 active projects.
At a seaport near Hanoi, Chinese investors are lining up to invest in a special economic zone with low land prices and tax incentives, said Zhao Xijun, associate dean of the School of Finance at the People's University of China in Beijing.
All the investment comes despite long-standing resentment of Chinese behavior toward Vietnam. After fighting off U.S. forces in the Vietnam War, Vietnam pushed back an incursion by Chinese troops during a brief border war in 1979.
Many Vietnamese resent Beijing's expansion in parts of the South China Sea also claimed by Vietnam.
Too much inflow from China could set off another backlash, some experts fear. Anti-China riots in 2014 damaged Chinese-owned factories after Beijing authorized placement of an oil rig in the disputed sea, and thousands protested in June 2018 as legislators debated letting foreigners, including Chinese, lease land in the special economic zones.
The protests prompted Vietnamese legislators to twice delay the leasing of tracts to foreign investors.
Zhao, who visited the Hanoi port zone in November, said Vietnam will ultimately accept Chinese investment because the two countries' ruling Communist parties get along.
"Chinese investors got [to the port zone] faster than other countries and their corporate effectiveness is a bit higher," Zhao said. "The Chinese and Vietnamese Communist parties have a bond and lots of understandings. Although we had a war in the 1970s, Vietnam has fought a lot of countries, so you can't call this a historic problem."
Other analysts and observers warn of the potential for greater backlash. Further Chinese influence in the Ho Chi Minh City housing market could frustrate local buyers who already face supply shortages, Brown and others said.
Chinese firms also have the scale to hurt local companies by flooding Vietnam with cheap goods, said Trung Nguyen, international relations dean at the Ho Chi Minh University of Social Sciences and Humanities.
"I don't think small local businesses will welcome China's money," Nguyen said. "Maybe they can dominate the market. They will flood the market with Chinese goods in the future."
Many Vietnamese show a wary openness toward China.
Ha Tran, a 25-year-old employee of a design company in Ho Chi Minh City, said she buys Chinese-made flip-flops because they're so cheap it doesn't matter how often they break. She avoids other Chinese goods.
"We've tried [various goods] many times in the past, but it turns out that they get broken very easily," she said.
Phuong, the hotel company employee, advocates more government oversight of Chinese investment in industry and healthcare to protect consumers.
"I think the government should know how to control the quality," she said. "If people are well educated, they can make a decision."
Jennings is a special correspondent.
---
Must-read stories from the L.A. Times
Get the day's top news with our Today's Headlines newsletter, sent every weekday morning.
You may occasionally receive promotional content from the Los Angeles Times.