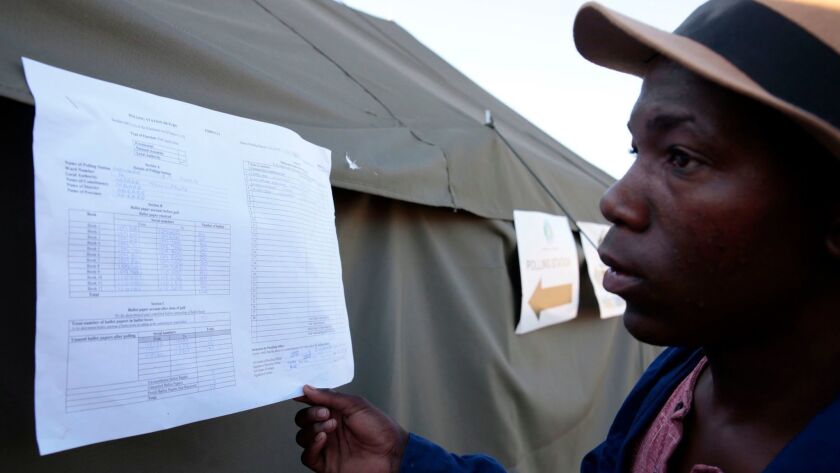 Reporting from HARARE, Zimbabwe —
Zimbabwe's ruling party has won a majority of seats in Parliament, the electoral commission announced Wednesday, as the country braced for the first official results of the presidential election and police moved into place outside the commission's offices in the capital.
The ruling ZANU-PF won 109 seats while the main opposition Movement for Democratic Change party had 41 in the 210-seat House of Assembly. The commission said two seats were won by smaller parties and 58 seats had yet to be declared.
The commission has said it would announce the results of the presidential race, pitting President Emmerson Mnangagwa against opposition leader Nelson Chamisa, only after all the votes have come in from across the country.
Western and other election observers began to give their first assessments of Monday's peaceful election and whether it was free and fair. The Southern African Development Community called the elections "a political watershed in Zimbabwe's history" but with some shortcomings, urging anyone with grievances to refrain from violence.
The opposition alleges irregularities, saying voting results were not posted outside one-fifth of polling stations as required by law. Dozens of supporters marched to the electoral commission offices on Wednesday and were met by police.
Mnangagwa's government, meanwhile, accused Chamisa and his supporters of inciting "violence" by already declaring he had won the election, the first after former leader Robert Mugabe stepped down in November.
"Let me also warn such individuals and groups that no one is above the law," Home Affairs Minister Obert Mpofu said. Security forces "will remain on high alert and continue to monitor the security situation in the country."
Zimbabweans desperately hope the peaceful vote will lift them out of economic and political stagnation after decades of Mugabe's rule, but the country is haunted by a history of electoral violence and manipulation that means trust is scarce.
While the electoral commission has five days from the end of voting to release the final tally, the national mood was growing anxious partly because unofficial results are already swirling on social media.
---