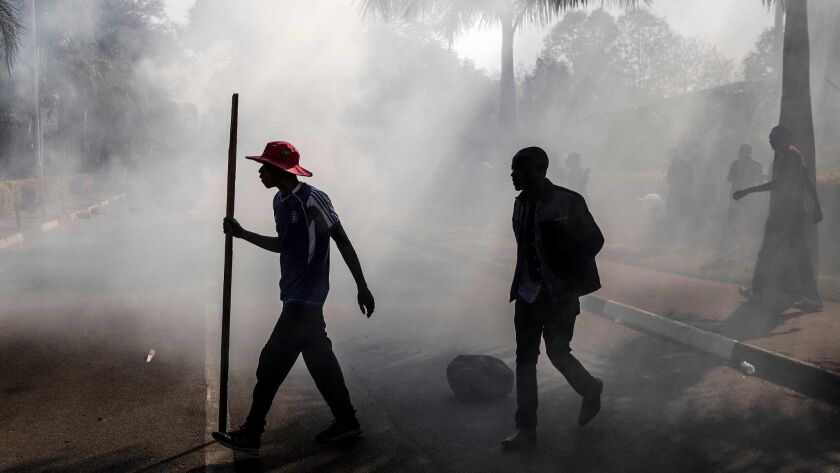 Reporting from JOHANNESBURG, South Africa —
As millions of Zimbabweans waited to learn who their next president would be, violent clashes broke out in the capital city of Harare on Wednesday between security forces and supporters of opposition leader Nelson Chamisa. At least three people were reportedly killed in the fray.
Less than 48 hours after polls closed on a peaceful election day, an opposition protest began outside the Rainbow Towers Hotel in central Harare, with angry demonstrators claiming the government had manipulated the vote and chanting "Chamisa! Chamisa!"
The protest quickly escalated into a turbulent confrontation with police, who fired tear gas and water cannons to break up the demonstrators. Army vehicles and personnel were also seen in the streets, firing live ammunition, while bystanders fled to seek shelter.
President Emmerson Mnangagwa, a longtime ZANU-PF leader who took over after the military ousted Robert Mugabe from power last November, blamed the opposition Movement for Democratic Change alliance for the deadly clashes. The MDC is led by Chamisa, a young lawyer and pastor who had earlier claimed that polls showed he — and not Mnangagwa — had won the election.
"We hold the opposition MDC alliance and its whole leadership responsible for this disturbance of national peace, which was meant to disrupt the electoral process," Mnangagwa said in a televised address on Wednesday evening. "Equally, we hold the party and its leadership responsible for any loss of life, injury or damage of property that arise from these acts of political violence which they have aided and abetted.
"In any electoral process, it is understood that some win, while others lose," he added. "Those who lose should never translate their disappointment into hooliganism."
The violent turn of events, captured widely on social media, came as electoral officials announced that the ruling ZANU-PF party had secured a majority in parliament but that presidential election results were still being counted. All results must be announced by Saturday.
During Mugabe's 37 years in power, elections in Zimbabwe were dogged by fear, intimidation, violence and fraud, a pattern that Zimbabweans and international observers hoped had at last been broken — or at least dented — after Monday's calm and relatively orderly vote.
Chamisa, who warned for weeks before the vote that there was early evidence of foul play, claimed on Tuesday that MDC tallies showed he had won the presidency, days before official results were due. The 40-year-old opposition leader repeated the claim on Wednesday as his supporters took to the streets.
"THANK YOU ZIMBABWE ... We have won the popular vote," Chamisa said on Twitter, as protesters tore down his opponent's campaign posters. "No amount of results manipulation will alter your WILL."
Mnangagwa, on his official Twitter account, called on politicians to "act in a way that puts our people and their safety first. Now is the time for responsibility and above all, peace."
The protests, which were dispersed by early evening, certainly reminded many Zimbabweans of the deadly violence that followed disputed polls in 2008, when scores of opposition supporters were killed.
The sight of army vehicles and personnel on the streets of the capital just eight months after the military orchestrated its successful coup against Mugabe is also likely to raise fears of another security force intervention in the country's democratic processes.
ZANU-PF defended the display of force, with one official asserting that security forces were needed to keep law and order, and slamming the opposition for "inciting" its supporters.
The U.S. Embassy in Harare said it was "deeply concerned" by Wednesday's events, and U.S. Ambassador Brian Nichols in a written statement to the Los Angeles Times urged the Zimbabwe Defense Forces to "use restraint in dispersing protesters."
"Zimbabwe has an historic opportunity to move the country towards a brighter future for all its citizens. Violence cannot be a part of that process," he said. The U.S. has issued a security alert to citizens living in Zimbabwe.
Earlier in the day, American and European Union election monitors, who had not been allowed to observe elections in Zimbabwe since 2002, gave the vote mixed reviews in their preliminary statements.
They credited the government for improving on its past electoral track record and for holding a peaceful vote, but noted serious concerns about bias in state media toward the governing party as well as widespread reports of intimidation leading up to the election.
On election day, several opposition supporters said they were prepared to take to the streets if Chamisa did not win.
"Now we've seen that [the government] is not going to tolerate anything," said Piers Pigou, an analyst for the International Crisis Group. The question now is whether the opposition will choose to sustain its protests in the face of a state clampdown, he said.
"This is going to add significant problems for whoever wins," he said.
Mahr is a special correspondent.
---
UPDATES:
11:25 a.m.: This article was updated with the death toll climbing to three.
10:05 a.m.: This article was updated with staff reporting.
This article was originally published at 9:25 a.m.
---