Produce industry releases plan for ending abusive Mexican farm labor conditions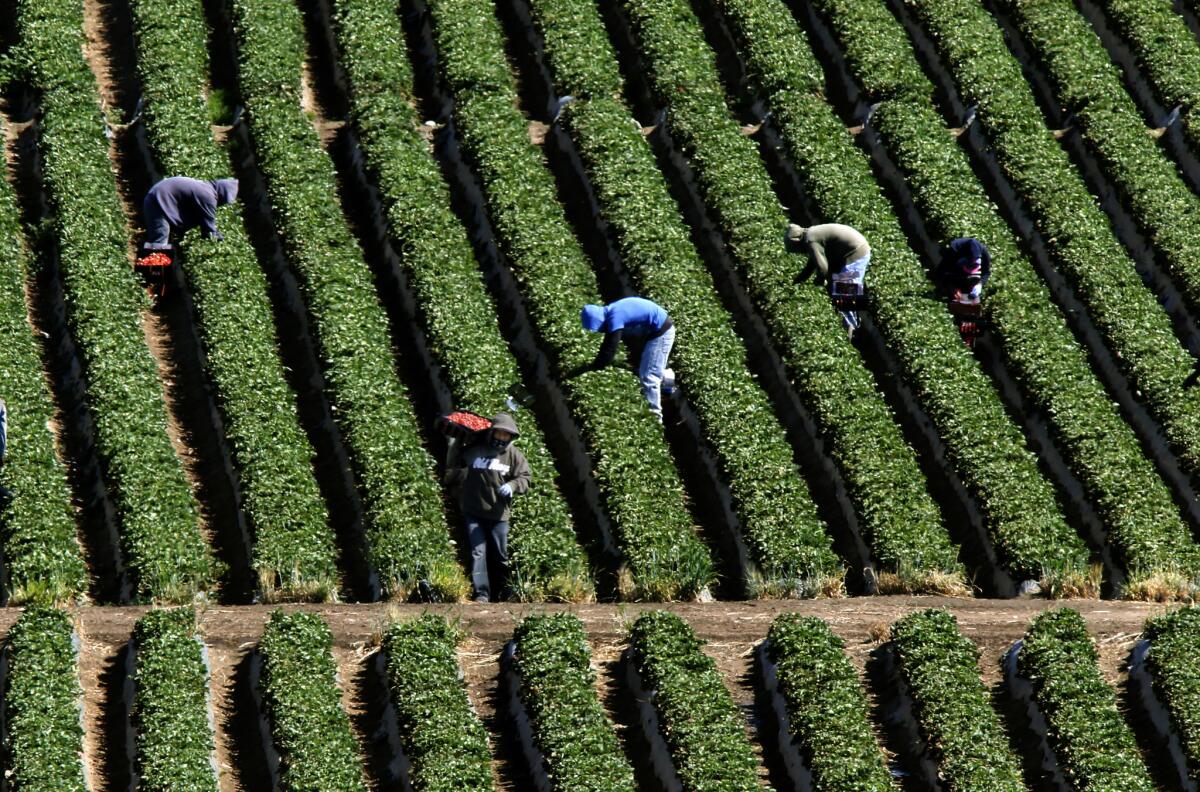 North America's largest produce industry groups have unveiled a plan aimed at ridding abusive labor conditions from supply chains, in a closely watched effort prompted by growing demand from consumers to know more about the food they eat.
The so-called "Ethical Charter" is an attempt to get thousands of growers, distributors and retailers to follow basic values governing the treatment of workers, many of whom toil on large export farms in Mexico.
The two-page draft, while containing few detailed proposals, calls for industry players to respect all laws and principles inspired by "international expectations." The principles would be met, in part, through ongoing education and by reaching out to laborers, the plan says.
It pledges to create transparent and accessible channels for laborers to communicate workplace complaints. And it commits to integrating social responsibility goals with purchasing practices.
"Aware that our industry can attract vulnerable workers, we expect adherence to the law," the charter reads. "We believe that workers deserve to be treated with dignity, and we are committed to respecting workers' rights and protecting worker safety."
Much of the produce consumed in the United States, including 50% of the tomatoes, comes from Mexico, where a 2014 Los Angeles Times investigation found widespread labor abuses at export farms.
The plan, drawn up by the Produce Marketing Assn. and the United Fresh Produce Assn., is getting a mixed, sometimes harsh, reaction from labor and consumer groups, and comes amid signs of continuing supply-chain troubles.
In November, Mexican authorities rescued 81 laborers at a farm operated by a large exporter that supplies tomatoes and other vegetables to U.S. retailers including Walmart and Kroger.
Industry critics said they were hoping for a proposal with clear enforcement mechanisms.
Without audits by trained inspectors, for example, any plan to raise worker standards can't be taken seriously, said Emily Miggins, a former sustainability manager at Safeway.
"It's Ethical Charter lite," Miggins said, suggesting it was a public relations ploy. "This is exactly what I would say is the definition of greenwashing."
Others said the draft charter set a low bar for worker standards. "This proposal falls way short of providing consumers with anything they can feel good about eating," said Erik Nicholson, national vice president of the United Farm Workers union.
Peter O'Driscoll, executive director of the Equitable Food Initiative, a certification program, said the way the industry spells out its plan to develop education and verification programs will be key.
"That's where we'll find out if it fundamentally changes practices or not," he said.
Tom Stenzel, president of the Washington, D.C.-based United Fresh Produce Assn., stressed that the plan is a work in progress and that the organizations look forward to getting feedback during a comment period ending Feb. 20.
He likened the effort to improve labor conditions to the way the industry mobilized to improve food safety a few years ago through third-party verification programs.
"Our intent is to look at these principles … then start creating kind of a benchmarking approach," he said.
But Stenzel said verification mechanisms would not be imposed on association members under the draft plan. Businesses would decide on their own whether to use independent monitors to meet the ethical goals. "We know a lot of them will, and some who won't," he said.
Since The Times' investigation, the Mexican government and industry players have pledged reforms, most notably by establishing a social responsibility alliance to improve the lives of 1 million farmworkers.
While some progress has been made at individual farms, a business-as-usual approach still exists at some agribusinesses.
Mexico's human-rights commission is investigating the November raid at a tomato farm in the northern state of Coahuila. The federal attorney general's office charged two people with human trafficking and described "inhumane" conditions at the farm.
Laborers lived in overcrowded housing, received meager food portions and had their wages illegally withheld, according to Alternative Answer, a human-rights group based in San Luis Potosi. Jesus Carmona, the group's president, said workers implicated a controversial labor contractor who provides cheap labor to many large export farms.
Critics say it is evidence of the industry's unwillingness to impose standards on these contractors.
"What happened at this farm is the result of current industry practices, where you have growers looking the other way, allowing this to continue with impunity," Nicholson said.
A Walmart spokeswoman said the retailer receives "little, if any" produce from the agribusiness, Grupo GR, and stressed the retailing giant's commitment to social responsibility, citing its prominent role in helping draft the ethical charter.
"This is an industry-wide issue that requires a collaborative approach, which is why we are working hard with multiple stakeholders to help combat this problem," the spokeswoman, Marilee McInnis, said in a statement.
A Kroger spokesperson said the retailing group, which includes Ralphs, receives produce from Grupo GR, but not from the farm in Coahuila.
Officials from Grupo GR, which has farms across Mexico, denied any connection to human trafficking.
"These practices cannot be tolerated," said Mario Steta, an executive for Driscoll's, the world's largest berry distributor, who has taken a lead role with the social responsibility alliance. "We would like to see a stronger focus by government and industry to make sure this doesn't keep repeating."
Twitter: @richmarosi
ALSO
Back wage measure for farm workers challenged
Why cheaper food in 2016 was not necessarily good news
Trump's deportation vow spurs California farmers into action
Sign up for Essential California for news, features and recommendations from the L.A. Times and beyond in your inbox six days a week.
You may occasionally receive promotional content from the Los Angeles Times.