'El Chapo's' wife, an ex-beauty queen, helped plan his escape, witness says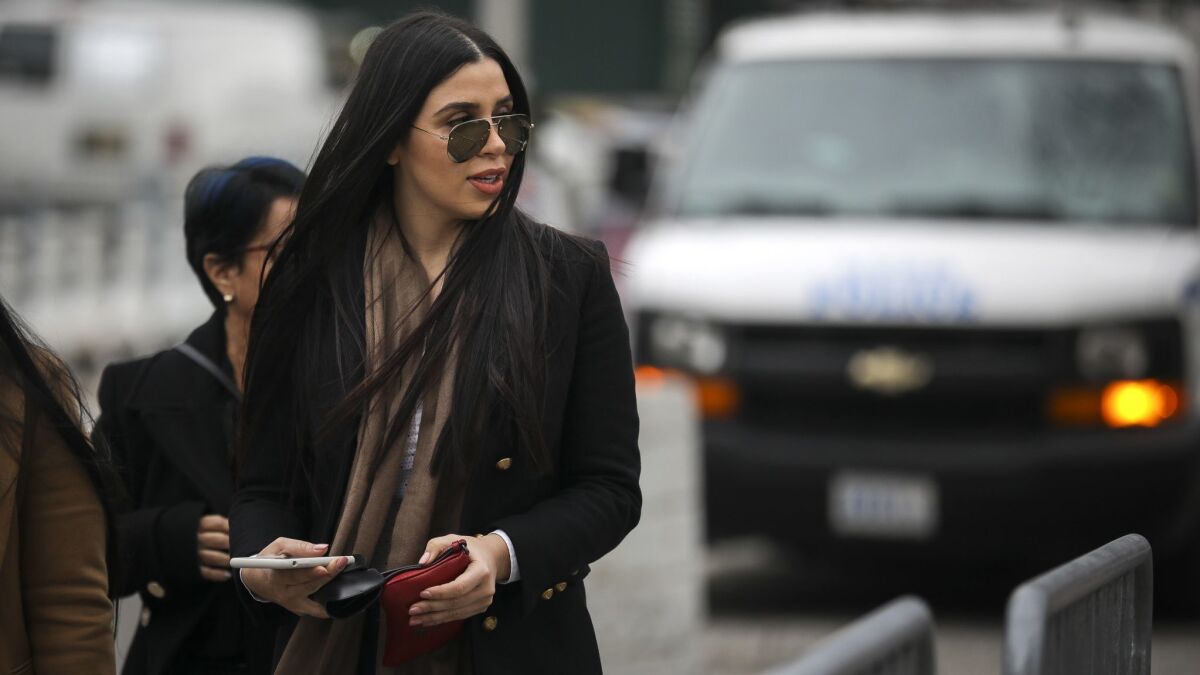 Emma Coronel, the glamorous 29-year-old wife of Joaquin "El Chapo" Guzman, has perfected an unflustered courtroom demeanor: checking her nails and running her hands through her shiny black hair as details of drug world mayhem, murder and mistresses pour out in the sprawling trial against her husband.
It's perhaps unsurprising, then, that the former Mexican beauty queen offered no expression Wednesday when she became the center of a courtroom bombshell.
Coronel, a witness testified, was key in coordinating her kingpin husband's infamous 2015 prison escape, via a mile-long tunnel that opened through his jail cell shower — and she started helping Guzman with another escape plan after his recapture in 2016.
Damaso Lopez, a longtime confidant of Guzman's, offered testimony describing how Coronel sought him out in 2014, about a month after Guzman was arrested in Mazatlan, Mexico.
Through Coronel, "my compadre sent a message — he was thinking of taking the risk again of escaping from prison," Lopez testified in Spanish. "He wanted to know if I could help."
"I said yes," Lopez told jurors, through an interpreter.
Lopez, 52, told of how he, Coronel and Guzman's sons coordinated the escape from the Altiplano prison in central Mexico, a facility that officials had said was escape-proof.
Guzman instructed them, through Coronel, to buy land near the prison. From there, they could build the tunnel. They'd need guns, and an armored pickup truck too. Also necessary: a watch with GPS tracking for Guzman, that way the crew could locate him in the prison and figure out the right spot to dig the hole he'd later crawl into. The perfect location became the floor of his jail cell shower.
"I dedicated myself to get what was asked from me," Lopez told jurors, testifying in navy blue prison garb. Guzman's former right-hand man is serving a life sentence for drug trafficking. His sentence could be reduced for cooperating during the trial, he testified.
The process of building the tunnel took months, Lopez said, and it wasn't a stealth operation. There was so much noise from the construction beneath the prison that some inmates complained, Guzman later told them.
Guzman told them, through Coronel, that the best days to break him out were Saturday or Sunday, because "there were no officials at the jail" on the weekends. A date was set.
On July 11, Guzman headed down into the tunnel, where a driver and a motorbike on a pulley system were waiting. There wasn't much driving to do: The motorcycle didn't even need to be turned on, so the noise from the engine wouldn't give them away. Once out of the tunnel, the drug kingpin was whisked away on an ATV driven by one of Coronel's brothers, Lopez testified. From there, they headed to an airplane and flew to safety.
Lopez saw his boss "about seven or eight times" after his escape, he said. But in January 2016, Guzman was arrested again.
A month later, Lopez had another meeting with Coronel.
Along with sending his regards to Lopez, Guzman needed to get him another message: "He was going to make an effort to escape again," Lopez testified. Once again, Lopez said he would help.
Coronel told Lopez they'd give him $100,000 to start up the same plan: Buy a piece of land near his prison. Guzman, however, had been transferred out of Altiplano to a different prison. Coronel told him they were working on getting him switched back, with the help of a chief of prisons in Mexico. The chief was helping because Guzman was paying him $2 million, Lopez testified.
That escape did not pan out, however: Guzman was later extradited to the U.S., where he has pleaded not guilty to 17 counts of drug trafficking, conspiracy to commit murder and firearms violations.
Coronel has not been charged with crimes in the U.S. or Mexico.
Lopez's connection to Guzman went back much further than his 2015 prison break. In fact, Lopez detailed Tuesday, the men first met in 1999, in a different prison.
At the time, Lopez took a job as the deputy director of security and custody at the Puente Grande prison; Guzman had been in jail there since 1993. Soon after they met, Lopez started "doing favors" for Guzman, and the kingpin would give him "gifts."
Those bribes included $10,000, a house worth 1.5 million pesos and help with medical bills for Lopez's son, the witness testified. In turn, he'd do things for Guzman, like sneaking in a mistress and Guzman's brothers.
Lopez said he left the prison in 2000, when an investigation into corruption began. A year later, Guzman managed to escape Puente Grande, without Lopez's help. In that famous escape, Guzman was rolled out in a laundry cart. Lopez testified that Guzman told him the escape was "spontaneous." Guzman decided he had to leave because he heard he was going to be extradited to the U.S.
Once Guzman escaped in 2001, he reached out to Lopez. Unable to get work in another prison, Lopez began working for Guzman, he testified.
Lopez, the godfather to one of Guzman's twin girls, soon became the point person for buying properties for the cartel. Later he became the go-between with contacts in the federal government for bribes, and he eventually coordinated drug deals for the cartel.
He also offered up some of the trial's more gruesome testimony, detailing how Guzman ordered the murders of at least five different men, several of whom the kingpin felt had betrayed the cartel.
Jurors watched video of a badly bruised former cartel worker's interrogation; Lopez said Guzman later ordered him killed.
Text exchanges between the men read in court described one particularly harrowing death order. A mayor of La Paz, Mexico, had asked the cartel to kill a police officer who was giving her trouble. The politician, who was not named, was leading the polls in an upcoming Baja California Sur election.
"She asked the favor … whether that cop could be killed," Lopez wrote.
Guzman agreed, seemingly because she was likely to win the election.
"Yes. She is the favorite and we should do her the favor," Guzman texted back, saying that the slaying should take place "when the cop is leaving his house" and made to look "as a revenge from some gangbanger. Don't be seen. Not with a rifle, but with a pistol, so it doesn't look violent."
Whether the slaying occurred was not discussed at trial.
On cross-examination, Lopez's relationship to Guzman was attacked by defense lawyers.
Lopez, who always referred to Guzman as "my compadre," also gave him a deferential greeting, nodding his head and placing his right arm across his chest, laying his fist on his heart.
Defense attorney Eduardo Balarezo blasted Lopez for what he said was a fake gesture.
It was not false, Lopez said. He greeted him with respect, he said, "because I love him."
The trial is expected to continue Thursday.
Plagianos is a special correspondent.
---
Must-read stories from the L.A. Times
Get the day's top news with our Today's Headlines newsletter, sent every weekday morning.
You may occasionally receive promotional content from the Los Angeles Times.