More flooding, new evacuations in Isaac's wake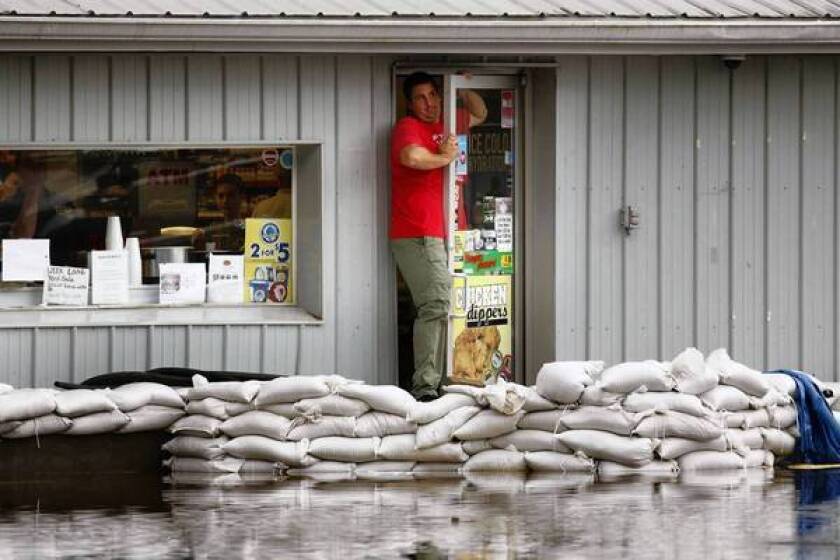 NEW ORLEANS — Isaac pushed north and out of Louisiana on Friday, leaving behind swaths of misery — flooded neighborhoods, power outages in humid heat, thousands seeking help in emergency shelters and thousands more lined up for necessities.
Officials raised the hurricane-related death toll to seven — five in Louisiana and two in Mississippi — and residents in another outlying parish were advised to evacuate because of flooding from a nearby lake.
Yet there were signs of a slow recovery as businesses began to open and cleanup continued. By Saturday officials had hoped to restore power to all but 10% of households in the state, down from 26% late Friday. And about 4,370 people stayed overnight in shelters Friday across the state, about 1,700 fewer than Thursday.
PHOTOS: Isaac pounds Gulf Coast
Republican presidential nominee Mitt Romney toured flooded areas to the south of New Orleans in Jefferson Parish on Friday, and President Obama is expected to arrive Monday.
While New Orleans' newly bolstered, $10-billion levee system stood up to its first post-Katrina test, Hurricane Isaac tore into another weakness: the lack of improvements to flood control systems in outlying parishes, where hundreds of homes have been flooded and residents suffered through the worst of the storm's impact.
Samuel George was displaced twice in the chaos: first when water swamped his Plaquemines Parish home, and Friday when his shelter shut down.
"I probably will never actually go home again," the slightly built man in an oversized shirt and pants said as he stood outside the YMCA in Belle Chasse.
Plaquemines Parish, an area outside the federal levee zone that protected New Orleans, was the site of some of the worst flooding from the hurricane that made landfall Tuesday night. George figured he could ride out this Category 1 storm. But it only took a few hours for his luck to run out.
"I woke up and heard some watery noises," he said. He reached down and felt water. "I got up and thought, 'This is bad.'" George smelled gas and tried to open the door to escape, but it wouldn't budge. He finally pushed it open only to see that his porch had floated off in the raging, rapidly rising water.
Like scores of neighbors, George climbed to his roof and waited. A fawn drifted past, then swam back and joined him. An armadillo arrived and also settled on the roof. Eventually, someone loaded the trio into a boat.
On Friday, parish officials announced his YMCA shelter was closing. "They sprung it on us this morning," said George, who opted not to join fellow "refugees," as he called them, boarding buses to another shelter in Shreveport. He planned to stay with a friend until he could return to Braithwaite and check on his trailer.
"I'm sure I can't salvage anything," he said.
After three to four days of virtual lockdown at home without power, thousands of people lined up in their cars Friday at the Alario Center in the Jefferson Parish town of Westwego to pick up post-hurricane necessities being handed by the Louisiana National Guard. Keith White brought his wagon.
"They didn't want to let me in — said only people in vehicles. I told them, 'This is my truck,'" White said as he held onto the hand-drawn wooden cart, loaded with enough to keep him; his wife, Sharon; and their niece, Tina Penner, satisfied for a day or so. They received two bags of ice, one box containing 12 meals-ready-to-eat, and a plastic tarp in case of more rain.
The supplies did not contain any water — the distribution center had run out hours earlier. Still, on a day when the temperatures neared 90, and when humidity wasn't far below that, the people streaming through seemed grateful for whatever they received.
"God bless you!" one woman yelled happily as she drove off. "You're my angel!" hollered another, waving out the window.
The distribution numbers illustrated the level of need: about 2,000 MRE boxes; 7,656 bags of ice; 400 knives and forks; more than 4,400 cases of water. The station was to remain open until 8 p.m. Friday, assuming the supplies lasted.
In Ascension Parish, about 60 miles west of New Orleans, a voluntary evacuation was announced because of flooding from nearby Lake Maurepas that affected at least 10 homes.
The parish, home to about 120,000, saw the worst flooding in many residents' lifetimes — worse than Katrina and floods in 1983 and 1977, according to Ascension Parish spokesman Lester Kenyon.
"This is a historical event," Kenyon said, "So much water has remained here; the whole region, the Lake Pontchartrain basin and Lake Maurepas is filling up."
Five pumps at a levee on the east side of the parish were "just blasting" Friday, he said, pumping 1,000 cubic feet of water per second back into Lake Maurepas. But that was causing another problem, Kenyon said: "It's backing up toward us."
Col. Edward R. Fleming, the U.S. Army Corps of Engineers New Orleans district commander said his staff would assess the Isaac flooding in outlying parishes for future flood-control projects.
Western Lake Pontchartrain water levels began to recede Friday, but were still 4 feet above normal, Gov. Bobby Jindal said at a Friday briefing.
"Even though the storm has moved out of Louisiana, we continue to see lakes and rivers with elevated levels. Some of these rivers could be at flood levels well into next week," Jindal said.
To the northwest of New Orleans, an emergency effort to intentionally breach an earthen dam and avoid flooding at Lake Tangipahoa in Mississippi appeared to be a success Friday.
Jindal said the work on the dam, which prompted the evacuation of up to 60,000 residents along the river in both states Thursday, was expected to take several days, but had been successful so far.
"Lake levels are dropping slowly, and teams are moving forward with enacting the controlled release that will reduce the threat from this situation," Mississippi Gov. Phil Bryant said Friday in a statement.
Another intentional breach to relieve Isaac-related flooding — this time of a failing levee to the south of New Orleans in Plaquemines Parish — was also successful, Jindal said.
Jindal said that his touring of storm-ravaged areas Thursday left him "in awe of the resilience and generosity of our people."
He highlighted one man in particular, a caretaker at a nursing home in Plaquemines Parish who stayed on the job during Isaac just as he had during Hurricane Katrina. This time, just as had happened during Katrina, the man lost his home.
Jeanne Turlich fled her home in the fishing town of Venice, in Plaquemines Parish, and weathered the storm in her SUV with her two dogs. She was still there Friday. Turlich said she didn't want to be separated from her Chihuahua, Dawlyn, or her cocker spaniel, Tiny Girl, which she walked in a parking lot late Friday.
"I'm still here, so God is with me," she said.
PHOTOS: Isaac pounds Gulf Coast
molly.hennessy-fiske@latimes.com
Susman reported from New Orleans and Hennessy-Fiske from Los Angeles
---
Must-read stories from the L.A. Times
Get all the day's most vital news with our Today's Headlines newsletter, sent every weekday morning.
You may occasionally receive promotional content from the Los Angeles Times.