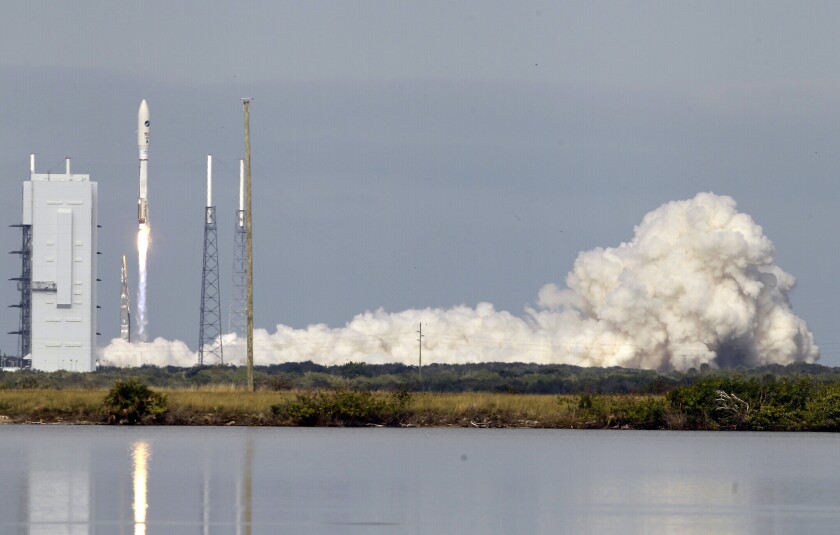 An experimental robotic space plane was launched into orbit atop an Atlas V rocket Tuesday for a classified Air Force mission that could last more than nine months.
The 19-story Atlas V and the space plane, dubbed the X-37B Orbital Test Vehicle, blasted off from Cape Canaveral in Florida just after 1 p.m. Eastern time.
The unmanned X-37B, which resembles a miniature space shuttle, is 29 feet long with a wingspan of 15 feet. The spacecraft draws solar power for energy using unfolding panels.
PHOTOS: X-37B Orbital Test Vehicle
While the Air Force has said the space plane is designed to stay in orbit for 270 days, it hasn't said much about the overall mission. It has said only that the vehicle provides a way to test new technologies in outer space.
This is the third time that the Air Force will send an X-37B Orbital Test Vehicle into orbit.
The first X-37B was launched in April 2010 and landed 224 days later on a 15,000-foot airstrip at Vandenberg Air Force Base, northwest of Santa Barbara. The second X-37B spent 469 days in space.
The X-37B vehicles were built by Boeing Co. in Huntington Beach. Engineering work was done at the company's facilities in Huntington Beach and Seal Beach. Components also came from Boeing's satellite-making plant in El Segundo.
ALSO:
Black Hawk helicopter flies itself over mountain range in test
Navy catapults experimental bat-winged drone into flight [Video]
---