Gazans brace for a bitter confrontation with Israel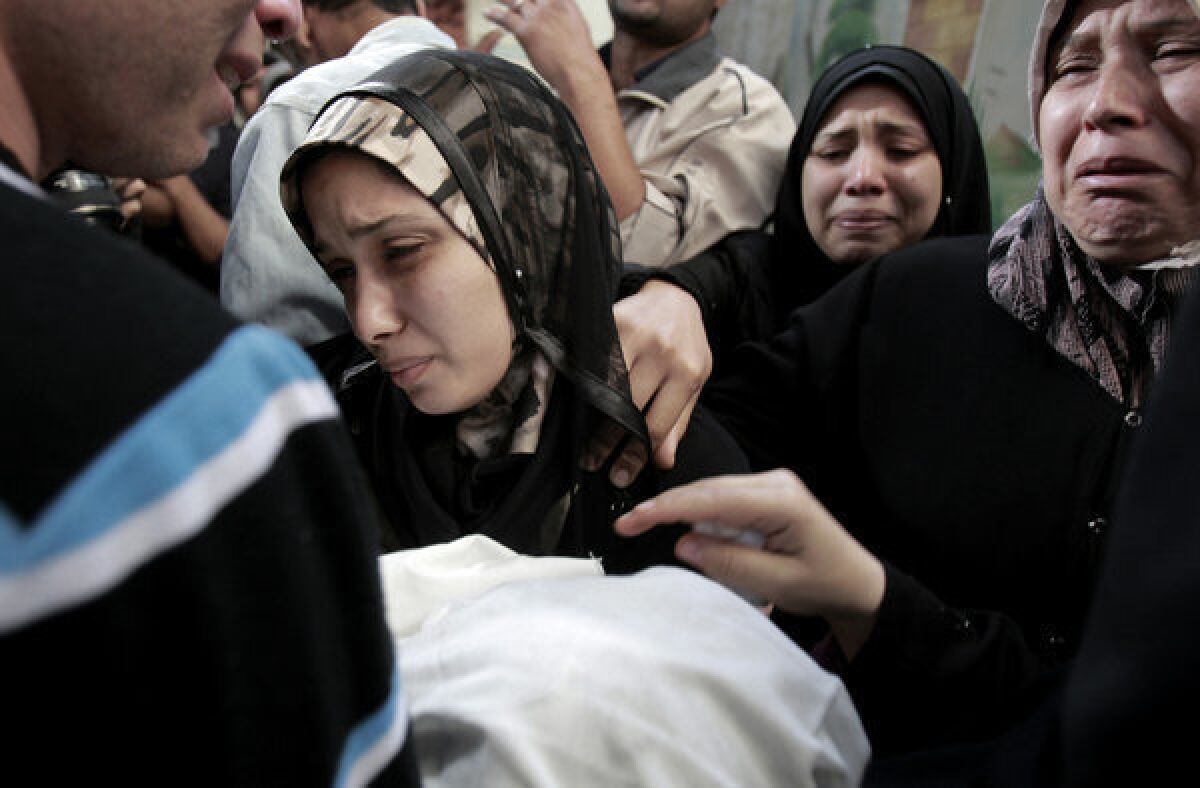 GAZA CITY -- Ahlam Masharawi, a mother of two, knew the Israeli shelling was close to her home by the way it rattled the thin corrugated metal ceiling.
She grabbed her 4-year-old son and bolted toward the front part of house, where a cement roof offered better protection.
A split second behind were her brother-in-law and sister-in-law, bringing Masharawi's 11-month-old son, Omar, a cheerful baby who was just learning his first words.
PHOTOS: Israeli forces kill Hamas' military chief
Before the three could escape, a projectile tore through the roof and ignited a fireball in the room. Masharawi watched her badly burned brother-in-law stagger into the courtyard. But he was alone. Omar and her pregnant sister-in-law died in the flames.
Images of Omar's lifeless body in his father's arms quickly became the latest symbol of bloodshed in another unfolding military clash between Israel and Hamas.
Hours after burying her son Thursday, a stunned young mother still seemed unable to accept it.
"He was just a few steps behind,'' she said softly. "He was right behind me."
As the conflict entered its second day, such stories seemed to only heighten the anger in Gaza, where public support for the confrontation appears high so far.
"Hamas should keep on resisting and fighting,'' said Mohamed Zyara, a Gaza City pet shop owner. "It's the only way we can get our dignity back."
Hamas leaders said they had no intention of backing down, even as Israel announced it was dispatching troops for a possible ground invasion.
"Israel started this war, but they won't decide when it ends,'' said Hamas spokesman Fawzi Barhoum, one of the few Hamas leaders who dared to emerge from hiding Thursday due to concerns that Israel might target them.
"We are in a real war and it will reshape the Palestinian-Israel conflict,'' he said.
Israeli airstrikes killed another seven people Thursday, including four militants and three civilians, Palestinian officials said. That brought the death toll over two days to 15 with more than 125 wounded.
On the streets of Gaza City, the mood was tense, but there was no sense of panic. Many shops remained open. Children played soccer.
At the same time, most expected the situation to worsen in the coming days. Grocery stores reported that customers were stockpiling bread and supplies. On the road were trucks carrying mattresses and belongings of families opting to move out of neighborhoods they fear could draw Israeli fire.
ALSO:
China presents its new leadership
Tamils seek probe after U.N. faults itself in Sri Lanka war report
Myanmar president announces prisoner release before Obama visit
---
Must-read stories from the L.A. Times
Get the day's top news with our Today's Headlines newsletter, sent every weekday morning.
You may occasionally receive promotional content from the Los Angeles Times.