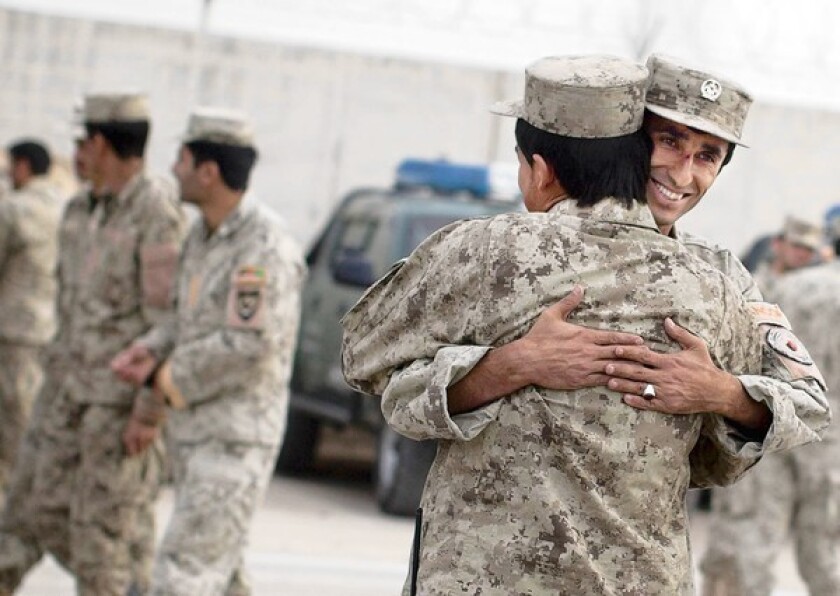 KABUL, Afghanistan — President Hamid Karzai said Thursday that Afghan security forces were ready to protect the country if the U.S.-led NATO force speeds up its withdrawal before a scheduled 2014 departure date.
Karzai also warned that no foreign advisors should be appointed to Afghanistan's Election Complaints Commission, a stance likely to antagonize the international community, which is concerned about potential vote tampering in the presidential election scheduled for 2014.
Karzai's comments came at a news conference with NATO Secretary-General Anders Fogh Rasmussen.
"Afghans are ready to expedite the process of transition if necessary, and willing as well," Karzai said, according to the Associated Press. "So this is in all aspects good news for us and good news for NATO."
For his part, Rasumussen reiterated NATO's commitment to Afghanistan beyond 2014, emphasizing that NATO desires a continuing foreign presence for advising the Afghans after the withdrawal of combat troops.
"We are committed to continuing that cooperation with the Afghan national security forces," he said.
Afghan and U.S.-led forces continue to face strong resistance in the southern and eastern sections of the country, where the Taliban and their affiliates have carried out a string of attacks on coalition and Afghan bases in recent months.
The Afghan police and army have now fielded 337,000 personnel, on the way toward the goal of 352,000 set by the Americans. But there is doubt about their ability to provide adequate security without NATO backing.
Karzai has vowed to not participate in the 2014 presidential election but declared Thursday that electoral oversight bodies would be off-limits to the international community.
"The presence of two foreigners at the Election Complaints Commission hearing is a national matter, as Afghanistan is moving toward independence and approval of constitution," Karzai told reporters, according to the local Tolo News Agency. "The presence of foreigners in our election process is against the national sovereignty of Afghanistan."
The international community has indicated that free and fair elections are a prerequisite for future aid from the West. A report from the International Crisis Group this month warned that a perception of unfairness in the 2014 election could fan greater instability and the possible fragmentation of the security forces.
The organization urged that clear steps be taken to ensure that the country's judicial and electoral watchdogs are free of political meddling and their responsibilities are strongly defined.
Afgahnistan's 2009 presidential and 2010 parliamentary elections were marred by widespread voter fraud.
It is unclear at this point whether gross improprieties would result in a serious slashing of aid.
---