Insurgent attack on Kabul airport ends; all 7 militants slain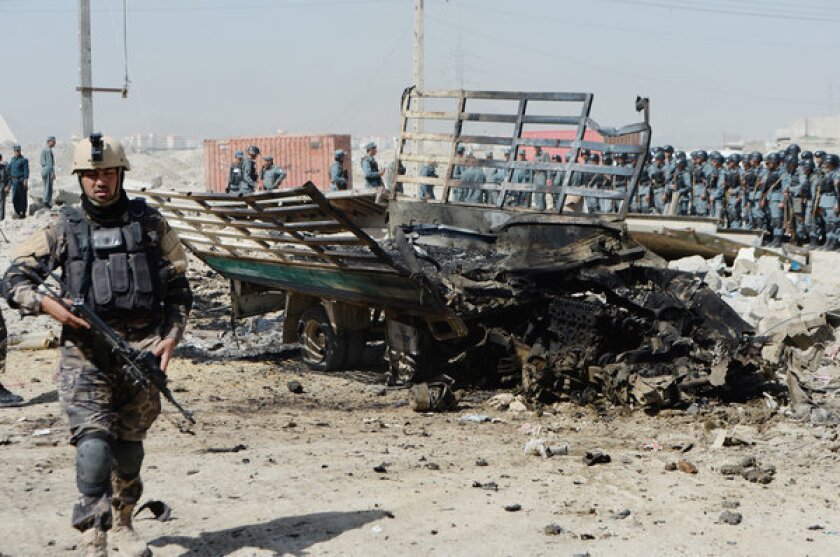 KABUL, Afghanistan – Insurgents launched an hours-long attack early Monday on the heavily guarded military side of Kabul's international airport, which houses a key NATO strategic headquarters, but failed to breach that part of the complex before all seven attackers were slain, officials said.
The incident began around 4:20 a.m. when, according to Afghan police, several attackers wearing suicide vests occupied a tall building under construction along the airport's western perimeter, affording them a good vantage point to fire down on the military facility. Neighbors reported several blasts that sounded like rocket-propelled grenades, which alerted Afghanistan's security forces and led to a protracted gun battle.
Given the proximity of the civilian airport and the unknown nature of the attack, all commercial flights were suspended. Emergency alarms could be heard ringing at the U.S. and British embassies in Kabul's diplomatic zone, several miles from the airport, and the embassies were quickly locked down.
The Taliban claimed responsibility for the attack.
Several hours into the battle, the insurgents were forced out of the tall building and retreated into a second structure, said Mohammad Sediq Sediqqi, a spokesman with the Afghan Ministry of the Interior.
More than four hours later, Gen. Mohammed Daud Amin, Kabul's deputy police chief, said all seven attackers had been killed. Two detonated their explosive vests and the remaining five were shot and killed by Afghan security forces, he said. The attackers also detonated a vehicle packed with explosives, Amin said, adding that no casualties were reported among Afghan security forces or civilians.
In a statement emailed to reporters while the battle was ongoing, the Taliban said its "martyr attackers" had destroyed the entrance to the airport's military section using a truck packed with explosives. It claimed to have inflicted heavy casualties on Afghan and international security forces. Insurgents in Afghanistan often exaggerate their accomplishments and take credit for attacks they don't initiate as part of their psychological warfare tactics, analysts say.
The military side of Kabul Airport houses an air wing of the Afghan Air Force, handles landings, takeoffs and servicing of NATO transport and other aircraft, and houses the NATO coalition's Joint Command headquarters, which runs day-to-day operations of the nearly 12-year war against insurgents.
The Taliban and other such groups typically launch attacks early in the morning, allowing them to prepare and motivate often-young suicide bombers, with less chance of detection, and strike as security forces are changing shifts.
Lt. Quenton Roehricht, a spokesman with the NATO-led International Security Assistance Force, said Afghan police took the lead in repelling the attack, with international forces acting as advisors able to "provide support" if required.
The stakes are high this year as 352,000 Afghan army, police and paramilitary troops assume more responsibility for national security in advance of the withdrawal of some 100,000 foreign combat troops by late 2014. Afghan security face equipment and training shortcomings and morale problems.
Striking high-profile, well-guarded targets such as Afghan and NATO bases, even if the strikes fail, achieves several objectives, analysts said. The attacks spread fear and respect for the insurgency among ordinary Afghans as well as those working with foreign troops, which can help the Taliban and other militant groups recruit members.
They send a message that even heavily manned areas aren't safe and that the insurgency can strike at will, potentially hastening the drawdown of NATO troops. And they are a show of strength to other Afghan groups and parties vying for power after the foreigners leave.
"By launching today's attack, the Taliban are showing they want to have a full hand at the negotiations table," said Abdul Wahid Taqat, a Kabul-based military analyst. He added that Afghan security forces have done well repelling this and other attacks despite their lack of modern weapons and equipment.
Monday's incident was the latest since the start of this year's spring offensive, when insurgent activity picks after the often-brutal Afghan winter.
The Afghan capital last came under attack May 24, when Taliban militants launched a suicide and gun attack on a U.N. compound. In tactics common to such coordinated strikes, one insurgent detonated himself outside the compound to initiate the attack, allowing others to enter and inflict damage before they are killed or commit suicide. That attack destroyed or badly damaged several buildings and left a policeman, two civilians and all four militants dead.
In addition to direct attacks and roadside bombs favored by the Taliban, the insurgency has made use of "insider" attacks by disgruntled Afghan soldiers and police. On Saturday, an Afghan National Army soldier opened fire on a base in eastern Paktika province near the border with Pakistan, killing an American civilian and two American soldiers.
ALSO:
Lebanese protest against Hezbollah turns violent; one dead
South Africans pray as Nelson Mandela battles lung infection
Jewish women keep making inroads at Western Wall
Special correspondent Baktash reported from Kabul and Magnier reported from New Delhi.
---
The Latinx experience chronicled
Get the Latinx Files newsletter for stories that capture the multitudes within our communities.
You may occasionally receive promotional content from the Los Angeles Times.