In post-impeachment Brazil, the new conservative Cabinet is 100% white men
Reporting from Sao Paulo, Brazil —
Brazil's interim President Michel Temer has pledged to build a "bridge to the future," but the 75-year old lawyer has shocked much of the country by assembling a Cabinet that appears to have emerged from a previous century.
Of the 22 members of his new conservative Cabinet, 22 are white men. In a country of more than 200 million people, more than half of Brazilians identify as black or dark-skinned, and over half are women. This is the first executive government since the fall of Brazil's military dictatorship in the 1980s to not have a woman in the Cabinet.
Dilma Rousseff, the nation's first female president, was impeached Thursday and is suspended from office. She will face an impeachment trial that could permanently remove her from the presidency.
See more of our top stories on Facebook >>
Even commentators in Brazil's center-right mainstream media, which have been extremely critical of Rousseff, were taken aback by the new direction.
"So far, the Temer government only has men. This will be a step decades into the past," said Miriam Leitao, columnist at the O Globo newspaper, based in Rio. "If this is really confirmed, [his government] will enter looking like the past."
Rousseff's popularity plummeted after investigators uncovered a multibillion-dollar corruption scheme relating to Brazil's state-run Petrobras oil company, which led to the arrests of political elites and widespread disgust among the population.
NEWSLETTER: Get the day's top headlines from Times Editor Davan Maharaj >>
Some of those linked to scandal were chosen by Temer for his new government. Three are being investigated by authorities, and four more have been cited in the federal police's wide-ranging corruption investigation -- code named Lava Jato, or Car Wash -- in ways which may or may not imply criminal activity.
Temer himself may be ineligible to run for elected office as a result of a recent conviction for violating campaign finance laws.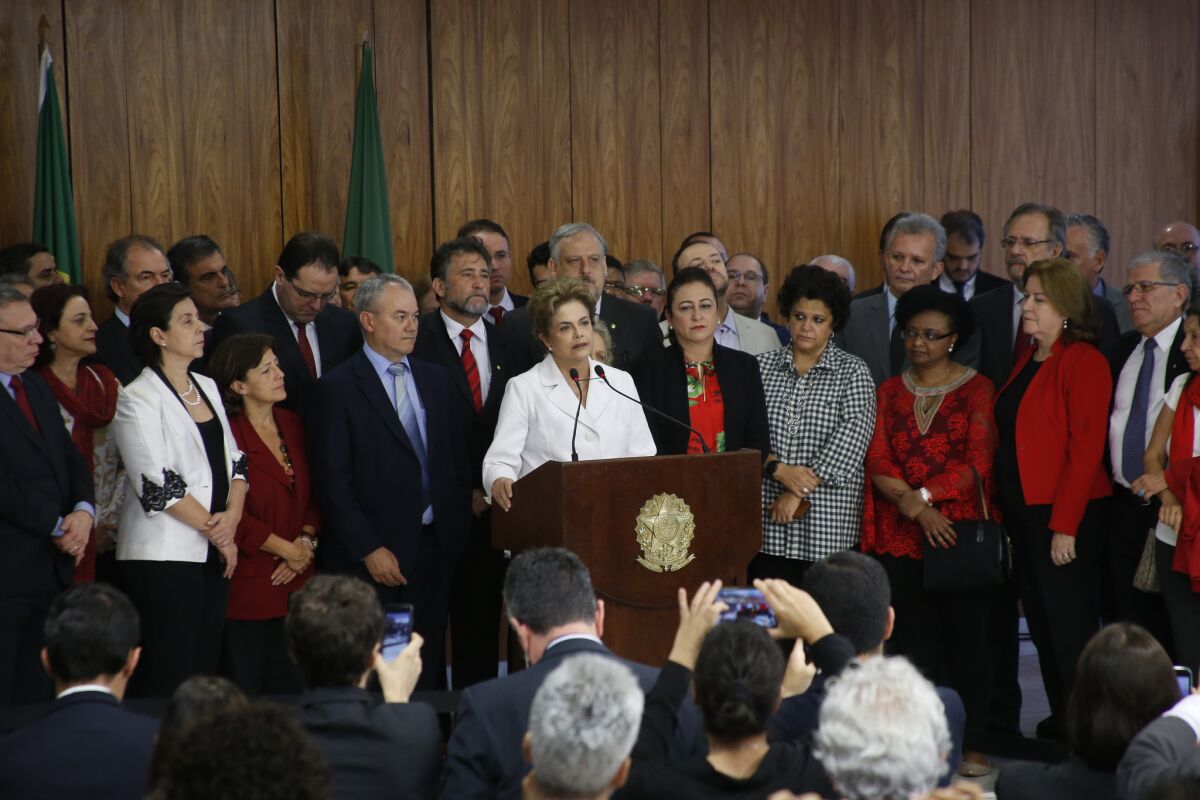 The veteran politician ran with Rousseff twice but abandoned her during impeachment proceedings. His pledge of a "bridge to the future," refers to the title of a government plan presented by Temer's PMDB party last year and signed by Temer, who said Thursday that a government of "national salvation" was necessary. He pledged to be more market-friendly than Rousseff's government.
Writing in Brazil's largest general newspaper, Folha de S.Paulo, columnist Bernardo Mello Franco noted that on every issue but the economy, the Temer government has moved the country in a more conservative direction. Folha's editorial board had previously asked Rousseff and Temer to resign, which would lead to new elections, an outcome a majority of Brazilians favor.
"Michel Temer is poised to make the sharpest turn to the right in the Presidency since April 1964," he wrote, referring to the date of Brazil's military coup. He add that again, this time, "Voters were not consulted about the changes."
ALSO
Brazil's Senate votes to remove president Dilma Rousseff from power
Obama administration plans new raids that would deport Central American children
Brazilian president calls her removal a nonmilitary 'coup' and vows to fight impeachment
Bevins is a special correspondent.
Must-read stories from the L.A. Times
Get the day's top news with our Today's Headlines newsletter, sent every weekday morning.
You may occasionally receive promotional content from the Los Angeles Times.