Lula da Silva faces prison after Brazil's top court rules against him in marathon session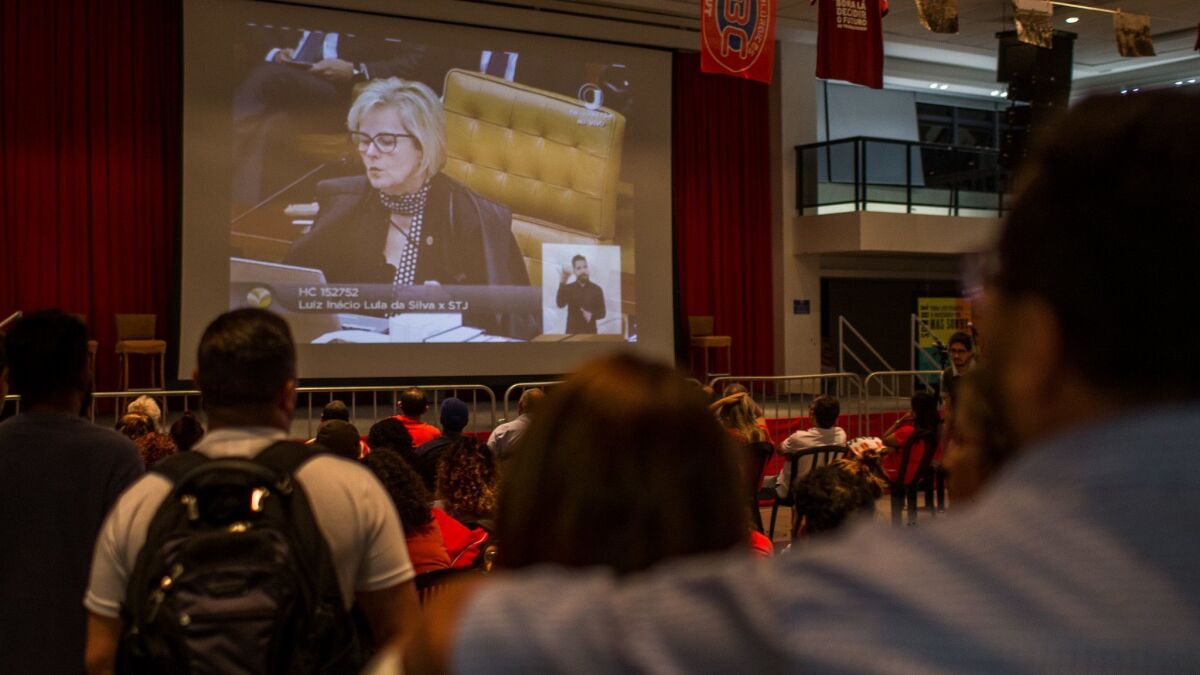 Reporting from SAO PAULO, Brazil —
In a vote that lasted almost 11 hours and stretched from Wednesday afternoon into the early hours of Thursday morning, Brazil's top court denied a request by former President Luiz Inacio Lula da Silva that would have kept him out of prison while he continues to appeal a corruption conviction.
The last judge to vote was Supreme Court president Carmen Lucia, who broke the tie among the other 10 judges for a final count of 6-5.
Lula's possible imprisonment caused street protests and heightened tensions Wednesday as the country's top court weighed his fate. The former president wants to occupy the office once more, and leads presidential preference polls.
The Supreme Court turned down Lula's petition that he be allowed to stay out of prison while he continues to appeal a conviction for corruption. The decision could reshape the presidential election and potentially throw Brazil into greater turmoil.
Once wildly popular after his two terms as president from 2003 to 2011, Lula has become a more polarizing figure amid a massive corruption scandal that has left Brazilians frustrated with the political class.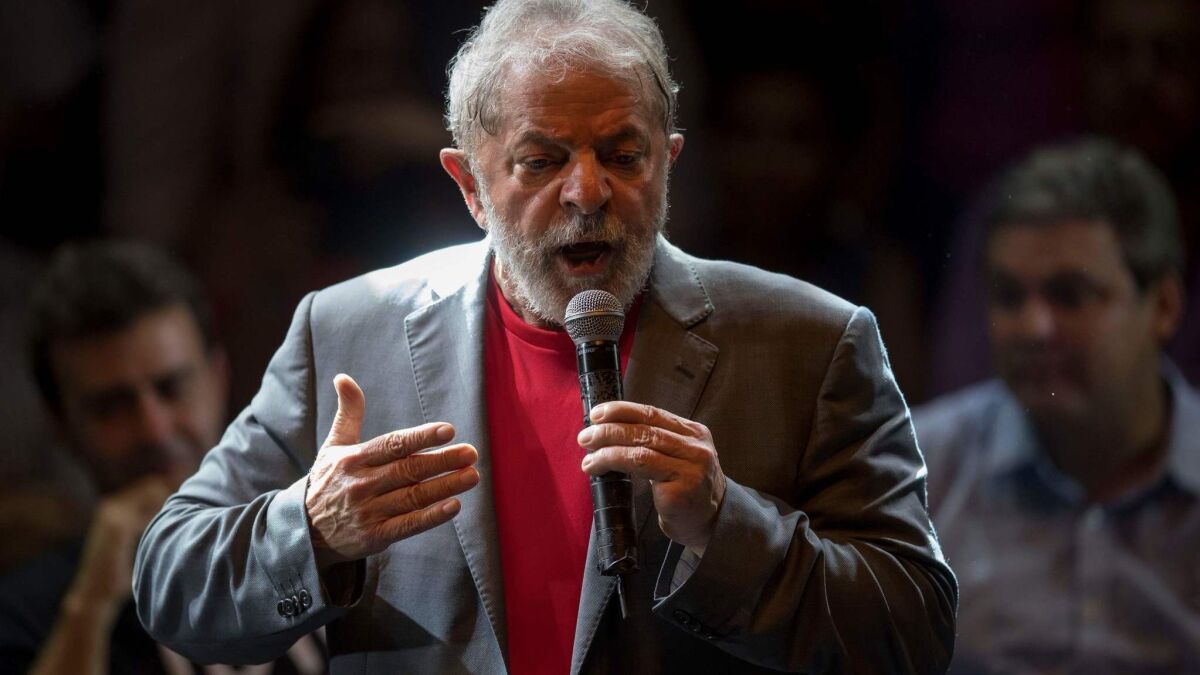 Earlier this month during a political tour of the country, Lula's caravan was the target of protests, and there were reports that one of the buses in the caravan was hit by gunfire. Yet he remains popular, and polls have shown he could win the presidency again.
Lula was convicted last July of accepting $1.2 million in bribes from contractor OAS, which prosecutors said was used to buy and renovate a luxury penthouse apartment in the seaside town of Guaruja. Prosecutors claimed that in return, Lula helped the construction firm win contracts with Petrobras, the state-run oil giant.
The former president was initially sentenced to 9½ years in prison, a term that was increased to 12 years and 1 month when his conviction was upheld in January.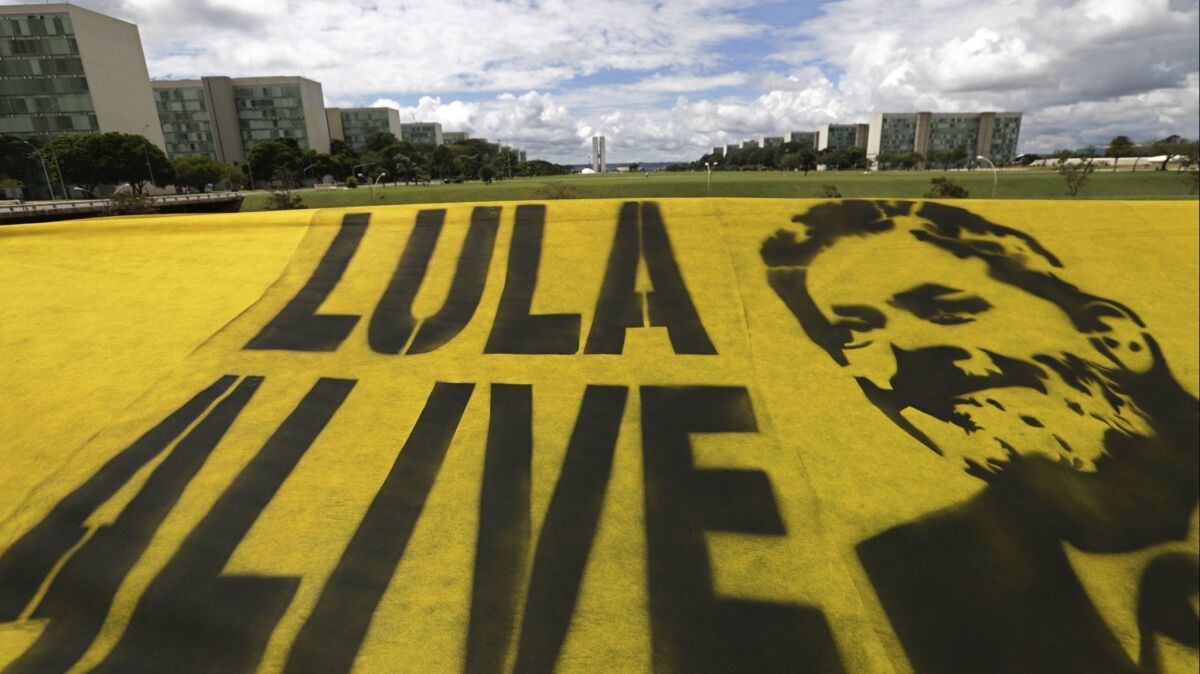 Lula has always maintained his innocence and contends that the case, as well as other corruption charges he faces, are politically motivated. While he continues to lead opinion polls in October's presidential election, with 37% in one recent survey, his conviction could disqualify him.
Brazil's Clean Slate Law prohibits anyone who has had his "mandate" revoked from seeking elected office for eight years. That applies, for example, to those convicted by a panel of judges or someone who resigned office to avoid being impeached. Lula, whose conviction was unanimously upheld by a three-judge panel, would not be able to run for office again until he's 80.
But that didn't stop his Workers' Party from announcing in January that it would register Lula as its presidential candidate in August. He has since been on a pre-candidacy caravan campaign across the country.
Once Lula is a registered candidate, the electoral court will decide whether he is eligible to run. The deadline for the court's final decision on candidate eligibility is Sept. 17.
Langlois is a special correspondent
---
UPDATES:
7:25 a.m., April 5: This article was updated with the Supreme Court's decision against former President Luiz Inacio Lula da Silva early Thursday morning after several hours of debate.
This article was originally published on April 4, 1:20 p.m.
---
Must-read stories from the L.A. Times
Get the day's top news with our Today's Headlines newsletter, sent every weekday morning.
You may occasionally receive promotional content from the Los Angeles Times.