Few political changes likely as Cuba moves on from six decades under the Castro brothers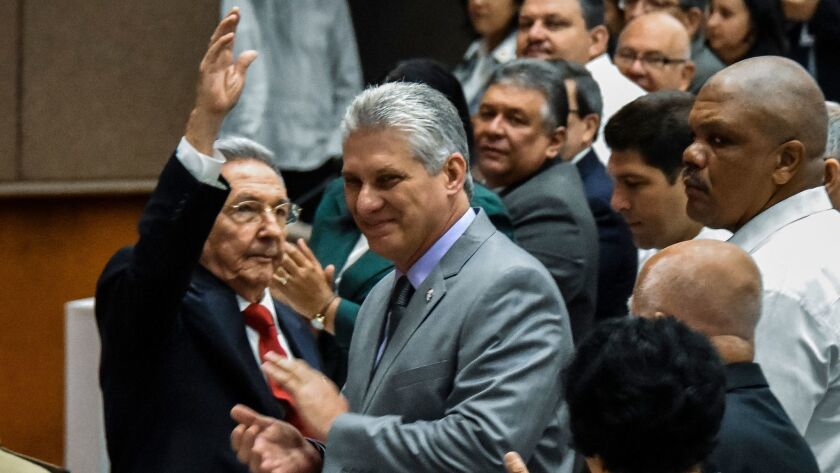 Reporting from Havana —
In many ways, it seemed a day like any other in the Western Hemisphere's only communist nation.
Young Cubans gathered at wireless hot spots here in the capital to connect their smartphones. Taxis — vintage Chevrolets and Buicks and other classics — lined up outside hotels catering to Europeans and Canadians.
As the sun set, families strolled along the seaside Malecon, dodging the spray from waves pounding the signature sea wall.
But the overriding sense of normality here Wednesday belied the historic significance of the moment.
Cuba is about to embark on its most momentous political transition since 1959, when Fidel Castro and his bearded co-revolutionaries seized power in Havana, ousting the U.S.-backed dictator Fulgencio Batista — and triggering an almost unbroken era of enmity between Havana and Washington.
For the first time in almost six decades, the man leading Cuba will not be named Castro.
Raul Castro, the 86-year-old president whose brother Fidel died in 2016, is expected to step down Thursday after a decade in power. The 605-member Cuban legislature is expected to name First Vice President Miguel Diaz-Canel, a relatively little-known Communist Party functionary, as his successor. The president is believed to have handpicked him.
Diaz-Canel, 57, an electronics engineer by training, also represents a generational shift in leadership. He is destined to become the first Cuban leader born after the revolution.
He will be tasked with meeting the demands of a population of more than 11 million Cubans, most of whom are far removed from the khaki-clad Castro and other octogenarian veterans of the storied revolution.
The new president will face daunting challenges, starting with the prospects of economic and, possibly, political reform in a one-party state lumbering under a stagnant economy. He will also have to navigate a deteriorating relationship with Washington. The Trump administration has signaled a retreat from the policies of President Obama, who moved to improve U.S.-Cuban relations
"Raul Castro steps down at a difficult moment for Cuba and at a time when U.S. relations are likely to further fray following President Trump's partial rollback of the U.S. opening," said Jason Marzcak, director of the Adrienne Arsht Latin American Center at the Atlantic Council in Washington.
The very notion of a president who is not a Castro has generated considerable buzz and some apprehension here. Still, Diaz-Canel's ascension is widely seen as a well-choreographed transition meant to perpetuate the rule of the Communist Party. No one seems to expect a major transformation in how the country is run.
"There is great uncertainty among Cubans as to what will happen, but not great expectation of change," said Frank Abel Garcia, an independent Cuban journalist and blogger. "There's the curiosity of what will happen with a president not named Castro.… But there are no expectations that there will be a change in the politics of the country. It's the same. It's the Communist Party."
In fact, Raul Castro will remain for three more years as first secretary of the Communist Party, a powerful post from which to assess the actions of his successor.
The legacy of the Castro brothers includes free education and healthcare, but also political repression, desultory growth, a lack of social mobility and average monthly wages of about $30 for state workers — the majority of employees here.
The younger Castro's 10-year rule was a time of considerable reform and change, including an expansion of private industry; an economic outreach to the vast Cuban diaspora, which now has more opportunities to invest in its homeland; an explosion in access to cellphones and computers; and increased freedom for travel from Cuba.
But last year, under the sway of hard-liners opposed to such reforms, the government slowed the trend toward gradual capitalism, reducing approvals for new businesses in the hospitality industry and other fields.
The island was also hard hit by Hurricane Irma, which was especially destructive to the sugar cane industry and other agriculture. And Cuba's longtime benefactor, the left-wing government of Venezuela, is hard-pressed to curtail its own economic free fall.
Many here voice hope that the new president will reinvigorate private-sector initiatives.
Experts said that economic reform was likely, and that one possible target is the country's confused dual-currency system, which was created to protect state-run enterprises and domestic consumers and uses one kind of peso for Cubans and another for foreign visitors and investors.
A big question is what the handover of power will mean for U.S.-Cuba relations.
When Obama was president, Cubans had high hopes for an economic boom fueled by U.S. investment and tourism. That optimism has faded as the Trump administration has tightened the reins on U.S.-Cuban commerce and made it harder for U.S. citizens to visit the island. The election of Trump also appears to have killed any chance of ending the U.S. trade embargo against Cuba.
Elevating tensions is the fallout from unexplained illnesses among U.S. diplomatic personnel in Havana, including hearing loss and brain injuries. Cuba has denied any effort to target U.S. diplomats in the alleged "sonic attacks." But the U.S. has drastically reduced its diplomatic staff here.
And, as Cuba's economic woes continue to fuel an exodus of people, especially the young, the cutback in the U.S. diplomatic presence on the island has had another effect — slowing the processing of U.S. visas for Cubans seeking to visit the U.S. or emigrate. Many Cubans have opted to leave for Europe and elsewhere.
The new president is likely to face many demands from the island's technologically savvy youth.
"Young Cubans, especially those who have grown up with the technological revolution of the 21st century, seek more autonomy, liberty of movement, access to the internet, an end to censorship and repression, facilities to start up businesses, protection of the environment and respect of the sexual orientation of each person," Cuban historian Rafael Rojas wrote in a column in Spain's El Pais newspaper.
On Wednesday, the Cuban legislature — formally the National Assembly of People's Power — opened a session slated to result in a vote for the new president. A formal announcement is expected on Thursday that Diaz-Canel has been voted in.
In anticipation of the handover, official Cuban TV, radio and social media have been broadcasting a steady stream of spots with a succinct message: Despite the impending shift in leadership, the core values of the Cuban Revolution will not be compromised.
"Continuity" has been the recurring theme in the official word emanating from Havana. "#SomosContinuidad" (We are Continuity) is the dominant hashtag in tweets from the government.
"The people support the revolution completely," said one young man who was among a number of Cubans interviewed on state TV. "Changes are necessary and we will support them."
On the streets here, there was little sense of major impending change. Many people complained privately about low salaries, the high cost of living and poor chances for advancement. But, in a nation where many fear police retribution, few voice such opinions publicly, especially to foreign media.
Still, a sense of hope came through in several interviews.
"I think all Cubans hope things will get better, that there will be more opportunities, especially for the young," said Jose E. Chavez, who has turned a flaming red 1959 Plymouth Fury into a taxi. "Let's hope that's the case with the new president. But it's also true, we don't want go back on the gains of the revolution."
Cecilia Sanchez of The Times' Mexico City bureau and Times staff writer Tracy Wilkinson in Washington contributed to this report.
Twitter: @PmcdonnellLAT
---
Must-read stories from the L.A. Times
Get the day's top news with our Today's Headlines newsletter, sent every weekday morning.
You may occasionally receive promotional content from the Los Angeles Times.