President Obama is coming to Cuba today. So why are so many Cubans leaving?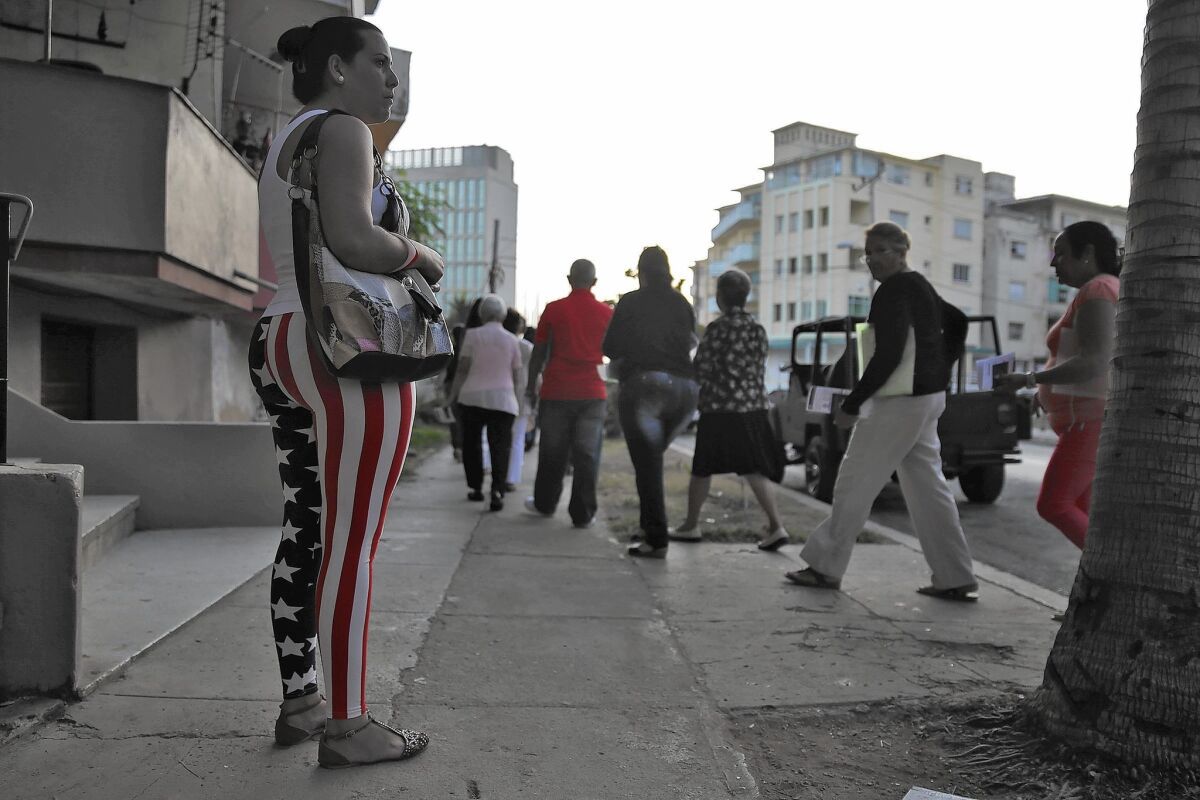 Reporting from HAVANA, Cuba —
For one young couple in Havana, improving relations between the U.S. and Cuba weren't a sign of hope, but a signal to get out.
In January, Leonid Castro used fake papers to travel to Mexico and then the U.S. border, where he asked for political asylum. A few months from now, his wife plans to join him.
They are a part of a movement of tens of thousands of Cubans who are fleeing the island even as it undergoes an unprecedented opening — a shift crystallized by President Obama's historic visit to Havana on Sunday. Cuba is opening the door to more private enterprise and expects lots of new money flowing to the island as Obama eases travel and business restrictions. Yet more than 95,000 Cubans have left for the U.S. since 2014 — and more are on their way.
"They say things are changing, but it's not changing for those on the bottom," said Castro, who earned $25 a month as a cigar roller in a government factory in Havana; he now makes $8 an hour handing out fliers to tourists on the Las Vegas Strip. "I know that in America if I work, I can win."
Castro, 30, is one of many Cubans who fear that warming relations with the U.S. may spell an end to the special status that allows Cubans to live and work legally in America if they can manage to reach U.S. soil. Instead of staying to see how the new Cuba plays out, Castro elected to make a move while immigration laws are still in his favor.
He boarded a flight from Havana to Cancun, Mexico, and made his way first to Mexico City, then to Nuevo Laredo before crossing into Texas. From there, he journeyed to Las Vegas, where he had cousins who would take him in.
His 25-year-old wife, Gisselle Garces Blanco, stayed behind with her mother and grandmother, sharing a two-room apartment in a decaying colonial-era mansion that belonged to Havana's wealthy elite before Cuba's Communist revolution.
Because phone calls to the U.S. cost so much, and because private homes in Cuba don't have Internet, Blanco walks to a wi-fi hotspot in a nearby park when she wants to communicate with her husband.
Sitting in the shade of a tree, she exchanges emails with Castro about his life in Las Vegas and her plan to escape.
"I'm not afraid," Blanco said, although she knows traversing Mexico is dangerous for migrants, especially women.
"I want opportunity," she said. "There's nothing here. Nothing."
A much more optimistic attitude is on display in other parts of the city, where hotels and restaurants have been eagerly preparing for the visit by Obama and an entourage of more than a thousand, and where an increasing number of Cubans are taking advantage of a growing influx of tourism dollars and new laws that allow private citizens to open small businesses.
In Old Havana, where the government has made strides in recent years to restore grand pre-revolutionary buildings, well-heeled tourists from New York and Los Angeles compete for tables at hip rooftop restaurants that serve up specialty cocktails and skillets of fresh-caught shrimp. Other Cubans are renting out spare rooms to tourists on websites such as Airbnb, or turning their cars into taxis.
But not everybody is poised to take advantage of those changes.
"If you don't have money to buy a car, it means nothing that tourists are coming and will be needing a taxi," said Claudia Meilan, who works as a translator in Havana, and whose mother has been earning extra income by renting out her apartment overlooking the Malecon, the city's famous seaside boardwalk.
In the past, Cuban migration to the U.S. was largely political. In the 1960s, flocks of Cubans fled the Communist takeover that brought Fidel Castro to power. Twenty years later, another exodus occurred when the Cuban government allowed thousands to flee a sharp economic downturn; many of those who arrived to the U.S. on the so-called Mariel boatlift, it turned out, had recently been released from prisons and mental health facilities. The recent phenomenon is different, said Geoff Thale, program director at a think tank called the Washington Office on Latin America.
"The number of Cubans who are coming for genuine political reasons is minuscule compared to those coming for economic reasons," said Thale, who believes it's part of a broader regional trend that has driven migrants out of other Caribbean countries, as well as Puerto Rico.
In Cuba, the prices get higher, but the salaries don't.
— Leonid Castro
For Blanco, who worked until recently in a government-owned clothing store, the decision was simple.
When she and Castro started talking about having children last year, they decided it would only be fair to their future kids if they tried to make it to the U.S. first.
Government-funded education and healthcare are a blessing, Blanco said, but food and other shortages are stressful. She would like to walk into a store and know that there will be plantains, or shampoo, on the shelves. She dreams of being able to afford her favorite fruit — mangoes — on a regular basis.
She met Castro, an Afro-Cuban who skateboards and surfs, two years ago. She liked that he knew how to mamba. He liked that she was funny and fearless, and he was also impressed with the rose tattooed on her shoulder.
Blanco's family supports her decision to join her husband in Las Vegas, though they know little about life there. Her father, who spent several years working in Miami though he is now back living in another part of Havana, is buying her a plane ticket to Cancun.
Blanco is lucky compared to many Cuban migrants who don't have papers — legal or forged — to travel to Mexico, and who have had to start their journey much farther south, in Ecuador, where until recently an entry visa wasn't required.
The Cuban government has enacted changes in recent years, including doing away with an exit visa requirement, that make it easier for migrants to leave Cuba and return.
Still, Cuban state television is dominated by tales of U.S. migration that ends badly, such as one documentary in which a man sings hopefully of finding "a car, a house and a good woman" as he sails by raft to south Florida, but eventually ends up disabled and in poverty.
For years, officials have demanded a revocation of the Cuban Adjustment Act of 1966, under which Cubans who arrive on U.S. soil are granted permission to stay legally. Whether that provision stays or goes has surely been a topic of increased dialogue between the two nations, and Thale predicts it will be overturned in the next two or three years.
"It's pretty hard to imagine that given the other changes, that there's a compelling political rationale to keep admitting Cubans," he said.
Cubans enjoy a special status that sets them apart from other Latin American immigrants. Once they arrive on U.S. soil and ask for asylum, they are "paroled," or allowed to stay legally, and can apply for work permits and eventually green cards.
But there is increasing pressure, from lawmakers in both parties, to change the law, under which immigrants from Cuba are also eligible for federal welfare benefits. The pressure has increased as the number of Cubans rises and amid record levels of migration of children from El Salvador, Guatemala and Honduras who are fleeing poverty and gang violence.
"It's a law that's unfair," said Jose Pertierra, a Cuban American attorney in Washington. "You have waves of Cubans crossing the border, and waves of children fleeing violence in Central America. The Border Patrol detains the children and gives the Cubans green cards."
In part to suppress the recent rush of migration from Cuba, U.S. officials have repeatedly stressed that there are no immediate plans to eliminate the provision that allows them to stay.
"The administration has no plans to change our current immigration policy toward Cuba or seek legislative change regarding the Cuban Adjustment Act," Border Patrol Spokesman Daniel Hetlage said, a message echoed by Obama aides.
But Castro and Blanco believe the window for them to access the American dream is closing, and it's better to be safe than sorry.
"In Cuba, the prices get higher, but the salaries don't," Castro said. "I felt like a dog there, not in control of my life."
Once his wife makes it to Nevada, he said, he's going to turn his attention to his parents. "I want them to come as well."
Twitter: @katelinthicum
ALSO
What U.S. travelers need to know about new Cuba rules
Obama's Cuba visit to augur a 'new beginning' between nations
This California congressman wants Cuba to send back the man who hijacked his plane 44 years ago
Must-read stories from the L.A. Times
Get the day's top news with our Today's Headlines newsletter, sent every weekday morning.
You may occasionally receive promotional content from the Los Angeles Times.