After a decade under one leader, Ecuadoreans head to polls to elect a new president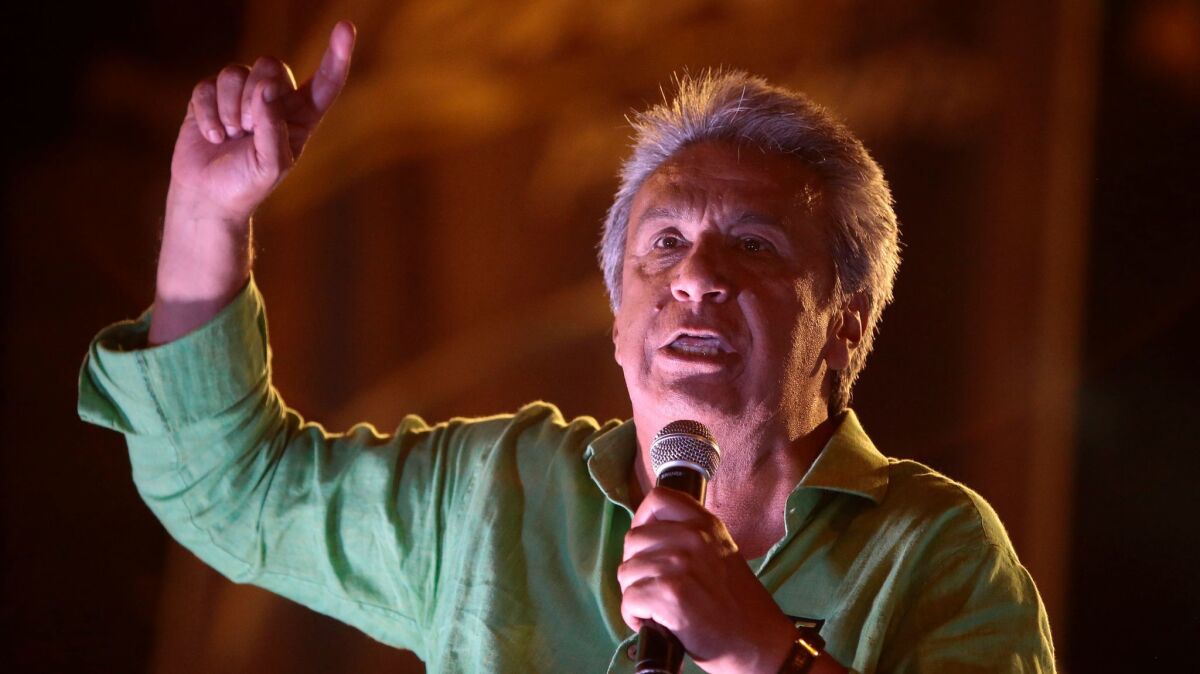 Reporting from QUITO, Ecuador —
Ecuadoreans go to the polls Sunday to elect a successor to President Rafael Correa, the mercurial, charismatic leftist whose social welfare and highway projects earned him widespread support among the poor but whose authoritarian tendencies over a decade in power raised the ire of human rights and press freedom backers.
Leading the polls is Lenin Moreno, Correa's former vice president, who uses a wheelchair and more recently was a U.N. delegate for the handicapped. Next in voter preference among seven other candidates are center-right bank chairman Guillermo Lasso and national congress member Cynthia Viteri.
Since no candidate is likely to garner the 50%-plus one vote needed to win outright, odds are that Moreno, whose voter preference numbers have ranged from 28% to 32% in recent polls, will face off against probably either Lasso or Viteri in a second, decisive runoff election on April 2.
Correa was elected to three terms in 2006, 2009 and 2013. A populist who earned a doctorate in economics at the University of Illinois Urbana-Champaign, benefited from the popular rejection in many Latin American countries of neoliberal policies of the 1990s that promoted open markets and privatizations of government assets and services.
Correa, who forged close ties to the late Venezuelan President Hugo Chavez and with Bolivian President Evo Morales, pushed through an extensive public works program and built scores of schools, dams and hospitals. Money for the projects early in his administration came from exports of Ecuadorean oil.
But Correa also faced abuse of power charges for his attacks on the press and lawsuits against political opponents and for promoting large-scale mining projects on land claimed by indigenous groups. He earned the enmity of environmental groups by green-lighting oil drilling in the Yasuni National Park, one of the world's most biodiverse reserves.
Although the path seemed clear for Correa to seek a fourth term after the National Assembly approved a measure in December 2015 permitting indefinite reelection of public officials, Correa in the end opted not to run, influenced perhaps by a 2016 recession worsened by declining oil prices and his plunging popularity. According to a recent poll, 62% of Ecuadoreans don't trust him.
Moreno, the former vice president and Correa ally, has tried to distance himself somewhat from the president by promising to be more inclusive. Moreno spokesman Andres Michelena said in an interview that Moreno, if elected, would arrive "offering his hand to all sectors."
"Perhaps in the past 10 years, a different style was needed to push through the reforms the country needed, but today what is needed is consensus, dialogue with the business community, the news media and social groups for the benefit of the country," Michelena said. Moreno would "deepen" commercial relations with the United States, he added.
Moreno's best known initiative as vice president was spearheading a program under which 300,000 handicapped Ecuadoreans were given medical and financial support. He was paralyzed by a gunshot fired by an attacker during a robbery attempt before he began his political career.
Several months ago, Moreno enjoyed sky-high approval ratings and seemed a good bet to win the presidency in the first round. But his popularity has ebbed in recent months, due in part to the worsening economy and public perception of his patron Correa, while Lasso and Viteri have risen in the polls.
Lasso, of the CREO party, is chairman of Ecuador's second largest bank and ran for president against Correa in 2013. Viteri, who has been a member of the National Assembly since 1998, is a close ally of Jaime Nebot, the powerful mayor of Ecuador's largest city, Guayaquil.
Whoever wins will inherit an economy barely growing, depressed government oil revenues and a mountain of debt, much of it owed to China, which has extended loans to the Correa government in exchange for deliveries of oil.
Special correspondents Jaramillo Viteri and Kraul reported from Quito, Ecuador, and Bogota, Colombia, respectively.
ALSO
A tale of two cities: What happened when factory jobs moved from Warren, Ohio, to Juarez, Mexico
Why tens of thousands of kids from El Salvador continue to flee to the United States
Latin America bribery scandal widens to engulf two of the continent's highest profile figures
---
Must-read stories from the L.A. Times
Get the day's top news with our Today's Headlines newsletter, sent every weekday morning.
You may occasionally receive promotional content from the Los Angeles Times.