In Hurricane Matthew's wake, Haiti is left to face an old foe: cholera
In Haiti's hurricane-battered southwest, the scene is repeated daily, hourly, moment by moment. A man, woman or child huddles in a crowded clinic or shelter, enduring a constellation of ominous symptoms: fever and vomiting, dehydration and diarrhea.
Across the storm zone, it's a time of cholera.
The waterborne disease was a scourge even before Hurricane Matthew roared across the Tiburon Peninsula eight days ago. Cholera was inadvertently brought to the country in the wake of the disastrous 2010 earthquake by Nepalese United Nations peacekeepers, an act for which the world body only recently acknowledged responsibility.
The Caribbean country, the hemisphere's poorest, now has one of the world's highest cholera rates. Nearly 10,000 people have died from it since 2010, and more than 27,000 suspected cases have been reported this year. But prior to the storm, thanks to concerted public-health efforts, the number of new cases was beginning to level off in some areas, relief organizations say.
No more.
Flooded pit latrines, human corpses and animal carcasses have tainted water supplies in a wide swath of hurricane-hit locales. On the banks of contaminated rivers, children bathe and groups of women gather to wash clothes; many people lost almost all but what they were wearing when the storm struck.
Even those who are aware of the danger often are forced to use unsafe water for cooking and drinking; almost everyone is hungry and thirsty.
"It's the perfect storm of conditions" for cholera's unchecked spread, said Sean Casey, an emergency team leader for the International Medical Corps working in storm-devastated Les Cayes, a seaside town. Because of that, relief organizations are making anti-cholera measures a priority, even among a plethora of pressing needs.
Although the hurricane was more than a week ago, water tankers didn't reach some areas, including hard-hit neighborhoods of Les Cayes, until Wednesday. The World Health Organization is sending 1 million cholera vaccine doses to Haiti, it said Tuesday.
Other urgent measures include rushing in water-purification tablets, treating water sources such as cisterns and tanks used by large numbers of people and setting up latrines in shelters and informal camps, relief groups say.
The hurricane killed hundreds — nearly 500 by the official toll, at least double that by unofficial estimates. The inaccessibility of remote villages that took the brunt of the storm has slowed the counting. An additional 750,000 people will need "life-saving assistance and protection" in the next three months, and more than 175,000 are in shelters, by the count of the U.N.
Even as the death toll mounts, aid agencies fear that disease and untreated injuries will sweep away even more lives, with cholera as a crucial threat, especially to the very young.
"Every day that goes by increases the threat of cholera," Marc Vincent, the representative to Haiti for the U.N. children's agency UNICEF, said in a statement this week. "We are in a race against time to get to these children before diseases do."
Cholera is readily treatable with rehydration salts or intravenous fluids if caught early. But for infants, the elderly or those whose health already is compromised, it can prove fatal.
It's an uphill fight. Before the hurricane, only 3 in 5 people had access to safe water, UNICEF said, a rate that dropped to 1 in 2 in the countryside. Diarrhea is one of the main killers of children under 5.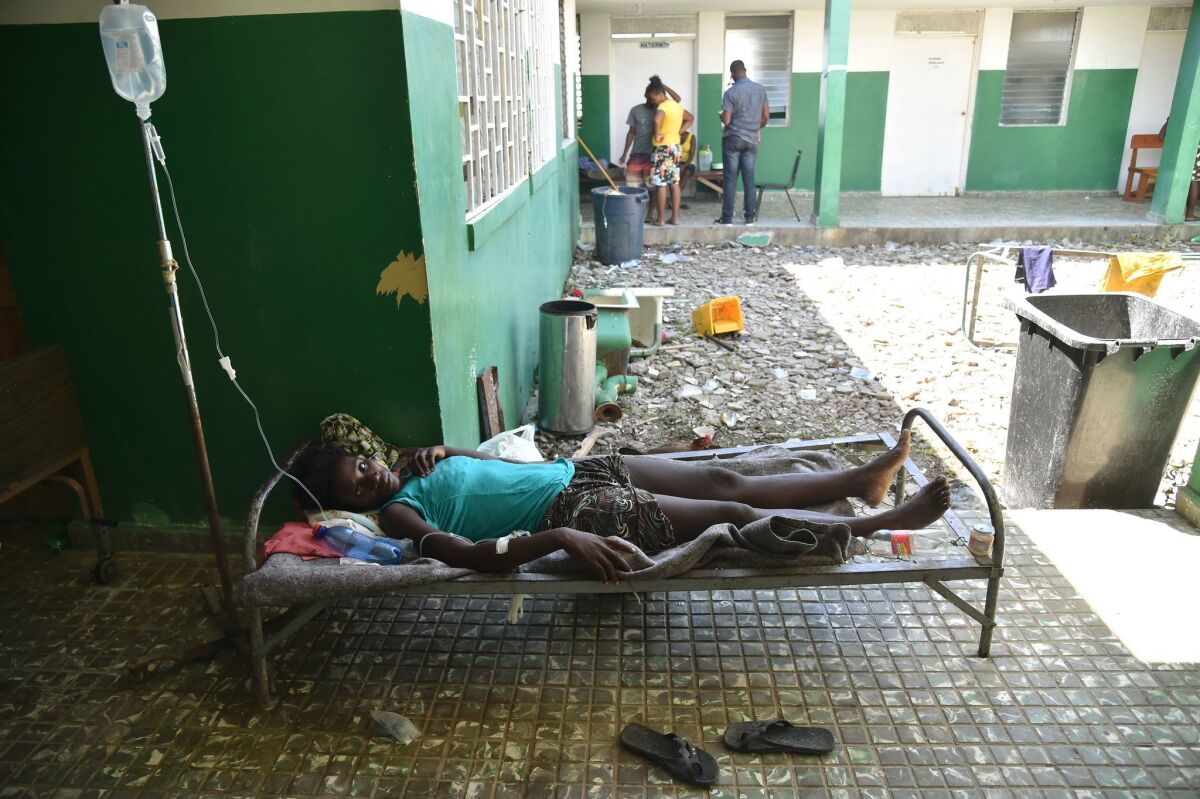 And the timing could scarcely be more difficult. Even in a normal year, cholera cases tend to rise with the onset of the rainy season, beginning in November — meaning that areas just drying out from floods soon may face more rain.
As people desperately seek medical aid for injuries and ailments — grievous wounds from flying debris, upper-respiratory ailments and skin infections are all common — cholera sufferers mingle with those around them, endangering all.
In hurricane-flattened Les Cayes, Margaret Taub of the International Medical Corps saw one such case: a young man repeatedly vomiting in the packed waiting room of a hospital whose floors already were besmirched with mud, blood and flood debris. Only one nurse was present; at least 30 patients were waiting.
Because Haiti has been in cholera's grip for more than five years, many parents know and dread the disease's danger signs, even as they are consumed with the overwhelming tasks of trying to secure food, shelter and basic necessities.
"Their children are weak, they're not keeping fluid down, they're listless — they don't look right," Taub said. "You can see the worry on their faces. … You don't want those who have survived this storm to not survive disease."
Follow @LauraKingLAT on Twitter
ALSO
How much more must Haiti endure?
Where Hurricane Matthew hit hardest: Hundreds dead in ravaged Haiti
Haiti's troubled succession of leaders: 'They don't really want to work for the Haitian people'
Must-read stories from the L.A. Times
Get the day's top news with our Today's Headlines newsletter, sent every weekday morning.
You may occasionally receive promotional content from the Los Angeles Times.