How much more must Haiti endure?
When Hurricane Matthew slammed Haiti this week, it unleashed a new wave of suffering on a country already besieged by challenges. The storm hammered the Caribbean nation's poor and densely populated southern coast, damaging up to 80% of homes and leaving at least 350,000 people in need of immediate aid.
Preliminary official estimates put the death toll at 300, but some media reports quoting local authorities put the figure at more than 800 — a devastating blow to a nation already traumatized by social, economic and political woes.
Since 2000, Haiti's 10.4 million people have endured repeated natural disasters, health crises and political unrest. And it remains one of the world's poorest nations.
Poverty problems
More than 6 million people live below the national poverty level, surviving on less than $2.42 per day, and 24% of the population lives under the extreme poverty line of $1.23 per day, according to World Bank data. The poverty situation has been worsening over the past decade. And according to the United Nations, about 50% of urban Haitians are unemployed.
The country's overall social indicators are generally bad, World Bank data show. Life expectancy is only 57 years compared to the 69-year average in Latin America. Less than half of the population is literate. Only about 1 in 5 children of secondary-school age actually attend secondary school. Some 100,000 children under 5 years of age suffer from acute malnutrition, while 1 in 3 children are stunted, or irreversibly short for their age, according to the U.N. World Food Program.
Less than 50% of households have access to safe water and only a quarter of the population has adequate sanitation, the agency said.
With so many Haitians lacking proper sanitation and clean water, "It is feared that the hurricane will worsen an already precarious situation," the U.N. Children's Fund reported.
Earthquake
Before Matthew wrought havoc, Haiti was still struggling to recover from a 7.0 earthquake that struck the country in 2010, killing at least 220,000 people.
The devastation was staggering. According to data from the Disasters Emergency Committee, a collaboration of 13 leading aid agencies in the United Kingdom, the earthquake destroyed at least 105,000 houses, badly damaged an additional 188,383, and rendered 1.5 million homeless. In addition, 80% of schools in the capital, Port-au-Prince, were destroyed or damaged. The U.N. put the cost of the damage and losses at about $8 billion.
According to UNICEF, 55,000 people were still living in shelters — thousands of them in tents — when Matthew struck.
The earthquake's destruction came six years after more than 3,000 people were killed in flooding and mudslides triggered by Hurricane Jeanne in 2004.
Cholera crisis
Health crises have also plagued Haiti. Months after the earthquake, an outbreak of cholera sparked another humanitarian emergency. The disease has killed at least 9,100 people and sickened hundreds of thousands. More than 27,000 suspected cholera cases have been reported already this year, according to UNICEF.
In August, the United Nations acknowledged responsibility for introducing the waterborne illness after scientists traced the outbreak to a base housing U.N. peacekeepers who had been dispatched from Nepal to help with the recovery.
The nonprofit organization Partners in Health warned of a looming health crisis.
"Cholera cases will spike as a result of this storm," Charles-Patrick Almazor, chief medical officer in Haiti for Partners in Health, said in a statement. "The conditions on the ground with contaminated water are setting the stage for the next wave of this disaster."
The International Federation of Red Cross and Red Crescent Societies said that in addition to cholera, diseases such as dengue fever and the Zika virus could worsen as a result of damage to sewage infrastructure and water sources.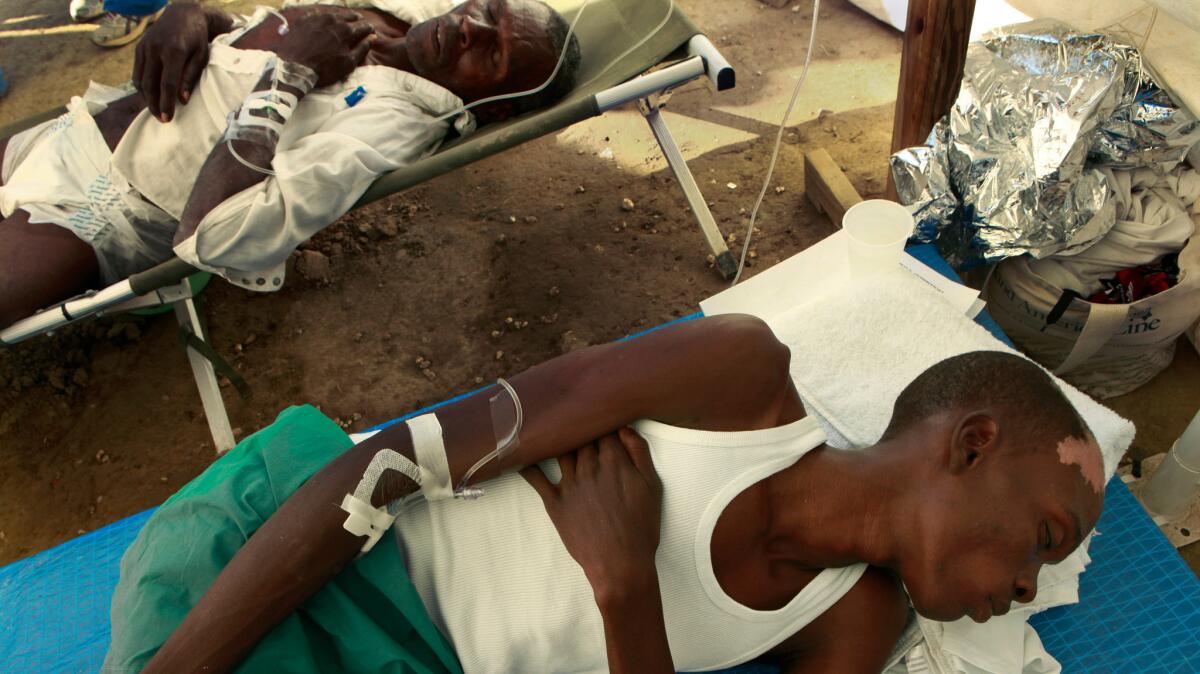 Drought dries up food supply
The hurricane has exacerbated an already critical food shortage. According to the U.N. World Food Program, at least 3.6 million Haitians do not have enough to eat, and among them more than 1.5 million are facing severe hunger.
Drought caused the main 2015 harvest to fall below average with losses of up to 70% in some areas, the U.N. agency reported earlier this year, noting that this was "a severe blow to food security in Haiti, where agriculture employs half of the working population."
Political instability
The hurricane threatens to strain an already fragile political situation that has mired Haiti in instability. The country has been without an elected president since February. Several rounds of elections have been postponed due to claims of fraud and concerns over the potential for violence.
The nation had been scheduled to hold a new presidential election Oct. 2, but the vote that had drawn 27 candidates has been postponed indefinitely.
The lack of governance has aggravated Haiti's social and economic woes. According to the World Bank, "corruption and misuse of public funds have resulted in a decline in the quality of all public services, including fundamental areas of traditional governmental responsibility, such as the police, the justice system and the provision of basic infrastructure."
The international financial institution attributed Haiti's endemic poverty to the lack of proper governance.
There have been 45 leaders since the country achieved independence from France in 1804, and for the most part they have pillaged and plundered, ruled as despots, stifled opposition and violated human rights — largely with impunity.
Times staff writer Alexandra Zavis contributed to this report
For more on global development news, see our Global Development Watch page, and follow me @AMSimmons1 on Twitter
Sign up for Essential California for news, features and recommendations from the L.A. Times and beyond in your inbox six days a week.
You may occasionally receive promotional content from the Los Angeles Times.