As caravan of Central American immigrants heads north, Trump warns of cutting aid to Honduras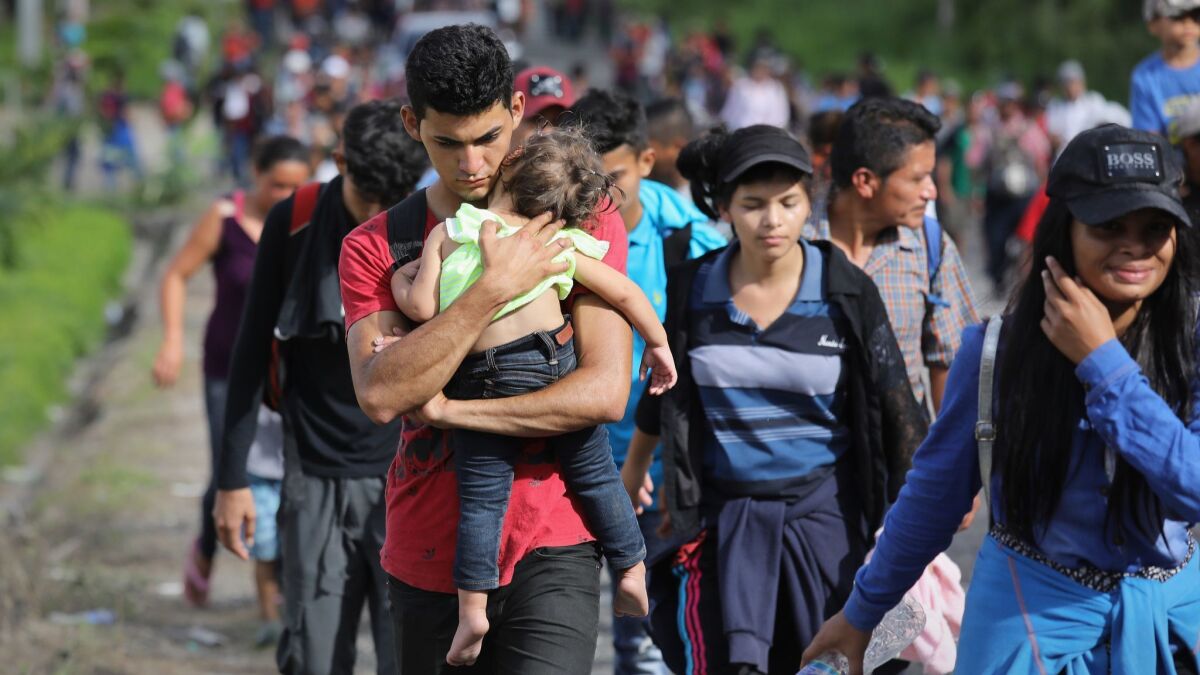 Reporting from ESQUIPULAS, Guatemala —
A caravan of Central American immigrants traveling northbound in buses and on foot on Tuesday provoked the ire of President Trump, who threatened to cut off U.S. aid to Honduras if the group was not stopped.
Trump said via Twitter that Honduran President Juan Orlando Hernandez had been warned about the group of roughly 2,000 asylum seekers and economic migrants.
"The United States has strongly informed the President of Honduras that if the large Caravan of people heading to the U.S. is not stopped and brought back to Honduras, no more money or aid will be given to Honduras, effective immediately!" Trump tweeted.
The caravan departed Saturday from the violence-plagued city of San Pedro Sula, two days after Vice President Mike Pence prevailed on the leaders of Honduras, El Salvador and Guatemala to persuade their citizens not to enter the United States illegally.
The group arrived at the Guatemalan border on Monday. After a two-hour standoff, its members, who far outnumbered the police and immigration officials there, were allowed to cross. They spent the night in the small town of Esquipulas, about an hour north of the border, and on Tuesday were continuing north.
It was unclear how Trump expected Honduras to stop the caravan. Hernandez did not immediately respond to Trump's tweet.
The U.S. gave Honduras more than $180 million in aid in 2017 for a range of programs designed to improve security and combat poverty and drug trafficking, according to the Washington Office on Latin America think tank. Those funds are appropriated by Congress.
It was also unclear how Guatemala would respond to the caravan. Guatemalan President Jimmy Morales, who is seeking U.S. support in his efforts to shut down a U.N.-backed anti-corruption body that is investigating him and several family members, has sought to curry favor with Trump.
On Tuesday, Guatemalan authorities arrested Bartolo Fuentes, a former Honduran congressman who had been acting as a spokesman for the caravan. It was unclear what charges, if any, Fuentes faced.
In April, another caravan that originated in Honduras provoked a series of tweets from Trump, who said the participants posed a threat and who sent National Guard troops to the border in response. Many participants of that caravan, which included large numbers of women and children, eventually turned themselves over to border authorities and asked for political asylum.
Similar caravans were organized in previous years but traveled largely without interference by authorities. The caravans are designed to help protect immigrants from the dangers of the migrant trail, which include robberies, rapes and assaults perpetrated by smugglers, cartel members and even some immigration and law enforcement authorities.
The latest caravan includes people fleeing violence, poverty and political repression.
Elsa Medina Santos said she joined the caravan with her husband after she had received death threats in connection to a land dispute in the municipality of El Progreso. The couple fled to another part of Honduras last year after another woman involved in the dispute was killed.
Medina said that she filed police reports with authorities, but that there was no progress on the case. She and her husband decided to leave Honduras because they believed it was unsafe.
"Everything remains in impunity," Medina said.
Many immigrants traveling with the caravan said they decided to join it after seeing news reports about a large group of people gathering in San Pedro Sula to embark together on the journey north.
Mari Sarai Lopez, a 26-year-old from the town of La Paz in western Honduras, had been contemplating making the journey north with a friend. When they saw news of the caravan, they said goodbye to their families and took buses to meet up with the group the next day.
She said she and her friend don't have money to pay a smuggler. The caravan seemed like a cheaper — and safer — option.
The pair plan to break off from the caravan before reaching the U.S. border and apply for permission to stay and work in Mexico.
"We want to seek a life in Mexico," said Lopez, who was resting in the shade along the road Monday. "There are no jobs in Honduras."
Dilmer Vigil also joined the caravan to try to find work. The 26-year-old electrical technician from San Pedro Sula has been unemployed for six months.
"We are not leaving because we want to," he said.
Vigil blames Trump and the U.S. government in part for the recent exodus from Honduras in connection with the contested reelection of Hernandez in November.
Initial election results showed opposition challenger Salvador Nasralla with a 5-percentage-point lead over Hernandez. Then the electronic results system went down for hours. When it came back online, Nasralla's lead had disappeared in favor of Hernandez, whose claim to victory set off months of opposition protests and violent crackdowns by the government.
Despite claims of election irregularities and calls for new elections by the Organization of American States and others, the U.S. recognized Hernandez as the winner.
"The U.S. gave the green light for this government," Vigil said.
A spokeswoman for the U.S. Department of Homeland Security told the Associated Press on Monday that the caravan is "a result of well-advertised and well-known catch-and-release loopholes." She was referring to the tradition of allowing immigrants applying for asylum to be released while waiting for their hearings.
"Until Congress acts, we will continue to have de facto open borders that guarantees future 'caravans' and record numbers of family units entering the country illegally," spokeswoman Katie Waldman said.
Times staff writer Linthicum reported from Mexico City and special correspondent Cuffe from Esquipulas.
---
UPDATES:
3:16 p.m.: This article was updated throughout with Times reporting.
This article was originally published at 8:50 a.m.
Must-read stories from the L.A. Times
Get the day's top news with our Today's Headlines newsletter, sent every weekday morning.
You may occasionally receive promotional content from the Los Angeles Times.