Mexico picks head of North American Development Bank as new ambassador to the U.S.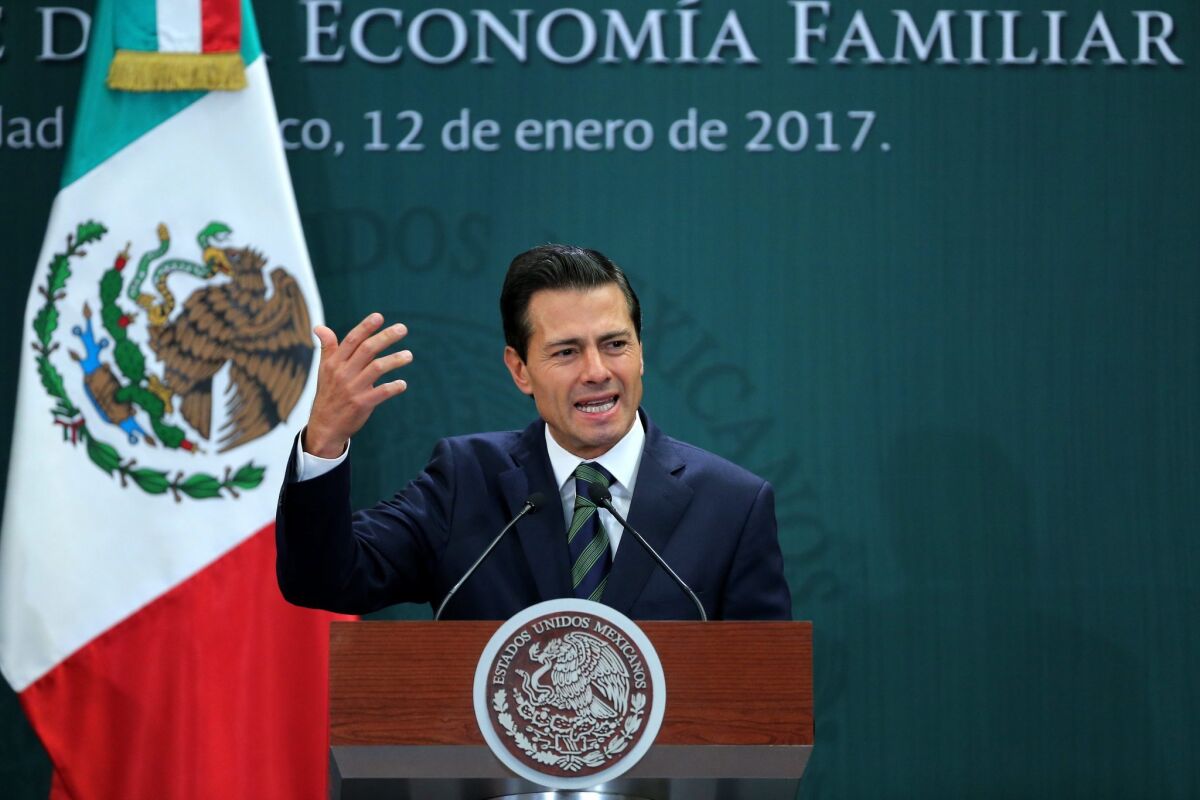 Reporting from Mexico City —
Mexican President Enrique Peña Nieto has selected a veteran diplomat and government insider as the new ambassador to the United States, one of the nation's most sensitive foreign policy posts, the government said Friday.
The ambassador-designate, Geronimo Gutierrez Fernandez, has served in a variety of diplomatic and security positions in the past two decades, according to an announcement by Mexico's foreign ministry.
Gutierrez will face the daunting task of representing Mexico's interests in Washington during the administration of President-elect Donald J. Trump, whose election has unnerved many in Mexico because of Trump's comments on issues such as trade and immigration.
Gutierrez is managing director of the North American Development Bank, which was created as part of the North American Free Trade Agreement, the signature trade accord involving Mexico, the United States and Canada.
Trump has proclaimed his intention to consider renegotiating the trade regimen, known as NAFTA. Trump has repeatedly assailed NAFTA as unfair to U.S. interests, an allegation widely disputed in Mexico and among NAFTA proponents in the United States.
Trump's well publicized campaign threats to build a wall along the U.S.-Mexico border, seek new tariffs on goods imported from south of the border — and his negative characterizations of Mexican immigrants to the United States — have enraged Mexican leaders and average citizens. There is considerable apprehension in Mexico in the run-up to Trump's inauguration next week.
Mexican officials have repeatedly rejected Trump's assertion that Mexico would pay for the wall to be built along the border. How Trump proceeds with his plans for a wall — and the source of funding -- will be widely watched in Mexico.
But Peña Nieto has vowed to work with Trump in a cooperative fashion. The president recently named as his foreign minister a close advisor, Luis Videgaray, who was the architect of Trump's controversial campaign visit to Mexico and meeting with Peña Nieto.
Many analysts attributed a drop in the value of the peso in recent months to Trump's rise in the polls and his election in November.
There is widespread concern in Mexico of a deteriorating economic situation amid broad uncertainty about NAFTA, a declining peso and rising interest rates. Mexico is heavily dependent on U.S. markets for international trade.
Gutierrez is well-versed in issues involving the United States. He has previously served as Mexico's sub-secretary for North American affairs and for Latin American and Caribbean matters. He also served in the Interior Ministry in Mexico City.
The selection of Gutierrez — who is said to be close to Videgaray, the new foreign minister — was widely seen as a safe choice for the pivotal post during what could be a contentious period in U.S.-Mexico relations. It is also an indication that the new foreign minister is solidifying ranks for the potential shocks of the Trump era, pushing trusted colleagues for key positions.
Gutierrez, an economist, has served under administrations of the ruling Institutional Revolutionary Party and the opposition National Action Party and has a master's in public administration from the John F. Kennedy School of Government at Harvard, according to official and media accounts. His background serving four Mexican presidential administrations suggests he is unlikely to deviate from policy guidelines from Mexico City.
Gutierrez would be the fourth ambassador to Washington during the Peña Nieto administration, an indication that the president has yet to find the right person for the sensitive position.
"He's a banker, someone who knows the economy, who knows the border well, and has the credentials," Tony Payan, who directs the Mexico Center at Rice University's Baker Institute, said. "But it's a matter of how well the whole team will handle the turbulence that is coming up. … They've struggled to find the right strategy and Trump's election is conducive to more turbulence in the financial relationship."
Gutierrez, whose nomination awaits approval from the Mexican Senate, is expected to replace Carlos Manuel Sada Solana, the current envoy to the United States. Sada will attend Trump's inauguration in Washington on Jan. 20, the foreign ministry said.
The government said Sada will assume the post of sub-secretary for North America.
twitter: @mcdneville
ALSO
Protests ignited by gasoline price hikes continue to roil Mexico
Produce industry releases plan for ending abusive Mexican farm labor conditions
Mexico's president warns that if Trump wants to talk trade, he'll have to talk security, too
---
UPDATES:
1:25 p.m.: This article has been updated with more background on Geronimo Gutierrez Fernandez and a comment from Tony Payan of the Mexico Center at Rice University's Baker Institute.
This article originally was published at 10:05 a.m.
Must-read stories from the L.A. Times
Get the day's top news with our Today's Headlines newsletter, sent every weekday morning.
You may occasionally receive promotional content from the Los Angeles Times.