Slayings of political candidates accelerate in run-up to Mexico election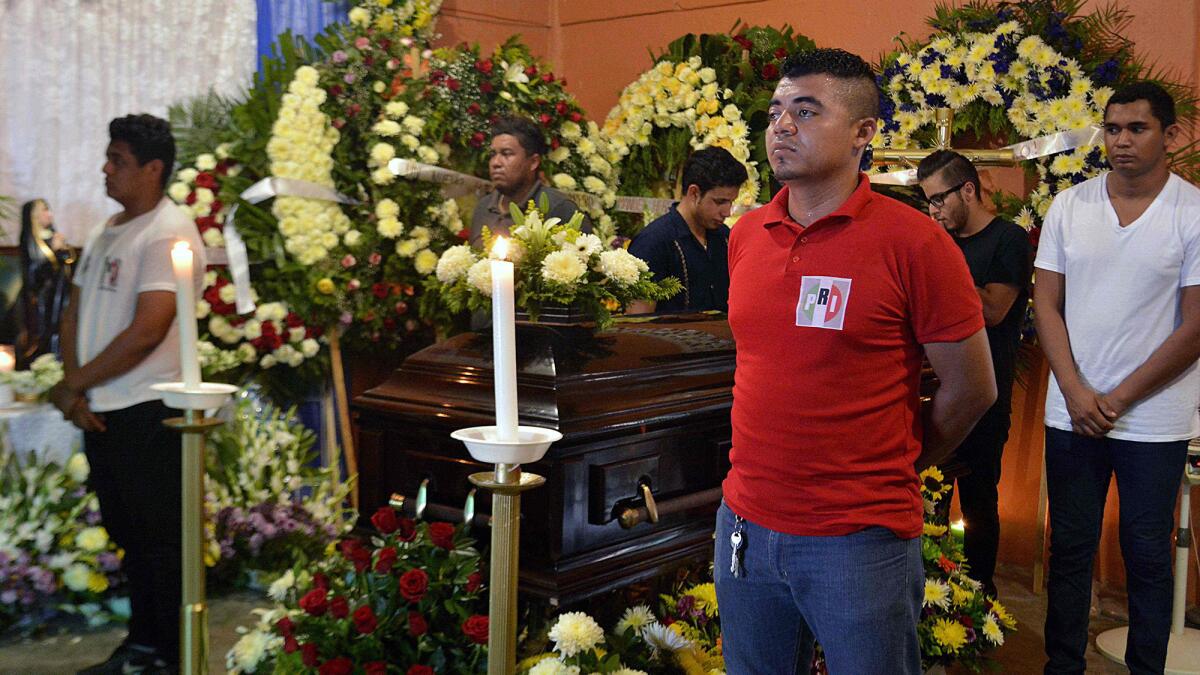 Reporting from Mexico City —
The number of political candidates killed in Mexico has increased dramatically in the run-up to elections Sunday.
Since early April, when The Times wrote about the issue, 20 more candidates have been killed — including 10 this month. A detailed count by the Mexican daily El Universal puts the 10-month election season total at 48 — most of them seeking provincial posts far from the capital.
The latest victim was Emigdio Lopez Avendano, who was killed Monday on a highway with four other people. A member of the leftist National Regeneration Movement, he was running for the legislature in the southern state of Oaxaca.
Until recently, most of the assassinations received only fleeting attention in the Mexican press — in sharp contrast to a presidential campaign that has generated blanket coverage. But official outrage has become more pronounced.
Janine M. Otalora, who heads Mexico's electoral tribune, said last week that the carnage was marring the electoral process.
"Criminal hands are acting in a premeditated and despicable manner to decide by means of violence who should or should not be on the electoral ballot," Otalora told reporters in the wake of the killings of two mayoral candidates in two days in the western state of Michoacan.
President Enrique Peña Nieto has condemned the killings as "unacceptable," and Andres Manuel Lopez Obrador, the front-runner in the race to become the next president, has called them "lamentable."
Other lawmakers have joined with columnists, television commentators and other pundits in denouncing a direct threat to democracy.
Still, Mexico's leaders seem powerless to halt the killings, which have targeted candidates from all major political parties.
The slayings have widely been seen as the work of criminal gangs that hold a grip on large swaths of territory and demand compliance from local governments to aid drug trafficking and other enterprises.
"These are not small islands of violence, but a vast archipelago of barbarism," wrote columnist Jesus Silva-Herzog Marquez in Mexico's Reforma newspaper. "The mafias don't need to assault the palace directly. They do not look to exercise power directly. They want power at their service, and to ensure this they send their messages of death."
Sunday's presidential, congressional and local contests constitute Mexico's biggest election day ever, with more than 3,000 offices up for grabs.
Commentators often point to a grim logic of inevitability: More candidates mean a greater likelihood that some will be killed.
The great majority of cases remain unresolved, despite authorities' vows to investigate.
Most slain candidates were running for mayoral posts, city councils or state congressional seats. Many lacked the bodyguards and other security infrastructure that are routine for candidates for gubernatorial and national posts.
Some had reported threats.
The attacks have occurred throughout the country, but violence-plagued states such as Guerrero, Michoacan and Puebla have been especially lethal. The bloodshed has discouraged some from seeking office.
In Guerrero — a hub for cultivation of the opium poppy, the raw material in the production of heroin — 10 candidates for local posts in the rural town of Cutzamala de Pinzon, home to about 5,000 people, have withdrawn from the race. News accounts cited pressure from criminal groups.
Many observers have expressed fear that the violence will have a chilling effect on the election.
"How many voters will show up with a fear of voting?" wrote columnist Silva-Herzog. "How many candidates are in the service of [organized] crime? How many have declined to participate to not face the criminals?"
Officials have publicly urged people to come out and vote anyway.
Among the most sensational killings was the slaying of Fernando Puron, who was running for a federal congressional seat in the northern Mexican state of Coahuila.
Puron had just completed a debate at a university campus in the border city of Piedras Negras on the evening of June 8 and was posing outside for a selfie with somebody from the crowd, as seen in closed-circuit security camera video obtained by the Mexican newspaper Vanguardia and widely circulated on social media.
That's when a bearded figure in a cap emerged from the shadows, pulled a pistol from beneath his belt, pointed it at Puron, fired a single shot into the back of the candidate's head and walked away.
Puron, 43, was taken in a police cruiser to a nearby hospital, where he was declared dead.
A member of the ruling Institutional Revolutionary Party, he was a former mayor of Piedras Negras, long a black-market hub across the Rio Grande from Eagle Pass, Texas. He earned a reputation as a reformer.
At the debate shortly before his killing, Puron had spoken about his determination to stand up to gangs.
"You have to confront crime directly, you cannot fear it, you call it what it is," he said, according to Vanguardia. "Unfortunately, not all lawmakers comply with their mission in matters of security. Some are even in collusion with criminality."
Twitter: @PmcdonnellLAT
Cecilia Sanchez of The Times' Mexico City bureau contributed to this report.
Sign up for Essential California for the L.A. Times biggest news, features and recommendations in your inbox six days a week.
You may occasionally receive promotional content from the Los Angeles Times.