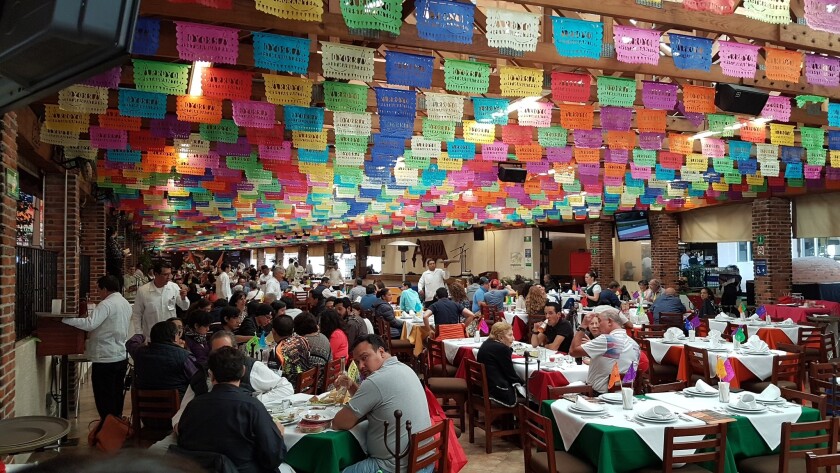 Reporting from Mexico City —
To grasp the size of Arroyo Restaurant, a beloved Mexico City institution since the 1940s, consider first the tortillas.
On a busy Sunday, the restaurant's army of cooks may prepare as many as 15,000 of them, served steaming in insulated fabric pouches. How else would droves of hungry customers scoop up mouth-watering mole and slow-cooked barbacoa at the largest Mexican restaurant in the world?
Arroyo doesn't claim to be the hippest eatery serving Mexican fare, or the fanciest. But its owners say it is the biggest.
The restaurant sprawls over several blocks in the city's tranquil Tlalpan neighborhood. It features seating for 2,200 patrons and parking for 600 cars.
Hidden behind a fortress-like wall, it functions like a small city. Along with nine massive dining rooms, each featuring a stage where mariachis perform, there is a large bull ring on the premises, an artisanal market, an elaborate jungle gym for children and even an on-site infirmary (where the most common complaints are stomachaches blamed on overeating).
A lot of people want to eat at sophisticated restaurants that are always inventing new things. We try to do it very traditional here.
Claudia San Emeterio Velasco, who is in charge of the restaurant's catering operation
With its tile floors and traditional menu, the restaurant is a blast from the past in a rapidly modernizing city that is becoming known globally for its haute cuisine, and where in some neighborhoods, sushi and pizza joints now outnumber Mexican restaurants.
On the weekends, multiple generations of families come here after church or for birthdays to eat tacos and drink tequila at long wooden tables that call to mind a countryside hacienda. The food is the kind served by Mexican grandmothers. The mariachis stick to the classics.
"There is so much nostalgia for older times," said Jose Arroyo, whose grandparents founded the restaurant in 1940, and who now helps his father run it. "Here people can enjoy the old way of life in the provinces without ever leaving the city."
He has another theory about the restaurant's lasting success.
"It's about identity," he said. "People come here to feel the pride of being Mexican."
At a time when many here feel deeply offended by the anti-Mexican rhetoric of U.S. presidential candidate Donald Trump and are increasingly fed up with Mexico's drug war violence and corruption, the country's rich cultural traditions are a place where many find solace.
Mexican pride has been a big theme recently in everything from tequila ads to political campaigns. Interior Secretary Miguel Angel Osorio Chong, a likely presidential candidate in 2018, recently released a series of videos in which he talks about "the pride of being born in our country, of our culture … our traditions, our roots."
What it was like to watch Trump talk about 'bad hombres' in a Mexican BBQ joint »
The chance to sit back and enjoy that culture was one reason Minerva Mogollan Garcia made the trek to Arroyo over the weekend along with a dozen family members and friends. They sat in a brightly lit salon alongside 300 other diners while Mexican ballerinas danced onstage and a swarm of waiters circled.
"You don't want to see bad things in your country," said Mogollan, 40, who works at Mexico City's Soumaya art museum, and who was rocking her infant on her lap. "All of this makes me feel proud."
Her husband, Oscar Marquez, 40, who has been coming to Arroyo since he was a child, said he was there for more than just patriotic reasons.
"I came for the barbacoa," he said.
Barbacoa, a form of cooking meat that is popular in central Mexico, is the restaurant's specialty. At Arroyo, cooks roast mutton wrapped in the leaves of aged agave plants for at least 12 hours. To meet the needs of so many customers, they operate seven barbecue pits simultaneously. Nearby is the chicharron station, where chefs say they dip 44 pounds of pig skins into sizzling cauldrons of oil each weekend.
During the busy fall and winter holiday seasons, the restaurant employs well over 1,000 people.
There's the woman whose sole task is to monitor the mole. And the woman who spends all day rinsing corn kernels so they can be mashed with water and pressed into perfect, palm-sized tortillas.
"A lot of people want to eat at sophisticated restaurants that are always inventing new things," said Claudia San Emeterio Velasco, who is in charge of the restaurant's catering operation. "We try to do it very traditional here."
The restaurant began when a couple from the nearby state of Hidalgo brought their family's barbacoa recipes to a little open-air restaurant in what was then a rural suburb of Mexico City. The restaurant grew with the city around it and as its business-savvy owners pushed the definition of what a restaurant could be. At one point, before government regulators nixed the idea, Arroyo said his grandmother operated a small zoo on the restaurant grounds. He remembers visiting as a child and fawning over two black bears, Lulu and Pepe.
The couple's son, Jesus, took over after his parents died. A wall of photographs at the restaurant shows him, with long sideburns, shaking hands with some of the famous people who have eaten here over the years. There are pictures of ex-presidents, famous lucha libre wrestlers and icons of Mexico's golden age of cinema, such as the actress and singer Maria Felix.
While international tourists flock to high-end places reinventing Mexican food in trendy neighborhoods like La Roma and Juarez, Arroyo draws a largely Mexican clientele. Many stop by when they're in town from other parts of the country.
"It's like visiting Texas and going to Rudy's for barbecue," said Javier Mejia, a 26-year-old from the city of Cuernavaca who stopped by Arroyo for a late lunch with his family Sunday after they attended a Formula One race in Mexico City. "It's like really, really Mexican. It's old-school."
Arroyo says he is considering expanding the restaurant north of the border. He thinks the growing population of Latinos living in the United States are probably nostalgic for traditional Mexican culture and cuisine, too.
On Sunday, he sat down at a table with one of his employees and a friend who is a priest. "I do this regularly to ensure high quality," he said as he mixed mescal with a little lime juice and Coca-Cola in highball glasses and passed them around.
He ordered a round of quesadillas, some barbacoa and a plate of fried gusanos, or worms. The tortillas arrived, and he spooned one full of meat. He closed his eyes as he bit into it. "Still good," he said.
Twitter: @katelinthicum
ALSO
How Mexico combines Halloween and Day of the Dead into one surreal celebration
'El Chapo' says he's depressed by prison life, complains of 'psychological torture'
Why Mexico is giving out half a million rape whistles to female subway riders
---