Reporting from Mexico City —
The protesters boarded the Mexico City subway dressed in black burqas. They weren't Muslim, just women trying to make a point that their bodies — whether cloaked in heavy cloth or tank tops — weren't objects to be stared at or touched.
"Do I have to dress like this for you to respect me?" their signs read.
Not long ago, women in Mexico were expected to tolerate roaming hands or lewd comments with eye rolls or silence. But now they're beginning to fight back.
High-profile rape and harassment cases have spurred nationwide street protests, including marches of thousands of women in 40 cities this past spring and other demonstrations this week.
YouTube has been flooded with parodies of macho culture, and a group of women calling themselves "Hijas de Violencia," or Daughters of Violence, have begun firing glitter guns at men who harass them on the street.
Nearly half of Mexican women have been subjected to rape, groping or other forms of sexual violence, according to the United Nations, which ranks Mexico among the most violent countries for women.
In recent years, there has been mounting outrage around the most notorious cases, including hundreds of unsolved killings of female factory workers in the border city of Juarez and a similar spate of killings in the state of Mexico.
But now activists are highlighting the harassment that many women face on a daily basis — and that leaders of the movement say sets the tone for the most serious violence.
The capital city's chaotic mass transit system, which transports four million people each day, is ground zero.
In a recent survey of female transit riders in 16 cities around the world, the Thompson Reuters Foundation found Mexico City had the biggest problem with sexual harassment, with 64% of respondents reporting having been victimized.
Many women interviewed on the subway said they have endured groping, lascivious looks and explicit comments about their bodies — all while just trying to pick up their kids from school or go to work.
Organizers of an April march in Mexico City made a point to include a subway ride as part of their demonstration, crowding protesters into a station in a neighborhood known as particularly violent for women. Some demonstrators yelled at men to keep off the trains.
"It was like for one day, we owned the subway," said Alejandra Gorraez Puga, a 30-year-old graduate student.
The transit system also featured prominently in a Twitter campaign this year in which tens of thousands of women shared stories of abuse under the hashtag #MiPrimerAcoso, or "my first harassment."
"In the subway an imbecile masturbated while he touched me everywhere," one tweet said. "No one helped me though I cried and shouted. I was 16."
"I was getting off the train with my parents, and right before the doors closed a man grabbed my butt," another woman wrote. "I didn't tell my parents."
Catalina Ruiz-Navarro, a Colombian writer living in Mexico City, launched the campaign months before millions of American women participated in a similar effort in the U.S. after GOP presidential candidate Donald Trump was heard in leaked audio bragging about grabbing women.
"In Latin America, we have been told forever that it is normal for men to comment on our bodies or grab us by our waists," Ruiz-Navarro said. "But every time a woman told her story it became a tool for others to recognize harassment in their own lives."
Now she sees the beginning of a shift. "A year ago, everyone would tell you that men harassing you was a compliment, that it was cultural, that it was men being nice," she said.
An increasing number of women have gone public with their cases of rape or assault in recent years— a notable development in a country where many women never report crimes because of shame or lack of trust in the justice system.
Surveillance cameras captured the assault of Andrea Noel, a young journalist who had her skirt pulled up to her waist and her underpants yanked to her ankles while walking on a Mexico City street. She posted the video online and it quickly went viral.
The country has also been riveted by the case of Daphne, a high school student from the port city of Veracruz who said she was raped by four men from wealthy backgrounds. Even though the girl's father posted videotaped confessions from several of the men, none have been convicted.
In both cases, the women drew death threats and online harassment but also attention to the issue.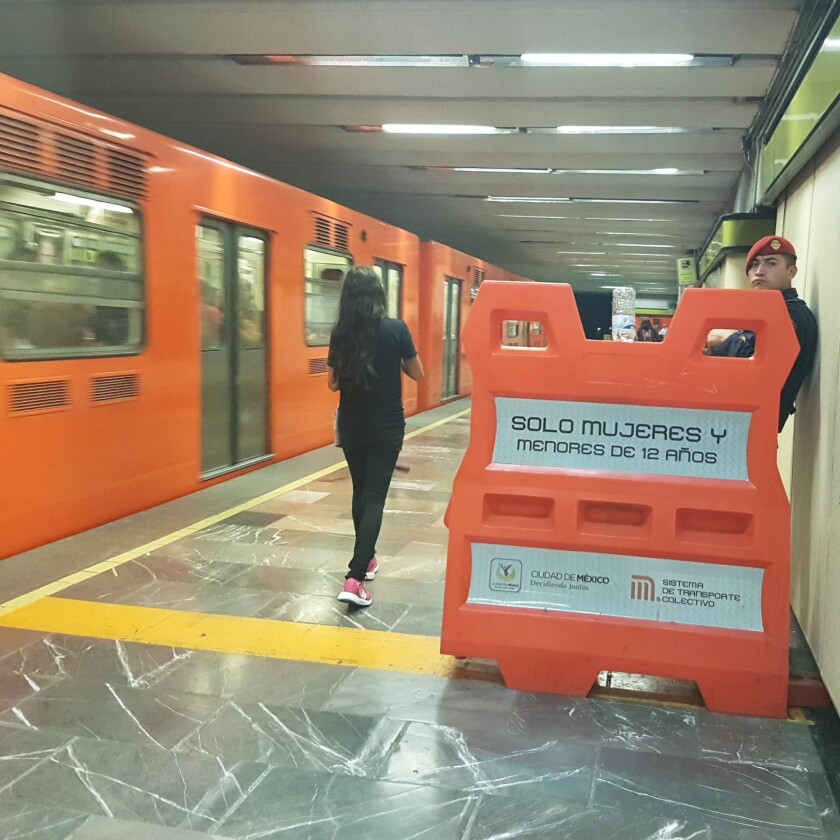 The Mexico City government has long recognized the dangers of the transit system, and for years has offered women-only subway cars as well as special pink buses.
This year, in response to protests saying it should do more to protect women, the city offered a new solution: arming female commuters with rape whistles.
At a crowded transit station on the city's south side this week, officials handed out pink and purple plastic baggies, each containing a black whistle.
Commuter Ebelia Tobar tested hers proudly, delivering a loud screech.
"So many times men don't respect us," she said. "Now we have something that will help."
"At one time, I would have been embarrassed by this," said Tobar, a 74-year-old grandmother from one of the city's poorest boroughs. "But now I feel it's important to show young women that they must defend themselves."
That notion — that it is the duty of women to defend themselves — is not sitting well with everyone. Some activists have mocked the whistle strategy, asking whether officials might issue chastity belts next.
"Their solution is either to segregate us or to make us responsible for our own safety," said Estefania Vela Barba, an academic who writes a column about feminist issues in El Universal newspaper.
A better investment, she said, would be to try to understand and change the underlying behavior of men. "We need to analyze the Trumps ... of the world to see why they do this," said Vela.
Teresa Incháustegui Romero, director of Mexico City's Women's Institute, which is helping to distribute half a million whistles, acknowledged that there is much more to do.
The city-run agency recently launched a new mobile app that allows women to call for help and officials to map where the worst harassment is taking place.
But separate subway cars and whistles are the best protection for now, she said.
"Until we have a transformation of macho culture and a shift to recognize the rights of women, we can't do anything else but continue the separation," she said.
Twitter: @katelinthicum
ALSO:
What it was like to watch Trump talk about 'bad hombres' in a Mexican BBQ joint
A Mexican police chief is finally arrested in the disappearance of 43 students. But will he talk?
A federal judge who ruled on some of Mexico's highest profile criminal cases was gunned down in broad daylight
---