U.S. frees asylum-seeking Mexican journalist detained since last year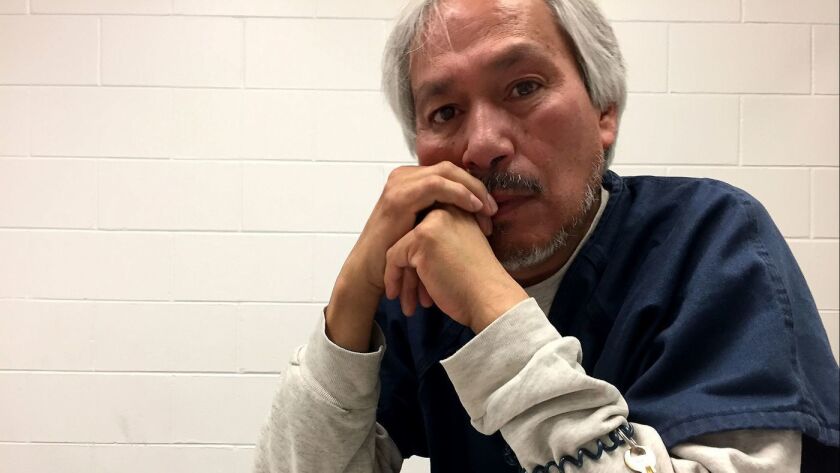 Reporting from Mexico City —
A Mexican journalist held in U.S. immigrant detention since last year has been released.
Emilio Gutierrez Soto fled to the U.S. with his teenage son a decade ago after Gutierrez said he was threatened by the Mexican military.
The pair have been held at a detention center in El Paso since their asylum claims were denied by a judge in 2017. In May, the Board of Immigration Appeals found that additional information should be considered in the case and sent it back to immigration court for a new hearing.
Lawyers for Gutierrez demanded he be released while he waited for the new case to be heard. They said President Trump's frequent attacks on Mexicans and journalists were evidence that Gutierrez, who has long been an outspoken critic of U.S. immigration policies, was a victim of discrimination.
They pointed to a document, uncovered in a public records request, that showed Gutierrez was on a list used by U.S. Immigration and Customs Enforcement agents to target immigrants for arrest. The list typically includes the names of people suspected of violent criminal acts, not journalists seeking asylum, said Eduardo Beckett, an attorney for Gutierrez.
Earlier this year, a judge agreed there was enough evidence to require the government to explain its continued detention of Gutierrez and his son. Days before the government was due to appear at a hearing to make its case for continuing to detain the pair, they were abruptly released Thursday night.
Outside the detention center, Gutierrez and his son embraced in front of a smattering of news cameras. They are expected to be free until a judge rules again on their asylum claim.
"We are happy as can be," said William McCarren, executive director of the National Press Club, which led a campaign advocating for for the release of Gutierrez, and which awarded him the group's Press Freedom award last year.
Gutierrez was also granted a Knight-Wallace Fellowship, which funds an academic year for a small group of journalists from around the world at the University of Michigan. He may now be able to begin the fellowship in Ann Arbor, Mich., this fall, fellowship director Lynette Clemetson said in a statement.
"There is a full community of support in Ann Arbor eager to welcome Emilio, to restore his well-being, and to help him resume the journalism work that means so much to him," Clemetson said.
A former reporter for a small newspaper in the violent Mexican state of Chihuahua, Gutierrez said he received death threats after writing about a group of soldiers who had stolen money from migrants.
Several days after publishing his stories in 2005, Gutierrez said he was summoned to meet with several military leaders.
"You've written three idiotic stories," Gutierrez said a general warned him. "There will not be a fourth."
Gutierrez said his home was subsequently ransacked by dozens of soldiers. Another time, patrols of soldiers loitered threateningly in front of his house.
"You've got to leave now," said a friend who knew one of the soldiers.
In 2008, shortly before his 45th birthday, Gutierrez and his 15-year-old son Oscar asked for asylum at the U.S. border, telling a border agent: "We're not afraid; we're terrified."
Mexico is one of the deadliest countries in the world for journalists. Last year, reporters and photographers turned up dead here at a rate of about one per month.
A journalist enrolled in a government protection program was shot dead this week in the resort city of Playa del Carmen, less than a month after the killing of another journalist who worked at the same news site. Ruben Pat, news director of the Semanario Playa News, complained last year that he was kidnapped and tortured by police for accusing a local police chief of ties to a drug cartel.
A majority of the dozens of journalists enrolled in Mexico's federal protection program, which provides emergency evacuations, security guards and a panic button that summons authorities, have faced threats from government authorities rather than criminal groups, according to officials.
At least 15 journalists have fled Mexico in recent years, according to press freedom advocates. A majority of them have sought refuge in the United States.
Though a few won asylum during the Obama administration, denials or prolonged detention have been the norm under President Trump. Last May, Mexican journalist Martin Mendez dropped his asylum claim in the U.S. and agreed to be deported after being held in detention for nearly four months.
Gutierrez and his son were detained for several months after they entered the U.S. in 2008. Eventually they were released on parole while they waited for their asylum case to be heard. For several years, they lived in Las Vegas, N.M., where Gutierrez ran a food truck.
Their asylum claim finally came before a judge last November. It was denied, and Gutierrez and his son were detained again shortly afterward.
More than seven months behind bars took a toll on Gutierrez, his lawyer said.
"He was broken and miserable," said Beckett.
The harsh treatment of a journalist from a country known for its failure to protect members of the press sparked outrage among many U.S. journalists and immigrant advocates, who organized protests outside the detention center where Gutierrez and his son were being held.
Andrea Edney, president of the National Press Club, said the release of Gutierrez was a victory for press freedom.
"Though it has been far too long an ordeal, especially for Emilio," she said, "we are ecstatic and relieved to welcome him back into the ranks of a free press."
Twitter: @katelinthicum
---
UPDATES:
12:35 p.m.: This article has been updated with additional background on Emilio Gutierrez Soto and comments from his attorney, Eduardo Beckett.
This article was originally published at 8:05 a.m.
---
The Latinx experience chronicled
Get the Latinx Files newsletter for stories that capture the multitudes within our communities.
You may occasionally receive promotional content from the Los Angeles Times.