Juan Gabriel was Mexico's gay icon — but he never spoke of his sexuality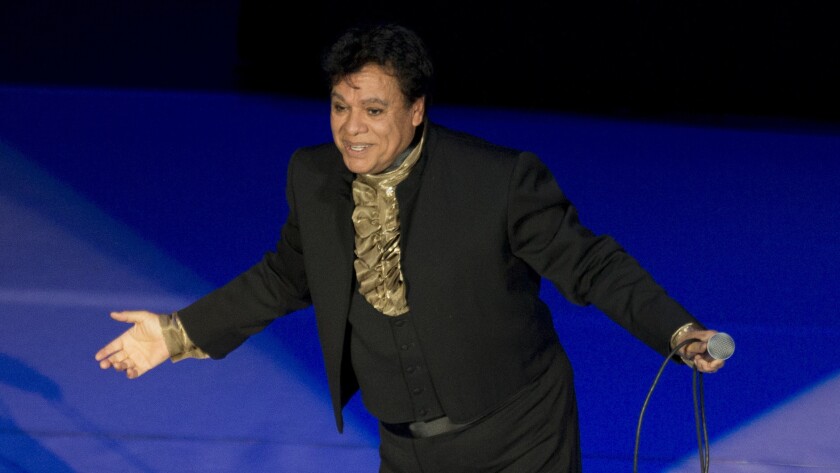 Reporting from Mexico City —
With his glittery capes, slinky dance moves and ultra-romantic lyrics, Mexican superstar Juan Gabriel was an unlikely king in a country known for its machismo. He never spoke about his sexuality, yet was widely assumed to be gay.
It's no surprise that the singer was an icon in Mexico's gay subculture. But how was it that he came to be celebrated by the country's Catholic, conservative and often homophobic mainstream?

For the record:
1:02 p.m. Aug. 22, 2019An earlier version of this story misspelled Alberto Aguilera Valadez's name as Alberto Aguilera Valdez.
Juan Gabriel, whose sudden death Sunday at age 66 cast Mexico into a state of mourning, navigated both worlds by saying nothing at all.
"It's his life," said Ricardo Monroy Martinez, who came to pay his respects Monday at a statue of the performer in Mexico City's Plaza Garibaldi, where fans were gathered, singing.
Juan Gabriel's sexuality wasn't important, Monroy said, and he never felt the singer needed to articulate it. What mattered were the songs. "They reached my heart," said the 63-year-old.
Juan Gabriel, the stage name he preferred to his given name, Alberto Aguilera Valadez, remained coy about his private life from the 1960s, when he started his career singing on the streets of Juarez. He maintained that posture into his later years despite a shift in public opinion on gay and transgender rights.
He never married, conceived four children via artificial insemination with a female friend and repeatedly refused to answer questions about his sexuality, even after a male former personal secretary wrote a book alleging they had a romantic relationship.
In 2002, a few years years before Mexico City legalized gay marriage, the famously effeminate singer shut down a journalist who asked if he was gay.
"You don't ask about what can be seen," he said.
Like the flamboyant pianist Liberace, who some say maintained that he was straight out of fear that the truth would hurt his appeal to mainstream America, Juan Gabriel's stance could in part be viewed as a business decision.
"It would have been a career killer to come out," said Hector Carrillo, who grew up in Mexico and is now a professor of sociology at Northwestern University. "That was part of the calculation for people who had a very public persona.... They would never name it. They would never say it. It was a strategy of silence."
"Don't ask, don't tell" had long been the policy in Mexico when it came to the sexuality of those in the limelight. Famed Mexican singer Chavela Vargas waited until 2002, when she was 81, to publicly come out as a lesbian.
Although Gabriel never publicly claimed the gay community, that community certainly claimed him, with his romantic Spanish-language ballads belted late into the night in drag bars on both sides of the border. Many gay fans saw coded messages in the lyrics of Juan Gabriel's songs, such as "Es Mi Vida" ("It's My Life.")
It's my life, very much my life, and I don't have to give any explanations.
I have my reasons, which no one will care to know.
Many have credited Juan Gabriel with opening the door to greater expression of gender and sexuality, even if he never explicitly called for it. Like Prince, or David Bowie, Juan Gabriel was known for his gender-bending clothing and occasional touch of eye makeup.
"I think he made a deep cultural change not by talking about his sexuality but by living it out on stage," said Alejandro Madrazo, a law professor in Mexico who is an expert on the legal battle for same-sex marriage in the country. "Juan Gabriel taught us how to be feminine."
Madrazo recalled seeing Juan Gabriel perform before a large crowd at at cockfight, a sport that exemplifies Mexico's machismo culture.
"He would dance in a way that was sexy and provocative in front of all these stereotypes of a Mexican man," Madrazo said. "He would literally shake ... in their faces, and they would go crazy."
Madrazo said he thinks Juan Gabriel never opened up about his sexuality because there may have not been just one label that fit him. "I think his sexuality was probably far more complex," he said.
In an homage to Juan Gabriel published on the website of Mexico's Millenio newspaper Monday, journalist Alvaro Cueva recalled friends making fun of Juan Gabriel for his effeminate stage presence. At some schools, his name was used as an anti-gay slur.
Cueva called Juan Gabriel subversive. "You ... became an idol in a country of macho men," he wrote. "You made homophobic people sing and dance."
Mexico has changed considerably from the days Juan Gabriel was beginning his career.
In 2005, the federal government instituted an anti-homophobia campaign. Gay and lesbian characters now appear on Mexican sitcoms and soap operas. And public opinion polls show Mexican people are warming toward gay marriage, which is legal in several states and Mexico City.
"Mexico got ahead of him," said Carrillo. "Homosexuality kind of came out of the closet, but Juan Gabriel never did."
While Juan Gabriel himself shied away from political causes, some in Mexico are using his death as an opportunity to push for the legalization of same-sex marriage nationwide.
Mexican President Enrique Peña Nieto has championed that cause and is seeking congressional approval to amend the country's constitution. But his plan has been met with fierce resistance from church leaders and even officials in his own party.
"Mexicans are crying for Juan Gabriel," newspaper columnist Yuriria Sierra wrote on Twitter. "But they would continue to deny the legal right to love."
Cecilia Sanchez in The Times' Mexico City bureau contributed to this report.
ALSO
'No, that can't be true': Angelenos react to the death of Mexican crooner Juan Gabriel
From the archives: The ballad of Juan Gabriel
Mexico mourns Juan Gabriel, the singer known as 'El Divo de Juarez'
---
Must-read stories from the L.A. Times
Get the day's top news with our Today's Headlines newsletter, sent every weekday morning.
You may occasionally receive promotional content from the Los Angeles Times.