Mexico sends federal forces to its southern border as migrant caravan heads north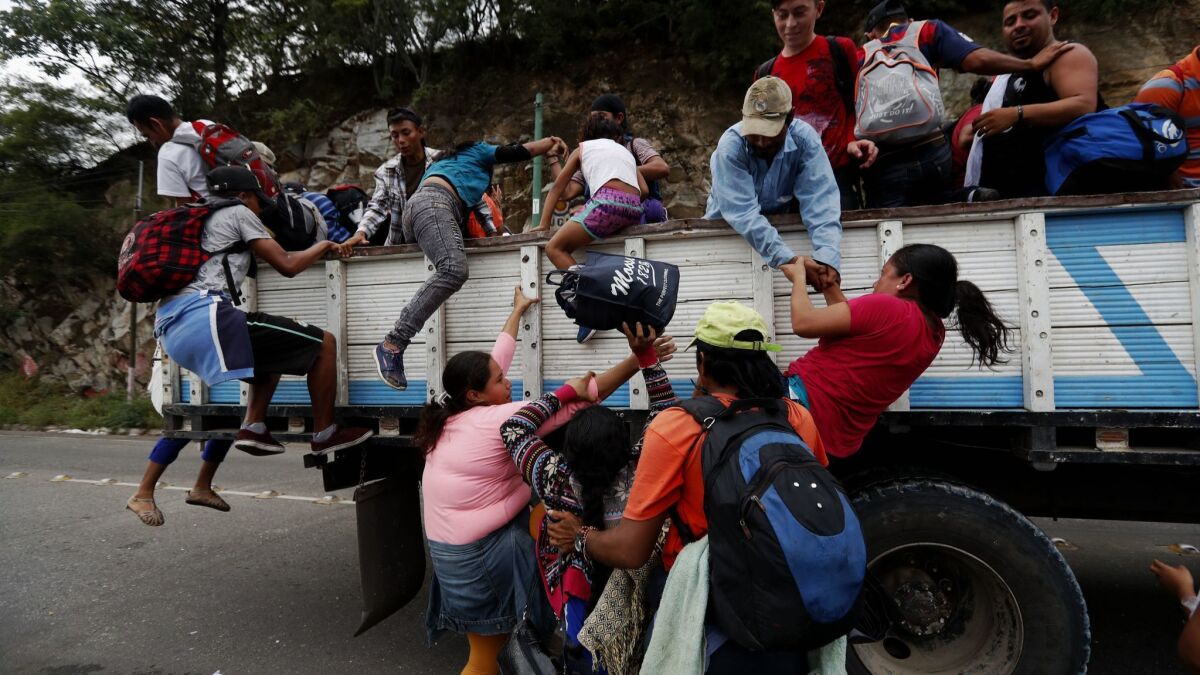 Reporting from Mexico City —
Mexico sent federal forces to its southern border Wednesday after President Trump called on several Latin American nations to stop a large caravan of Honduran immigrants heading toward the United States.
Mexico's federal police released images of two planes arriving in Tapachula, a Mexican city on the border with Guatemala that is a popular crossing point for migrants heading north. News reports showed hundreds of agents disembarking from the planes, some carrying riot gear.
In a series of sternly worded statements, the government has made it clear in recent days that it will not allow any of the estimated 2,000 immigrants traveling with the caravan to cross into Mexican territory without proper documentation.
Anybody entering the country "in an irregular manner" will be apprehended and, if appropriate, returned to their home country, one statement said. Immigrants fleeing violence or other threats who want refugee status to stay in Mexico must request it at the border and wait up to 45 days in immigration detention, the government said.
The last time a similar caravan of immigrants captured international headlines, back in April, Mexican authorities gave immigrants short-term visas that allowed them to transit through Mexico and reach the United States border.
That angered Trump, who sent National Guard troops to the border and said the caravan's participants posed a threat to U.S. sovereignty.
This time Mexican officials appear eager to please Trump, who has threatened to withhold funding from countries that don't seek to curb illegal immigration.
"They are clearly responding to Trump's outbursts," political analyst Carlos Bravo Regidor said of Mexican authorities. "I think that for a really long time, Mexico has outsourced its decisions about our southern border to the U.S."
Immigration crackdowns are also popular within Mexico, Bravo said. Some Mexicans resent Central American immigrants, who are sometimes willing to work for lower wages than Mexicans.
The caravan, which includes people fleeing violence and political repression as well as migrants in search of jobs, departed Saturday from the violence-plagued Honduran city of San Pedro Sula — two days after Vice President Mike Pence prevailed on the leaders of Honduras, El Salvador and Guatemala to urge their citizens not to enter the United States illegally.
On Monday, the migrants pushed past authorities at the Guatemalan border, and the next day Trump threatened to withhold aid from Central American countries if the caravan is not halted.
"Hard to believe that with thousands of people from South of the Border, walking unimpeded toward our country in the form of large Caravans, that the Democrats won't approve legislation that will allow laws for the protection of our country," he tweeted Wednesday.
But the caravan pushed on, mostly on foot. On Wednesday, it was still hundreds of miles from the Mexican border.
U.S. officials announced that Secretary of State Michael R. Pompeo will visit Mexico City on Friday to meet with Mexican President Enrique Peña Nieto. The caravan will be on the agenda, a senior State Department official told reporters.
"I'm certain that there'll be conversations with Mexico about how we can work together on this issue," the official said. "Certainly we're looking for concrete results and for solutions that work for both countries."
Under Peña Nieto, Mexico has greatly increased security along its southern border and has deported hundreds of thousands of immigrants from Central America. But incoming President Andres Manuel Lopez Obrador, who is set to be sworn in Dec. 1, may be less willing to cooperate.
On Wednesday, he said deportations alone do not solve the problem of immigration.
Speaking at a conference, he said he plans to increase the number of work visas granted to Central American immigrants.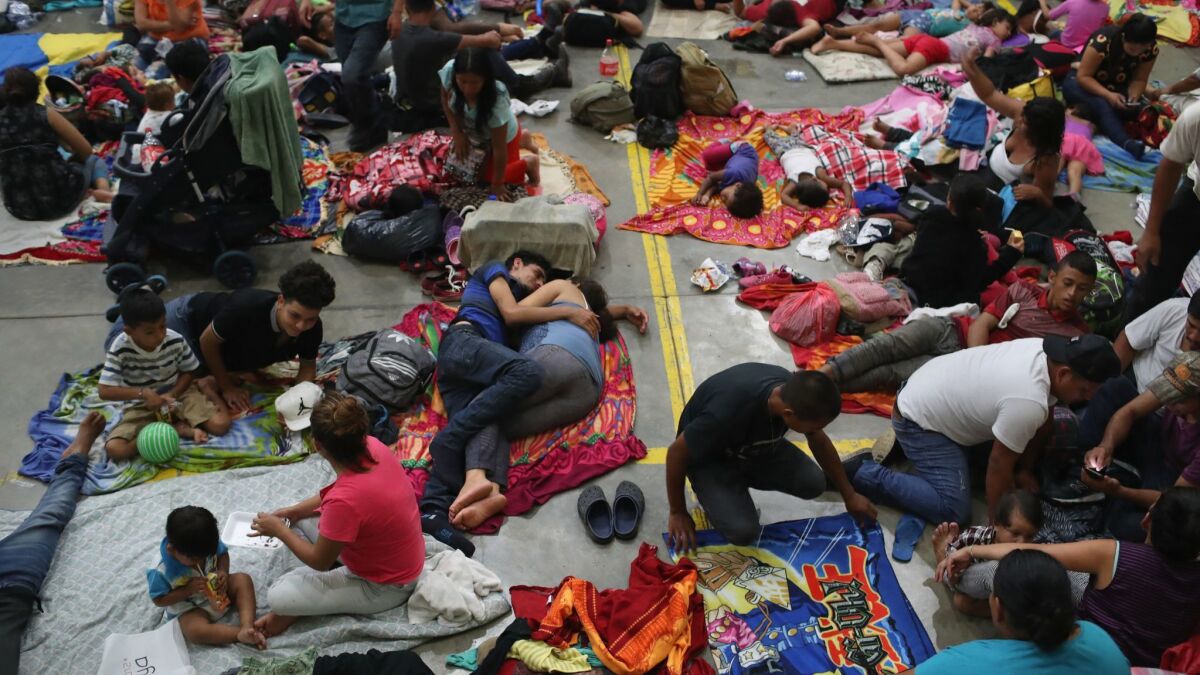 Twitter: @katelinthicum
Tracy Wilkinson in Washington and Cecilia Sanchez in The Times' Mexico City bureau contributed to this report.
---
Must-read stories from the L.A. Times
Get the day's top news with our Today's Headlines newsletter, sent every weekday morning.
You may occasionally receive promotional content from the Los Angeles Times.