Mexico celebrates Hollywood success of director Guillermo del Toro on Oscar night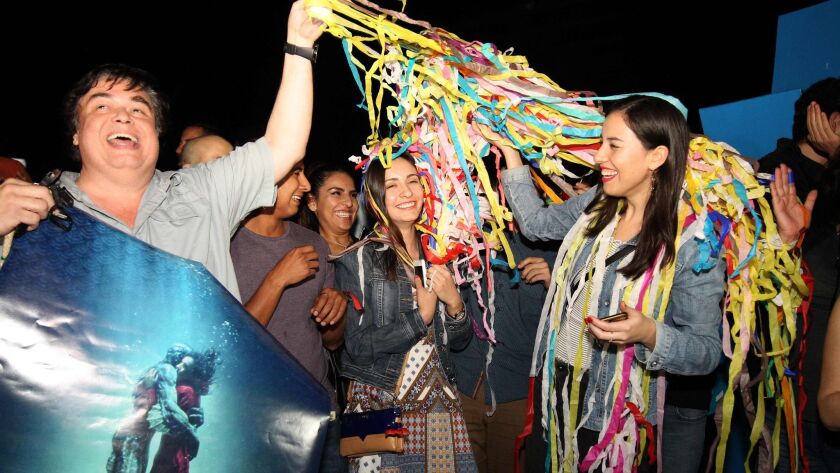 Reporting from Mexico City —
Guillermo del Toro's Oscar victories for best director and best picture for "The Shape of Water" have set off an outpouring of national pride and triggered celebrations in his Mexican homeland.
Many commentators on social media and elsewhere pointedly contrasted the success of Del Toro and other Mexican artists in the U.S. film industry with what many in the country assail as President Trump's stereotyping of Mexicans as lawbreakers.
"Guillermo del Toro vindicates us in Hollywood," Sergio Aguayo, a political analyst, wrote in a Twitter message. "Another film-maker who demonstrates in the United States that Mexico is more, much more, than the criminals who … take advantage of the corruption of those who govern us."
Del Toro won the Oscars during the Academy Awards ceremony in Hollywood on Sunday. Scores of Mexicans took to the streets early Monday to fete the director while prominent entertainers and others publicly lauded Del Toro.
"Genius!" the Mexican actor Gael Garcia Bernal wrote on Twitter. "I love you."
Added fellow Mexican actor Diego Luna: "You are a beloved maestro … No one deserves this more than you."
Del Toro's "The Shape of Water" — a Cold War era tale about a love affair between a cleaning woman at a government laboratory and a creature that looks like a cross between a fish and a human — also garnered Oscars for best production design and original score.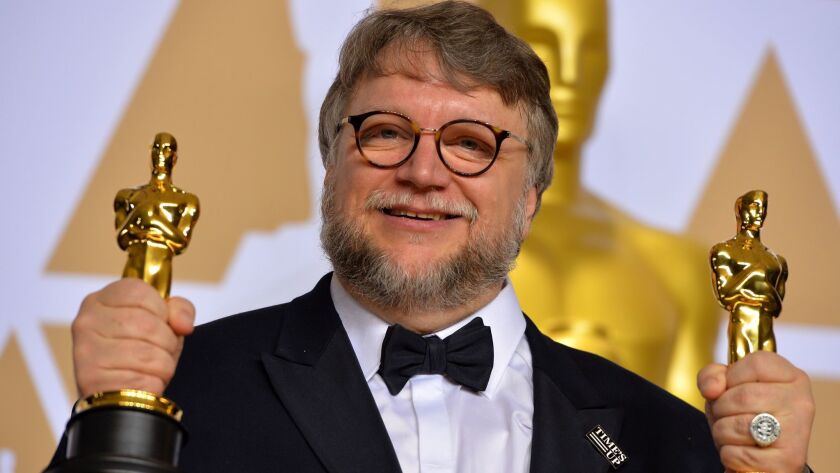 Many politicians piled on the celebratory Twitter chorus, as Mexico's July 1 presidential election approaches.
"Proud of Mexico," wrote Jose Antonio Meade, presidential hopeful of the ruling Institutional Revolutionary Party. "Great artist. Exceptional Mexican."
Armando Rios Piter, an independent presidential aspirant, wrote: "Keep on breaking borders!"
In Mexico City and Guadalajara, Del Toro's hometown, some admirers poured into the streets in post-midnight merriment to honor Del Toro — a proud tapatío, as natives of Guadalajara are known.
Several dozen people gathered at Mexico City's signature Angel of Independence monument chanting, "Del Toro! Del Toro!"
Gleeful motorists honked their horns and waved Mexican flags, while pedestrians held up images of the bespectacled director.
In Guadalajara, capital of Mexico's Jalisco state, admirers gathered in homes, at shopping centers and elsewhere to watch the awards ceremony live, as Del Toro's triumphs had been widely anticipated.
One fan amid a festive crowd hoisted a life-sized likeness of the gilded Oscar statue at La Minerva, a central traffic circle in Guadalajara. The city has been reveling in Del Toro's triumphs.
"The Oscar says Viva Mexico!" was the headline on Guadalajara's El Informador newspaper, noting that the Mexican-themed film "Coco" also won Oscars for best animated feature film and best original song, "Remember Me."
The torrent of national pride came at a moment when U.S.-Mexico relations are at a low point amid what many in Mexico perceive as Trump's slights against their country. Various commentators aimed verbal broadsides at the U.S. president.
"So will Trump keep repeating that we send Mexico's worst to the United States?" asked Arturo I. Saucedo, a columnist for Milenio newspaper.
Del Toro is a pillar of what some have called the "Mexican wave" in Hollywood. His Oscars are the latest in a stream of plaudits for Mexican filmmakers in recent years.
With Del Toro's best-director award, Mexican filmmakers have won that prestigious Oscar on four occasions since 2014 — Alfonso Cuaron in 2014 for "Gravity" and Alejandro G. Iñárritu in 2015 for "Birdman" and in 2016 for "The Revenant." "Birdman" also won for best picture.
In accepting the best-director award, Del Toro spoke of his status as an immigrant at a time when immigration is a highly divisive theme between Washington and Mexico City.
"I am an immigrant," Del Toro said. "In the last 25 years I've been living in a country all of our own. Part of it is here, part of it is in Europe, part of it is everywhere. Because I think the greatest thing our art does and our industry does is to erase the lines in the sand. We should continue doing that when the world tells us to make them deeper."
Tributes to immigrants at Sunday's awards ceremony also came from a pair of immigrant presenters, actors Kumail Nanjiani and Lupita Nyong'o, the latter of whom was born in Mexico City to Kenyan parents.
"Like everyone in this room and everyone watching at home, we are dreamers," Nyong'o said before naming nominees for production design. "We grew up dreaming of one day working in the movies. Dreams are the foundation of Hollywood, and dreams are the foundation of America."
Added the Pakistani-born Nanjiani: "To all the Dreamers out there, we stand with you." The Oscar crowd gave a brisk applause.
The so-called Dreamers are immigrants who came to the United States as youngsters, often to join parents already in the north. Their status in the United States hangs in the balance as the Trump administration has moved to cancel an Obama-administration initiative that temporarily allowed hundreds of thousands of undocumented Dreamers — the overwhelming majority from Mexico — to remain legally in the United States.
McDonnell is The Times' Mexico City bureau chief and Sanchez is a special correspondent.
Twitter: @PmcdonnellLAT
---
Must-read stories from the L.A. Times
Get all the day's most vital news with our Today's Headlines newsletter, sent every weekday morning.
You may occasionally receive promotional content from the Los Angeles Times.