After a celebration in Mexico, two priests are gunned down on a highway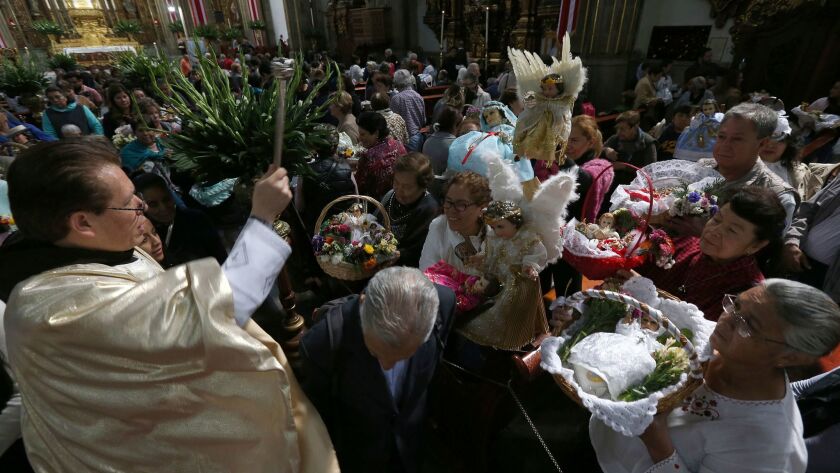 Reporting from MEXICO CITY —
Two priests were returning home from a religious celebration in a small town in southern Mexico on Monday when a vehicle suddenly cut in front of their van, blocking their path.
It was then, authorities said, that unknown assailants pulled out guns and opened fire. The priests, Ivan Añorve Jaimes and Germain Muñiz Garcia, were killed. Two men and two women traveling with the priests were wounded, authorities said.
The early morning incident on a winding rural highway drew condemnations from the local Catholic diocese and the governor of Guerrero state, where the town of Juliantla is located. It also underscored the threats faced by clergy in Mexico, where in the last five years, 21 Catholic priests have been killed.
Although some of those priests appear to have been victims of random violence — a real risk in a nation that last year recorded nearly 30,000 homicides — others appear to have been targeted specifically because of their ecclesiastical work. In Guerrero, where multiple criminal groups are at war for control of the state's lucrative heroin trade, priests have at times sought to broker truces between rival gangs. Priests in the state have also been on the front lines of efforts to locate and excavate mass graves.
A statement issued by the local archdiocese Monday did not say why Añorve and Muñiz may have been targeted. But it said clergy members across the region are working for peace and will not be daunted by violence.
"We will not cease in our efforts to build peace in our family, in our community, in our state and in our homeland," the statement said. "Every day we ask the Lord for this peace."
The two priests had been celebrating the Feast of Candelaria, also known as Candlemas, which commemorates the presentation of the infant Jesus at the temple in Jerusalem and marks the end of the Christmas season. Mexican Catholics celebrate the day by dressing up infant Jesus figurines and taking them to church to be blessed.
The priests were returning home to their respective parishes, authorities said.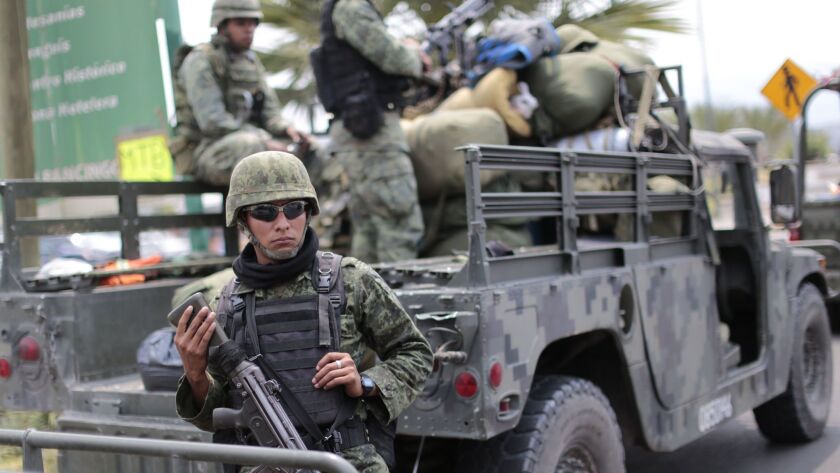 Around 4 a.m., state authorities received a report that a vehicle pocked with bullet holes was stopped on the highway, Guerrero security spokesman Roberto Alvarez said. Three of the survivors are in good condition, Alvarez said, while one is in serious condition.
Juliantla, a town of about 1,000, was made famous in a song by the late Mexican singer Joan Sebastian, who grew up there. Long known for silver mining and metalwork, the town and the surrounding region have more recently gained notoriety as one of the most dangerous parts of Mexico.
The town is about an hour north of Iguala, where 43 students disappeared in 2014. In nearby Chilapa, the bodies of seven people were recently discovered near a riverbed, chopped into pieces and stuffed into plastic bags.
The U.S. State Department recently warned Americans not to travel to Guerrero, where more than 2,318 homicides were recorded in the state last year. "Armed groups operate independently of the government," the warning said, and members of those groups "frequently maintain roadblocks and may use violence towards travelers."
ALSO
'Where is Marco Antonio?' A Mexican teen vanished — and ignited a movement
With U.S. competition hurting its marijuana business, Mexico warms a little to legalization
She fought back against illegal loggers. Now she's been found strangled on a highway in Mexico
Twitter: @katelinthicum
Cecilia Sanchez in The Times' Mexico City bureau contributed to this report.
---
Must-read stories from the L.A. Times
Get the day's top news with our Today's Headlines newsletter, sent every weekday morning.
You may occasionally receive promotional content from the Los Angeles Times.