Mexican soccer fans are reluctant to give up a favorite chant — an anti-gay slur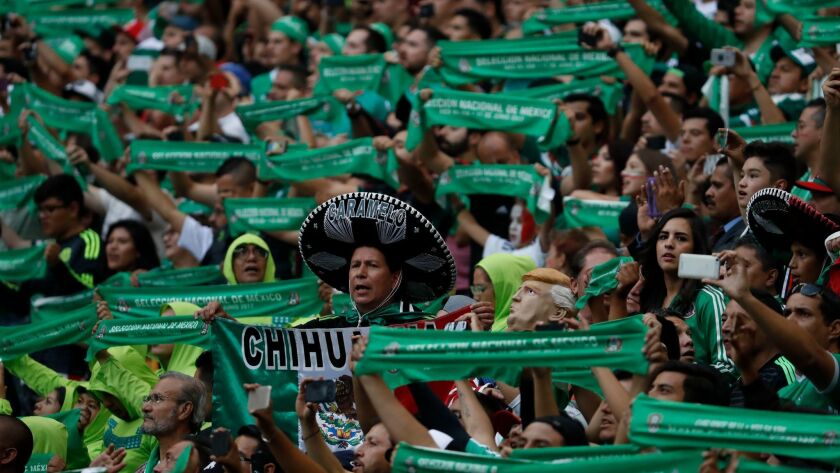 Reporting from Mexico City —
They've been begged by star players to stop it, fined repeatedly, and threatened with dramatic sanctions that could hurt their national team's chances in the World Cup.
But Mexican soccer fans have been loath to give up their favorite game-day chant, a homophobic slur that has been condemned by gay rights groups, government officials and international soccer authorities.
At a recent World Cup qualifying match at Mexico City's massive Estadio Azteca, game organizers aired messages pleading with fans to not say it. Beforehand, some of the team's top players had condemned the slur in public service announcements.
But the crowd of more than 80,000 had other plans.
Each time the goalie for the United States team picked up the ball to punt it, the crowd began chanting, "Eehhh," stretching out the sound like a long musical note on a crescendo. When the goalie finally kicked the ball, the crowd shouted, "puto!" in unison.
The word, which translates roughly to "male prostitute," has long been used in Mexico as a slur against gay men.
Many soccer fans insist it isn't meant as an anti-gay insult. They point out that the word has taken on other meanings, including "coward," and is even sometimes used between friends kind of like "dude."
Critics say fans obviously aren't screaming "dude" at opposing teams.
"There's no question that in this context, it's an insult," said Rafael Ocampo, a longtime sportswriter in Mexico City who is now the director of Milenio Television. "It's an embarrassment."
Debate over the term has become a lightning rod issue in Mexico. Gay marriage is legal in several states, but discrimination and violence against gays is a regular occurrence in many parts of the country.
"Slurs like this are part of the violent context that we live," said Paulina Martinez, who heads a gay rights group.
"We live in a country where priests do anti-gay conversion therapy, where there are big anti-gay marches," she said, references to last year's "pro-family" demonstrations organized by a far-right political party that brought tens of thousands of people into the streets across the country. "Homophobia is very much a part of our national discourse," she said.
The chant is believed to have first emerged about 15 years ago in Mexico's national soccer league. Fans of one particular team began screaming it at their former goalkeeper, who they felt had betrayed them by joining a rival club. The chant always seems to play out the same way: the prolonged "Eehhh," capped by the slur.
The chant was ubiquitous during the 2014 World Cup in Brazil, where it drew increasing scrutiny from international gay rights activists as well as FIFA disciplinary officials. At the time, the Mexican team's coach, Miguel Herrera, laughed it off, saying the term was an ancient Aztec word that meant "force a bad punt from the goalkeeper."
More recently, Mexico's players have defended it, even while they also participate in public service announcements asking fans not to use the phrase.
"To a Mexican, it's not meant to offend," star player Miguel Layun said in a recent interview with Fox Sports. "Even among friends, we call ourselves that."
Now, in the run-up to the 2018 World Cup in Russia, soccer authorities are taking the chant more seriously. The Mexican Soccer Federation has been fined thousands of dollars multiple times in recent months after fans chanted the slur during several World Cup qualifying matches.
Ahead of this month's Confederations Cup, FIFA, the international governing body of soccer, announced a dramatic plan to try to stamp out the chant. Cameras have been trained on the stands to monitor fans' behavior. If any fans are seen screaming the chant, Mexico will be issued a formal warning. If they persist, referees have the authority to suspend the match or end the game altogether.
Mexico received a formal warning Sunday after some fans screamed the chant in a match against Portugal.
But on Wednesday, when the team beat New Zealand 2-1, the chant was absent. According to news reports, some fans screamed, "Mexico," instead of the insult, when the opposing goalie kicked the ball. Their abstention won widespread praise from sports authorities and gay rights activists around the world.
But in Mexico, some fans were disappointed.
"For most of us, it's just not something important," said Fernando Sánchez, 42, who was watching the New Zealand game at a restaurant called Hot Dogs Ramirez while on a break from the construction project he's overseeing.
Sanchez said he has shouted the chant at many games, and doubts fans at home games in Mexico will stop doing it.
"If it was actually offensive," he said, "we would stop."
To read the article in Spanish, click here
Twitter: @katelinthicum
MORE
He defended the sacred lands of Mexico's Tarahumara people. Then a gunman cut him down
The world's smallest porpoise has caused a big battle in Baja California
Mexico is in love with a $5,000 hairless dog that often wins competitions — in the ugliest category
---
Must-read stories from the L.A. Times
Get the day's top news with our Today's Headlines newsletter, sent every weekday morning.
You may occasionally receive promotional content from the Los Angeles Times.