A new report shows just how much Trump has hurt Mexico's view of the U.S.
Reporting from MEXICO CITY —
Because of President Trump, more Mexicans view the United States unfavorably than at any time in the last 15 years, according to a report by the nonpartisan Pew Research Center.
The report found that 65% of Mexicans hold a negative opinion of the U.S. — more than double the share two years ago.
Since announcing his candidacy for president more than two years ago, President Trump has repeatedly accused Mexico of stealing American jobs, attacked it for supplying drugs to the U.S. and vowed to make Mexico pay for construction of a border wall.
Although Trump and many of his key policies are unpopular around the globe, his ratings are particularly low in Mexico, where just 5% say they have confidence that he will do the right thing regarding world affairs — his lowest rating among 37 nations surveyed by Pew.
The report released Thursday highlights just how much relations have deteriorated between the two longtime allies since Trump's November election, which unsettled Mexico's financial markets and shocked many people here.
In recent days, Mexicans have been angered over Trump's decision to end a program that protected from deportation some immigrants who have been living illegally in the U.S. since childhood. They were also offended by his weeklong delay in sending condolences to Mexico after nearly 100 people were killed in last week's magnitude 8.1 earthquake — a common courtesy when U.S. allies suffer tragedies.
"I don't remember a time when the U.S. treated us with so much contempt," said Julio Martinez, 46, who manages a pet supply store in Cuajimalpa, a borough on the western side of Mexico City. Martinez said his opinion of the U.S. has worsened because Americans have not stopped their president from insulting their neighbor to the south.
"Why aren't people protesting to defend Mexicans?" Martinez asked.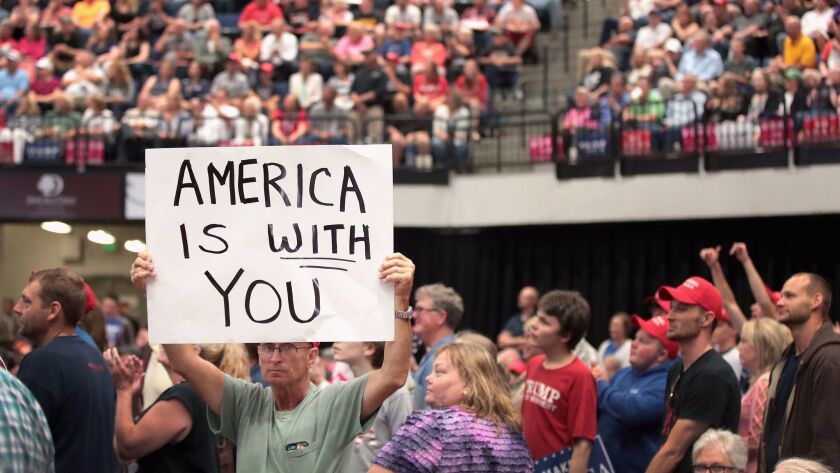 Trump's repeated criticisms have stirred anti-American feelings that have long existed just under the surface in Mexico, where students learn at a young age that the U.S. invaded Mexico in the 1840s and stole half of its territory. Just this week Mexican President Enrique Peña Nieto presided over a ceremony celebrating the "Niños Heroes," young cadets who died defending Mexico City from American invaders. One of the cadets famously wrapped himself in the Mexican flag and leaped to his death rather than be captured.
Trump, said Jorge Guajardo, who served as Mexico's ambassador to China from 2007 to 2013, "is just proving what we have long expected from the United States, that they are not necessarily our friends."
Guajardo said Trump and others in Washington don't understand that Mexico-bashing could have serious consequences.
"They think we don't have any option but to put up with their attacks, but very soon they will find that we'd rather wrap ourselves in our flag and jump to our death rather than put up with this," he said.
"It's unfortunate," added Guajardo. "Both countries had worked for over two decades to come closer and be good neighbors instead of adversaries." He said the growing tide of anti-American sentiment could hurt the efforts to renegotiate the North American Free Trade Agreement, which Trump ordered in an effort to close the roughly $60-billion trade gap with Mexico.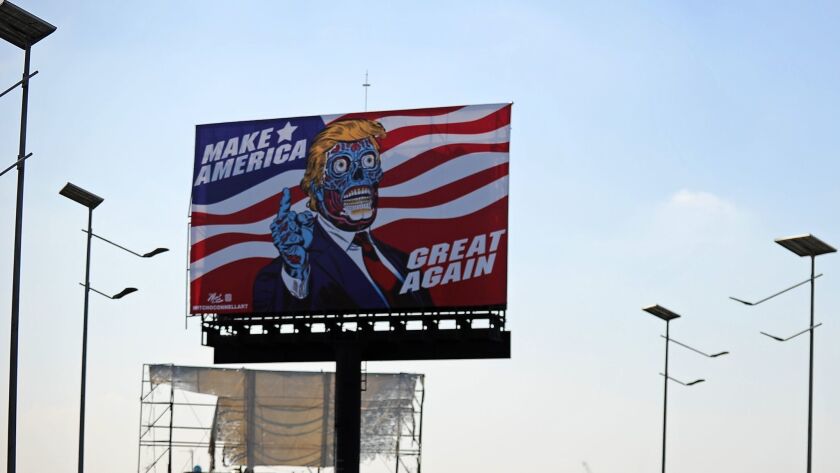 The sad state of U.S.-Mexico relations could even give Peña Nieto an incentive to walk away from NAFTA negotiations, he said, although the country's business interests depend heavily on the 1994 accord, which abolished tariffs on goods moving through North America.
According to the Pew survey of 1,000 people across the country, Mexicans' growing doubts about the U.S. extend to economic cooperation between the countries. Just 55% of Mexicans said economic ties between Mexico and the U.S. are good for their country, down from 70% in 2013.
Mexican politicians hoping to replace Peña Nieto in next year's presidential election have picked up on that populist sentiment. Left-leaning Andres Manuel Lopez Obrador has said NAFTA negotiations should wait until after the 2018 election, and Sen. Roberto Gil Zuarth of the right-leaning National Action Party, or PAN, has called on Mexico to leave the negotiating table unless Trump shows the country respect.
Even advertisers have embraced Mexican nationalism, with businesses as varied as a tequila company and a bank marketing themselves with slogans that invoke Mexican pride.
Despite growing doubts about the U.S., a third of Mexicans still say they would move to the U.S. if given the opportunity, a figure that has remained relatively steady since Pew began asking that question in 2009.
However, Mexicans say they are less willing to live and work in the U.S. without authorization. Only 13% say that they would do so, down from 20% two years ago.
Mexicans' continued interest in moving to the U.S. may have more to do with their dissatisfaction about how things are going at home. The survey also revealed a population that is downbeat about the direction of the nation and worried about corruption and rising levels of violence.
Peña Nieto's popularity has plummeted to its lowest level since Pew began asking about him in 2011, a year before he took office.
Just over a quarter of Mexicans have a favorable view of Peña Nieto today, down from a peak of 61% in 2011. That's because of rising levels of violence, repeated corruption scandals among the president's ruling Institutional Revolutionary Party, or PRI, and Peña Nieto's decision last summer to invite then-candidate Trump for an official meeting in Mexico City.
The PRI has also seen its support fall almost by half — to 27% from 49% — since 2013, according to Pew.
Carlos Antonio Heredia Zubieta, a professor of international relations at Mexico's Center for Research and Teaching in Economics, said he thinks voters will turn away from the PRI in next year's election, because of numerous scandals involving several PRI governors and Peña Nieto's family.
The president, Heredia said, has not aggressively curbed corruption as promised. "Justice has been late, ineffective and selective," he said.
Results for the survey were based on face-to-face interviews with 1,000 adults from March 2 to April 10. The margin of sampling error is plus or minus 4.4 percentage points.
Cecilia Sanchez in The Times' Mexico City bureau contributed to this report.
To read the article in Spanish, click here
Twitter: @katelinthicum
ALSO
Trump pushes deal on DACA as many supporters erupt in anger
After an earthquake and a hurricane — and Trump's failure to send condolences — Mexico rescinds offer of aid to U.S.
Mexico expels North Korean ambassador over nuclear tests
---
UPDATES:
3:05 p.m.: This article was updated with the poll's margin of sampling error and when it was conducted.
This article was first published at 7 a.m.
---
Must-read stories from the L.A. Times
Get the day's top news with our Today's Headlines newsletter, sent every weekday morning.
You may occasionally receive promotional content from the Los Angeles Times.