How the Trump presidency could impact South American currency markets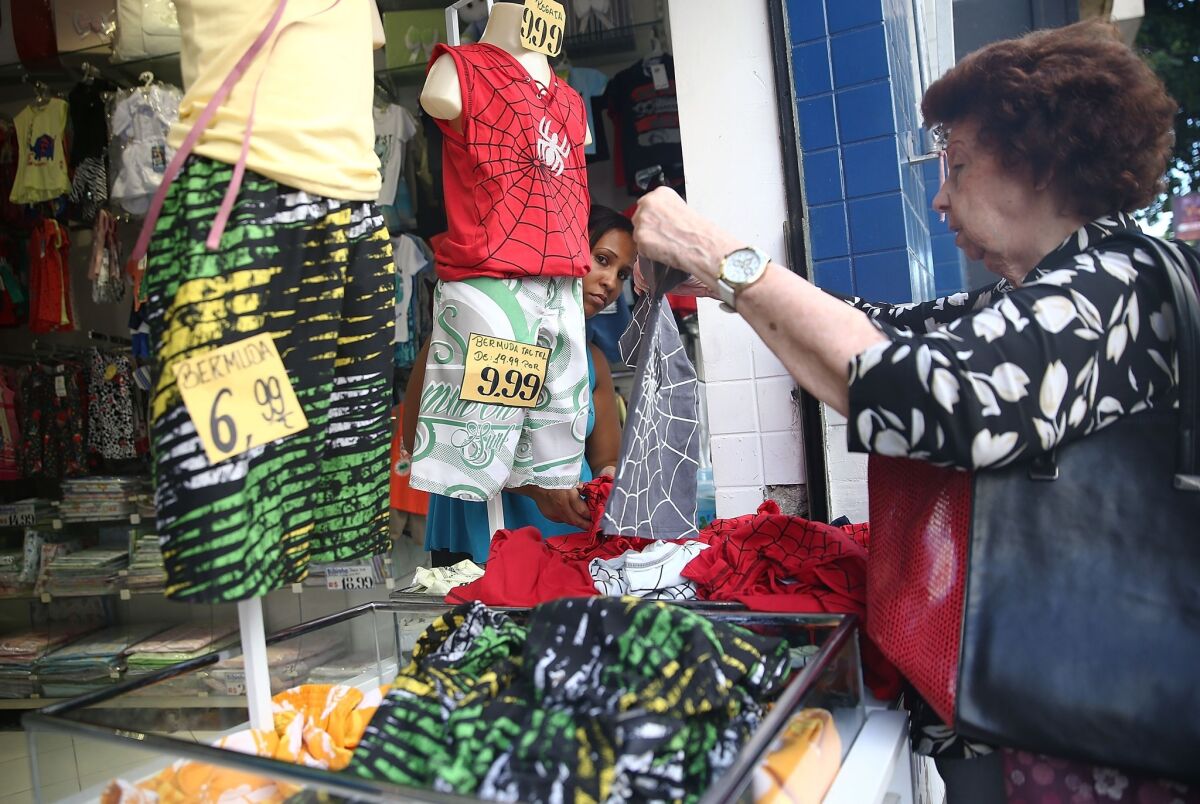 Reporting from Sao Paulo, Brazil —
As it became clear the day of the U.S. presidential election that Donald Trump would win, currencies throughout South America began to lose value.
In Brazil, the region's largest economy, the real has fallen more than 9% against the U.S. dollar since election day.
The currencies in the next three biggest economies — Argentina, Colombia and Chile — have dropped between 4% and 8%.
Much attention has been paid to how a Trump administration could damage the economy in Mexico, where Trump has sown fears by threatening to tear up the North American Free Trade Agreement and clamp down on immigration. The Mexican peso has reacted in kind, dropping 11% the day after the election and an additional 1% since then.
But the Trump presidency could pose economic challenges much farther south of the U.S. border.
Economists say the currency markets in South America are not responding to Trump's missives on trade or immigration but rather to indications of his domestic plans. He has pledged to implement deep tax cuts and make massive investments in U.S. infrastructure, moves that would almost certainly increase inflation and necessitate raising interest rates.
Anticipation of that rise — along with the general uncertainty of how Trump will lead the world's largest economy — is already increasing the flow of capital out of South America and other emerging markets and into the United States, said Guilherme Mello, an economist at the University of Campinas in Brazil.
The timing could hardly be worse for South America. The continent experienced booming economic growth for the first decade of this century by exporting iron ore, soy, copper and other commodities to China. But a slowdown in the Chinese economy over the last few years turned that boom into a bust.
The country hardest hit is Brazil, which is being crushed by its worst recession in a century. Even before the election, its currency had fallen 50% since 2011. Corruption scandals and the impeachment of the president this year have inspired little new confidence in a turnaround.
Capital flight "poses a real problem for the current government's plan to create some kind of recovery," Mello said.
Argentina is expected to finish this year with negative growth and start recovering in 2017. A rise in oil prices has helped Colombia counter some of the currency decline that followed the U.S. election.
A strengthening dollar is not always bad for emerging market economies. It can correct overvaluation of their currencies and boost exports.
But for now, the dominant sentiment is uncertainty over the future with Trump in power.
"Throughout Latin America, we'll see a lot of fluctuations in economies until it's clear what Trump is actually going to do," said Jason Marczak, deputy director of the Adrienne Arsht Latin America Center, part of the Atlantic Council think tank in Washington. "Donald Trump is unlike any other president we've seen before, so it's not clear if he will govern like he campaigned or completely differently."
SIGN UP for the free California Inc. business newsletter »
Marczak said two big questions are trade and diplomatic alliances, especially in Colombia, where the U.S. has played a major role in supporting the government as it attempts to end a decades-long civil war.
In Brazil and Argentina, the governments are led by new presidents who are right of center politically and have expressed a willingness to engage with the United States in ways their predecessors would not.
But if Trump retreats from the region, another superpower is ready to fill the void, Marczak said: "China is right there to step in."
Bevins is a special correspondent.
ALSO
Colombian Congress passes amended peace deal to end decades of civil war
82 major cities are meeting this week to talk about how to limit the worst effects of climate change
Fidel Castro's final tour across the homeland he ruled for nearly half a century
Must-read stories from the L.A. Times
Get the day's top news with our Today's Headlines newsletter, sent every weekday morning.
You may occasionally receive promotional content from the Los Angeles Times.