U.N. human rights officials accuse Venezuelan government of using excessive force against opposition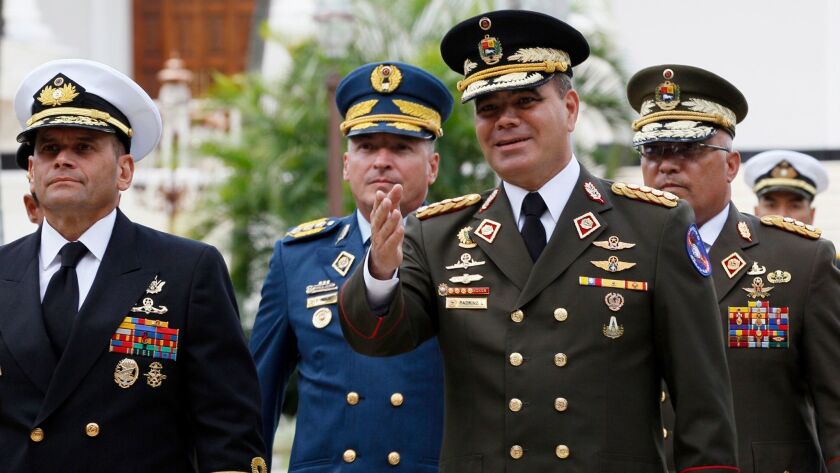 Reporting from Caracas, Venezuela —
United Nations human rights officials Tuesday held Venezuela's government responsible for the use of excessive force on opposition demonstrators in clashes that since March have claimed 132 lives.
U.N. Human Rights Commissioner Zeid Raad Hussein said in a statement the violence has followed an evident pattern and that security forces and pro-government groups were responsible for the deaths of more than 70 protesters.
"Several thousand people have been arbitrarily detained, many reportedly subjected to ill treatment and even torture, while several hundred have been brought before military rather than civilian courts," Hussein said. "And these patterns show no signs of abating."
"The responsibility for the human rights violations we are recording lies at the highest levels of government," he said.
Of the 5,051 people detained between April 1 and the end of July, more than 1,000 remain in custody, the organization said. U.N. officials conducted interviews with 135 witnesses and victims of street violence, but did so from Panama and Switzerland because Venezuelan officials denied them entry into the country, Hussein said.
Security forces appeared responsible for the deaths of at least 46 protesters, while pro-government groups referred to as "armed colectivos" were responsible for 27, according to the U.N. human rights team's analysis. Who caused the other deaths remained unclear.
The statement came as President Nicolas Maduro's government disqualified candidates of the main dissident parties from running in seven gubernatorial elections this year, without explanation.
In addition, the nation's Supreme Court issued an arrest warrant for Ramon Muchacho, mayor of the Chacao borough of Caracas, and sentenced him to 15 months in prison for not following an order to remove street barricades in the district. Muchacho is among several mayors disqualified from office and sentenced to prison since protests began.
On Monday night, the Maduro-controlled National Electoral Council said members of parties making up the Democratic Unity coalition were forbidden to run for governor in seven of the nation's 23 states: Zulia, Apure, Monagas, Bolivar, Trujillo, Aragua and Carabobo. The disqualifications were the results of "decisions taken" in the respective states, government officials said.
Elections were supposed to have been held last year, but Maduro postponed them until this December. Critics have said the deeply unpopular president, whose approval ratings have plunged to about 20%, delayed the elections to avoid losses in those critical states.
The protests that have engulfed Venezuela since late March have been tied to discontent over food shortages, violent crime, a cratered economy marked by triple-digit inflation and Maduro's autocratic governing style.
The most recent outrage in the eyes of the opposition was the new constitutional assembly, which called its first session Saturday and fired Atty. Gen. Luisa Ortega Diaz, the most prominent critic of Maduro within the government.
On Tuesday, the new constitutional assembly declared itself superior to all other branches of government.
Maduro maintains a new charter is necessary to bring order to Venezuela, while critics say its purpose is to sideline the democratically elected National Assembly and perpetuate a failed socialist economic model.
Authorities Tuesday blocked members of the National Assembly from entering the Federal Legislative Palace. The space instead has been taken over by the 545 delegates of the constitutional assembly.
Maduro finds himself increasingly isolated in the region, with the heads of several Latin American countries, including Colombia, Mexico and Peru, denouncing the constitutional assembly as anti-democratic. Last weekend, Venezuela was suspended from membership in the Mercosur trading block.
Foreign ministers of 17 Latin American nations are meeting in Lima, Peru, to discuss a response to what's happening in Venezuela. Peru's foreign minister, Ricardo Luna, said last week that his country may sever diplomatic ties with Venezuela to protest the constitutional assembly.
Venezuelan Defense Minister Vladimir Padrino Lopez said in an address to the nation Monday that armed forces were still looking for the "terrorists" who participated in Sunday's attack on a fort in the western city of Valencia. Seven of the attackers were arrested and two were killed in the assault, in which suspects fled with 100 rifles taken from the fort's armory.
Among those still at large Tuesday was the attackers' apparent leader, who identified himself in a video released before the incident as national guard Capt. Juan Caguaripano. Lopez described Caguaripano as a deserter, sponsored by exiles in Miami, who participated in the attempted 2002 coup against then President Hugo Chavez. There were no signs of attacks spreading to other military installations, Lopez added.
A video made public Tuesday showed a uniformed officer who identified himself as national guard Capt. Javier Nieto Quintero stating his support of the weekend attack at the fort. He added that Caguaripano is "a man of honor, of loyalty, of commitment to the country with no political interests."
Special correspondents Mogollon and Kraul reported from Caracas and Bogota, Colombia, respectively.
---
UPDATES:
2:45 p.m.: This article was updated with a vote by Venezuela's new constitutional assembly declaring itself superior to all other branches of government.
This article was originally published at 1:55 p.m.
---
Must-read stories from the L.A. Times
Get all the day's most vital news with our Today's Headlines newsletter, sent every weekday morning.
You may occasionally receive promotional content from the Los Angeles Times.