Junked cranes, empty barrels, spilled chemicals: This refinery shows how far the once-mighty Venezuelan oil industry has fallen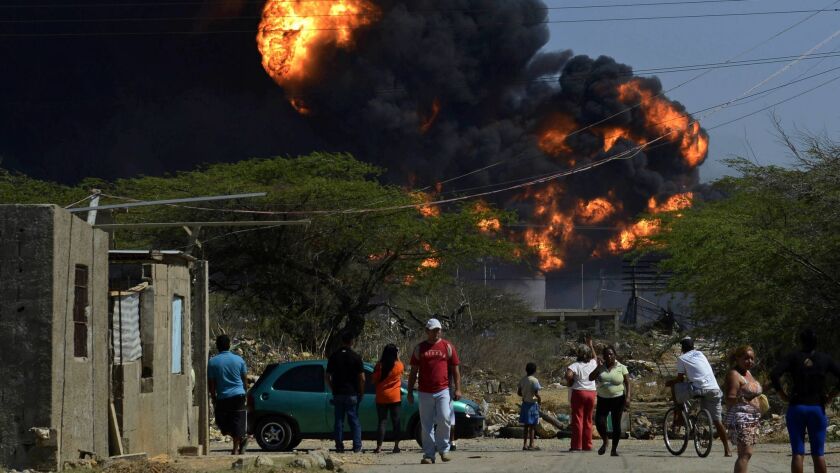 Reporting from Los Taques, Venezuela —
There was a time when a job at the Amuay refinery — the crown jewel of Venezuela's state-owned oil company — was a ticket to the good life.
Petroleos de Venezuela, at its height, was the fifth largest oil company in the world. Salaries at the plant were high, benefits generous, and workers basked in the prestige of wearing the uniform.
"Everyone wanted to be here because it meant an excellent quality of life for their families," said Emir Aguilar, who worked for years in the private sector before finally landing a job at the refinery in 2003.
Now the 68-year-old refinery is in steep decline, a stunning piece of wreckage in an economy destroyed by mismanagement and hyperinflation that have left 80% of Venezuela's 32 million people in poverty, millions of them facing starvation.
A dozen junked cranes and other heavy equipment stand in disrepair. Empty oil barrels litter the passageways of the refinery. The air carries the toxic stench of spilled chemicals. The once-manicured recreation areas of the adjacent employee apartments now are choked with weeds.
A job here no longer has much value. Of the 4,000 workers on the payroll in 2010, more than half have quit, and union officials say a majority of them have fled the country along with more than 2 million Venezuelans seeking a better life in Colombia, Peru, the U.S. or elsewhere.
Aguilar is a process operator, helping monitor the refining process as crude oil moves through three distillers. Each morning, he walks two miles to get to the plant — a commute he once made on a company shuttle, before that benefit was discontinued. His shifts are eight hours, but he frequently works double that when other employees don't show up.
His salary was once more than enough to take care his wife and three children. But today, massive inflation means his paycheck and benefits amounts to less than $4 a month, enough to buy a kilogram of beef and a dozen eggs.
To retain employees, the company has started handing out food once a month. Each worker with perfect attendance for the month gets a bag containing corn flour, beans, cooking oil, sugar and two cans of tuna.
"We've lost all our contracted benefits, medical attention, the free cafeteria, transportation to work, even drinking water on the job site," Aguilar said. "All we get are those bags of food."
Now 43, he said he's not sure how much longer he will remain at the refinery — or even in Venezuela.
"I'm afraid that the only option left to me will be to follow the same path that thousands of my fellow workers have taken," he said.
His father had worked at the plant before him, and the job had been a childhood dream. Now Aguilar has taken to writing poetry to help "overcome the depression that I feel knowing my quality of life can never recover."
One of his poems goes like this:
I hear that voice in my stomach that asks
What are we going to eat tomorrow?
I think of work and its excesses of overtime
about decadence
about the lack of maintenance
of the way they take out your guts in gasoline and furthermore you have to be thankful
I think of a barrel of oil that falls in the marketplace and us along with it.
Oil has long been the main driver of the Venezuelan economy. Production peaked in 2008 at 3.5 million barrels a day. Between 2016 and 2017, it fell 43% to 1.2 million barrels a day, and the International Energy Agency, a Paris-based think tank that tracks global oil production, recently predicted further declines in coming months.
Petroleos de Venezuela now imports various fuels to help the country meet some of its basic needs.
Its collapse stemmed from a slump in world oil prices, a shortage of workers, mismanagement, politics and U.S. sanctions that have made it difficult to maintain refineries and other infrastructure. As a result, the Venezuelan economy is now in its fourth year of recession.
Aguilar traces the oil industry's decline back to 2003, when then-president Hugo Chavez fired 20,000 workers from the state oil giant who were on strike. It was a devastating loss of technical expertise and experience.
Many of the workers hired since then were unqualified and got their jobs because of the connections to the ruling United Socialist party, according to union officials.
Another blow came in 2007, when Chavez expropriated dozens of private oil companies, including many U.S.-based firms operating in Venezuela.
The upshot was a sharp reduction in foreign investment. Long gone are the U.S. engineers who in the 1990s helped the country solve the problems of pumping and processing the tar-like "heavy oil" in eastern Venezuela's Orinoco Belt reserves.
The Amuay plant was once the third largest refinery in the world. Production is now less than 30% of its peak of 645,000 barrels a day.
It has never been fully rebuilt since a 2012 explosion and fire there killed 47 people and injured 160. Caused by an undetected gas leak, the disaster eliminated 11 fuel storage tanks and eight large gas containers. Many of the victims had been asleep in an adjacent apartment building or the police barracks. It took four days to put out the fire.
"I cried that whole morning for all that we lost in a tragedy that should have been avoided," said Aguilar, who was at home when the explosion occurred.
Aguilar said he worries about safety on the job, because gas detectors set up to alert workers to hazardous emissions haven't worked for months.
He said that he wasn't concerned about possible repercussions from talking to a reporter about problems at the plant, because Petroleos de Venezuela can't afford to lose more workers.
"It's very difficult for them to free a slave," he said. "I'm one of the few experienced operators left in the refinery."
Special correspondents Mogollon and Kraul reported from Los Taques, Venezuela, and Bogota, Colombia, respectively.
---
Must-read stories from the L.A. Times
Get all the day's most vital news with our Today's Headlines newsletter, sent every weekday morning.
You may occasionally receive promotional content from the Los Angeles Times.