Mario Benedetti dies at 88; Uruguayan poet and writer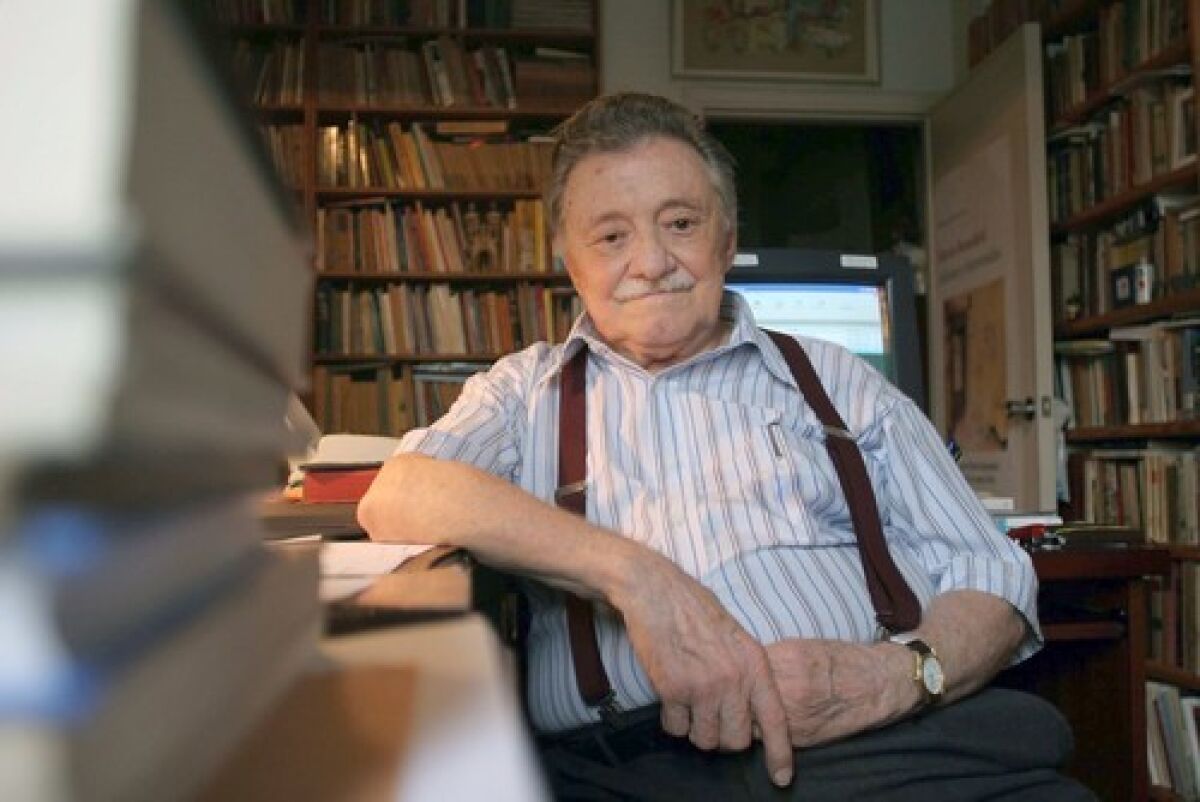 Reporting from Bogota, Colombia, and Buenos Aires —
Uruguayan author Mario Benedetti, whose bestselling poems and novels helped launch Latin America's postwar literary boom, has died. He was 88.
Benedetti died Sunday at his home in Montevideo, Uruguay's capital, of complications arising from a chronic infection. His body lay in state today in the nation's Legislative Palace in a ceremony attended by President Tabare Vazquez. He is to be buried Tuesday in Uruguay's National Pantheon.
"Men like Mario never die," Vazquez told reporters.
Although he wasn't widely known in the United States, Benedetti's more than 60 volumes of poems, prose, essays and drama helped secure a prominent place for Latin America in global literature, along with the works of Gabriel Garcia Marquez, Carlos Fuentes and Mario Vargas Llosa.
A committed leftist, Benedetti also earned the admiration of his countrymen for speaking out against dictatorships in Uruguay and Argentina during the 1970s. Beginning in 1973, he spent 12 years in exile in Argentina, Peru, Cuba and Spain.
Benedetti's best known works included the novels "The Truce" (1960) and "Coffee Grinds" (1978); the short story collection "The Montevideans" (1959); and the poetry collection "Winds of Exile" (1981).
His short novel "The Truce," about the humdrum existence of a bureaucrat who falls in love with a younger co-worker, sold hundreds of thousands of copies, was translated into 20 languages and inspired two films.
Benedetti's sensitively drawn portraits of desperate, lovelorn urban characters appealed to readers across the Spanish-speaking world, especially to youth. His public readings of his poetry in the 1980s and '90s were cultural phenomena and attracted enormous crowds from Mexico City to Buenos Aires to Madrid.
By writing in a direct and ungarnished voice, Benedetti attracted the interest of younger generations in poetry, the literary form with the "least resonance in the society," former Uruguayan President Julio Maria Sanguinetti told a radio interviewer Sunday.
"He attracted youth at a time when they found other poets either pretentious or overly melodramatic," said Conrado Zuluaga, editorial director of Panamericana, a Bogota-based publisher.
His poems became lyrics for songs written by Joan Manuel Serrat of Spain and Daniel Viglietti of Uruguay. Serrat's songs in an album titled "The South Also Exists," were anti-United States in theme.
Although some critics such as Zuluaga described his work as "more popular than accomplished," Benedetti won a slew of literary awards, including the Queen Sofia Ibero-American Poetry Award in 1999, and the Jose Marti prize in 2001.
"When I have worries, fears or a love affair, I have the luck of being able to transform it into a poem," said Benedetti, the son of Italian immigrants.
Benedetti worked as a stenographer before launching a literary career. Friends described him as unassuming and shy, much like the protagonist of "The Truce." He and his wife of 60 years, Luz, who died in 2006, left no children.
Kraul and D'Alessandro are Times special correspondents.
---
Must-read stories from the L.A. Times
Get the day's top news with our Today's Headlines newsletter, sent every weekday morning.
You may occasionally receive promotional content from the Los Angeles Times.