Top Afghan officials killed in Kandahar shooting; U.S. commander unhurt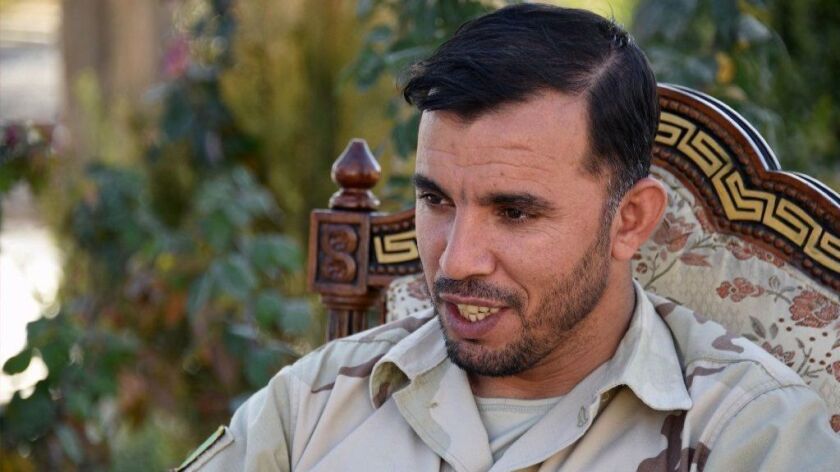 Reporting from Kabul, Afghanistan —
At least two senior Afghan officials, including a powerful police chief, were killed and two Americans were injured Thursday when an Afghan security guard opened fire at the provincial governor's compound in Kandahar province, officials said.
The top U.S. commander in Afghanistan had just left a meeting at the compound and was unhurt, but the shooting claimed the life of a key U.S. ally: Abdul Raziq, the Kandahar police chief and one of the most reliable — and controversial — commanders in the 17-year war against the Taliban.
Afghan officials said the provincial intelligence chief was also killed, and there were unconfirmed reports that the provincial governor had died of injuries sustained in the shooting.
The Taliban claimed responsibility for the attack, one of the most devastating assassinations of the war, and said its targets were Raziq and Army Gen. Austin "Scott" Miller, the commander of U.S.-led coalition forces in Afghanistan.
Afghan news media reported that the gunman was wearing the uniform of the Afghan security forces and was a member of the provincial leadership's security team.
A statement from the U.S.-led NATO coalition described the shooting as "an Afghan-on-Afghan incident." It said Miller had escaped unharmed and three coalition personnel had been wounded and were medically evacuated. They included a U.S. service member, an American civilian and a coalition contractor whose nationality was not immediately released.
The death of Raziq, who was about 40, came two days before parliamentary elections nationwide and many feared it could add fuel to a recent surge by the Taliban by opening up a leadership void in pivotal Kandahar.
Security across the country is deteriorating as Taliban militants defy U.S. and Afghan peace overtures with offensives across multiple provinces that have made 2018 one of the bloodiest years in the war. The United Nations said 5,122 civilians were killed or wounded in the first six months of the year, the highest total since it began recording casualties in 2009.
Graeme Smith, an analyst and author of a book on the Afghan war, called Raziq's death "potentially the most significant assassination in a conflict that has witnessed thousands of them."
Raziq, a boyish police official with a reputation for ruthlessness, rose to prominence as head of the provincial border police and was credited with containing the insurgency in Kandahar, a traditional Taliban stronghold.
Raziq's zeal endeared him to the U.S.-led coalition and allowed him to shrug off credible allegations from human rights groups that his men tortured and killed civilians.
For much of the war, U.S. commanders furnished Raziq's forces with weapons and support in exchange for promises of protection for American forces in Kandahar, according to security analysts and former U.S. officials.
"The Americans lost a steadfast ally with whom they had worked so well for so many years and on whom they had come to depend so much," said Ahmad Shuja Jamal, an Afghan analyst and editor-in-chief of the Georgetown Public Policy Review.
Raziq, who operated out of a heavily guarded compound in the center of Kandahar that had once belonged to the Taliban's late founder, Mullah Mohammed Omar, had survived dozens of attempts on his life.
In 2012, he was wounded in a massive bombing that killed four civilians and wounded about 20 others. This year, a suicide bomber posing as a journalist was stopped trying to enter one of Raziq's news conferences with a bomb hidden inside a microphone.
All of that only added to his mystique, which was built on violence and buttressed by the impunity he was afforded.
The U.N. committee on torture last year called for Raziq to be prosecuted over reports that his forces had abused and suffocated Afghan prisoners, many of whom died in custody. Raziq — whom Human Rights Watch labeled "Kandahar's torturer-in-chief" — steadfastly denied the allegations.
Special correspondent Faizy reported from Kabul and Times staff writer Bengali from Mumbai, India.
Special correspondent Faizy reported from Kabul and Times staff writer Bengali from Mumbai, India.
Shashank Bengali is South Asia correspondent for The Times. Follow him on Twitter at @SBengali
---
UPDATES:
10:05 a.m.: This article was updated with three coalition personnel wounded.
9:25 a.m.: This article was updated throughout with the death of Abdul Raziq's death and staff reporting.
This article was originally published at 7 a.m.
---
Must-read stories from the L.A. Times
Get the day's top news with our Today's Headlines newsletter, sent every weekday morning.
You may occasionally receive promotional content from the Los Angeles Times.