These Syrians were finally being evacuated to safety. That's when the bomb went off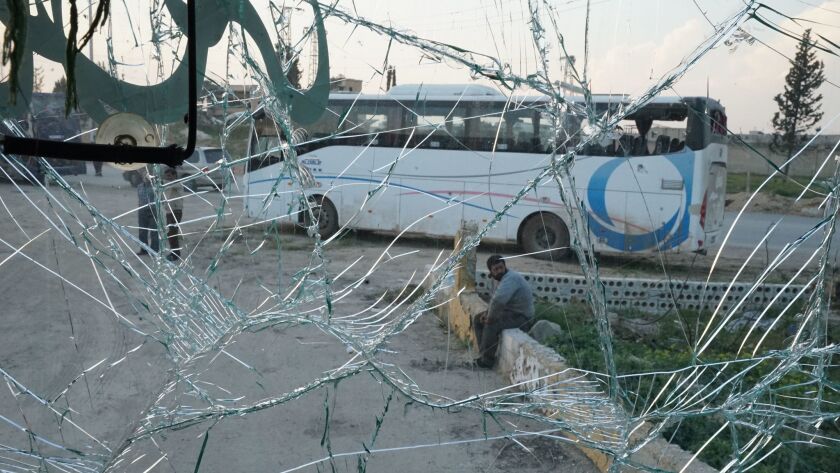 Reporting from Aleppo, Syria —
She had already lost her eldest son, Jamal, a Syrian soldier killed in action three years ago. He was 25.
Her family endured two years of shortages of food, water, medicine and other essentials — along with frequent shelling — in her hometown of Fuah, which has been the target of a more-than two-year rebel siege.
All that misery was supposed to end for Hanan Hussein on Saturday. She was among thousands of people who boarded buses promising an evacuation from Fuah and Kfarya, pro-government bastions in Syria's Idlib province that had been under steady attack by rebels seeking to overthrow President Bashar Assad.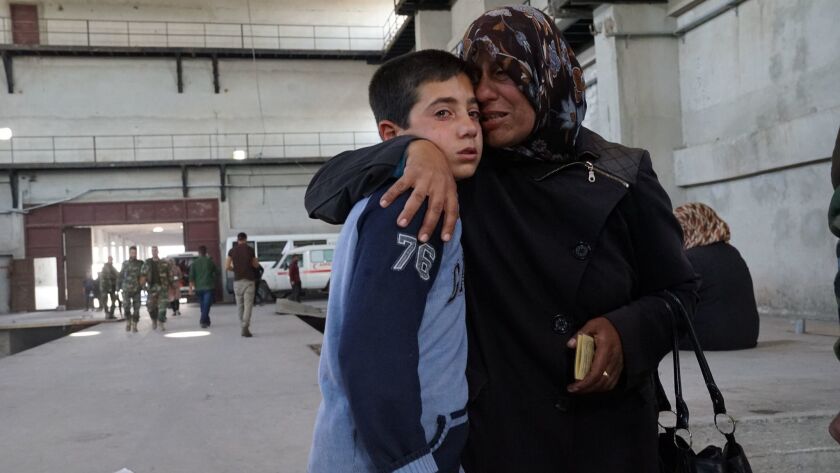 The trip offered a safe new beginning. Instead, it ended violently and tragically when a car bomb detonated amid the buses, killing more than 120 people, mostly women and children, according to government and opposition accounts.
Among the many missing and unaccounted for as of late Sunday were Hussein's husband, Mohammed Hussein, and the couple's 13-year-old daughter, Zahara. Both are feared lost.
"We thought we were going to a better life," a shaken Hussein, a tiny woman in a long woolen coat, said Sunday between bouts of tears at a makeshift Syrian government shelter in a factory complex on the eastern outskirts of war-battered Aleppo. "We were tired of the shortages, the shelling. But now this."
The attack, apparently by a suicide bomber, occurred in the rebel-held Rashidin area outside Aleppo. The blast site raised suspicions that an opposition faction was behind the bombing. As of late Sunday, no group had claimed responsibility publicly.
But victims from the two towns were overwhelmingly Shiite Muslims, who, like other minorities in Syria, tend to support the government of President Bashar Assad.
The hard-core Sunni Islamist groups that dominate Syria's armed opposition frequently target Shiites and other Muslim minorities as apostates.
Denunciations of the attack rolled in from across the globe.
The scope of the carnage stood out even amid the widespread bloodshed and atrocities of the more than 6-year-old Syrian war, which has claimed hundreds of thousands of lives, forced millions to flee their homes and reduced broad swaths of Aleppo and other cities and communities to rubble-strewn ghost towns.
In his Easter Sunday message, Pope Francis denounced the assault as "the latest ignoble attack on fleeing refugees."
Stephen O'Brien, the United Nation's humanitarian affairs chief, said he was "horrified" at the incident.
The evacuation of the two communities was part of a complex plan hammered out over months by three countries, Iran, Qatar and Turkey. It involved moving more than 7,000 people from four besieged towns — the pro-government enclaves of Fuah and Kfarya; and the opposition strongholds of Madaya and Zabadani, outside Damascus.
The idea was to provide safe passage and fresh starts for residents who had endured years of food shortages, shelling and other hardships.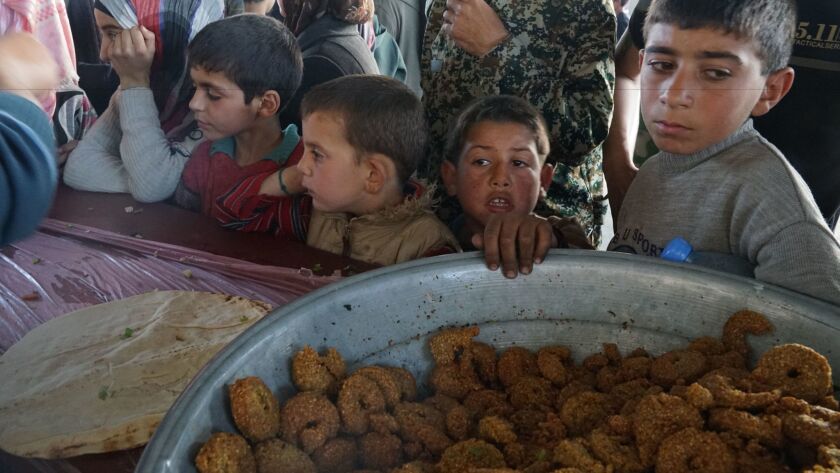 Distraught survivors from Fuah and Kfarya gathered at the factory complex in Jibreen, southeast of Aleppo. They were provided with food, shelter and medical care. Overhead, Syrian fighter jets roared into the sky from a nearby air base.
A sense of disbelief coursed through the hangar-like structures in which the survivors gathered.
Hanan al Hussein, 42, was in tears as she stared at the yellow identification card of her husband, Saeed Sheikh, who was confirmed killed in the blast.
"Why did this happen?" she repeated over and over. "Why?"
She was flanked by her daughter, Samah, 14, and son, Ali, 13.
"We still have some relatives missing," said a despondent Ali. "We don't know anything about them."
Many expressed fears that injured survivors still in rebel territory could become hostages. Others worried about how they would recover the bodies of loved ones from opposition-held terrain.
Inside the shelter, a woman crumpled to the ground when she got word that one of her loved ones was confirmed dead. An ambulance pulled up to take her to the hospital.
Many blamed the opposition for the attack. Evacuees said they had been treated roughly, and given little food and water, once they left Fuah and Kfarya and entered rebel-held territory en route to government-controlled Aleppo. The convoy of some 75 to 100 buses carrying 5,000 evacuees from the two towns got stuck in rebel-held Rashidin for more than 24 hours for reasons that remained unclear.
Late Sunday, a number of the battered buses were parked outside the shelter. The drivers were shell-shocked, wandering aimlessly amid shrapnel-pocked buses with blown out windshields.
"It was something horrible — there was blood and body parts everywhere," recalled a traumatized Mahmoud Bahloul, 32, driver of a bus that was part of the convoy evacuating people from the two Shiite-majority towns.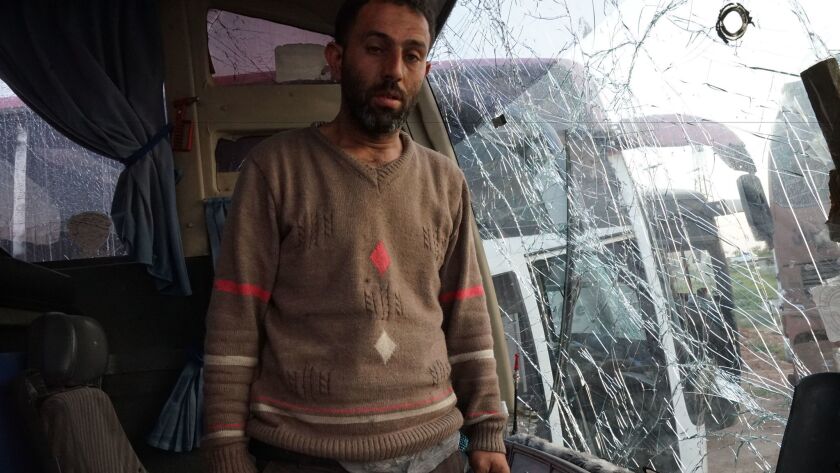 He provided a lamentable roster: 14 of the 79 people riding on his bus were killed, he said. Many were decapitated or had limbs severed by flying glass and shrapnel, he recalled, seeming to recoil at the memory. He survived with only scratches because he was sleeping in the baggage compartment below, which was somewhat shielded from the main arc of the blast.
Inside his bus, the narrow aisle was lined with blood-soaked clothing, water bottles, bags and other debris, a grisly scene repeated on other vehicles from the ill-fated convoy. In the post-blast chaos, the wounded and others struggled to exit the buses as smoke and flames enveloped the area.
"All I could think of was my three children," said the disoriented Bahloul. "I'm alive. I'm a lucky one. But I think of those people."
twitter: @mcdneville
ALSO
Amid reminders of bloodshed and oppression across the Middle East, beleaguered Christians celebrate Easter
Pressure grows for Assad to step down. But in Damascus, his backers say the alternatives may be worse
In a surprise move, Iran's Mahmoud Ahmadinejad files to run for president
---
Must-read stories from the L.A. Times
Get all the day's most vital news with our Today's Headlines newsletter, sent every weekday morning.
You may occasionally receive promotional content from the Los Angeles Times.