In a surprise move, Iran's Mahmoud Ahmadinejad files to run for president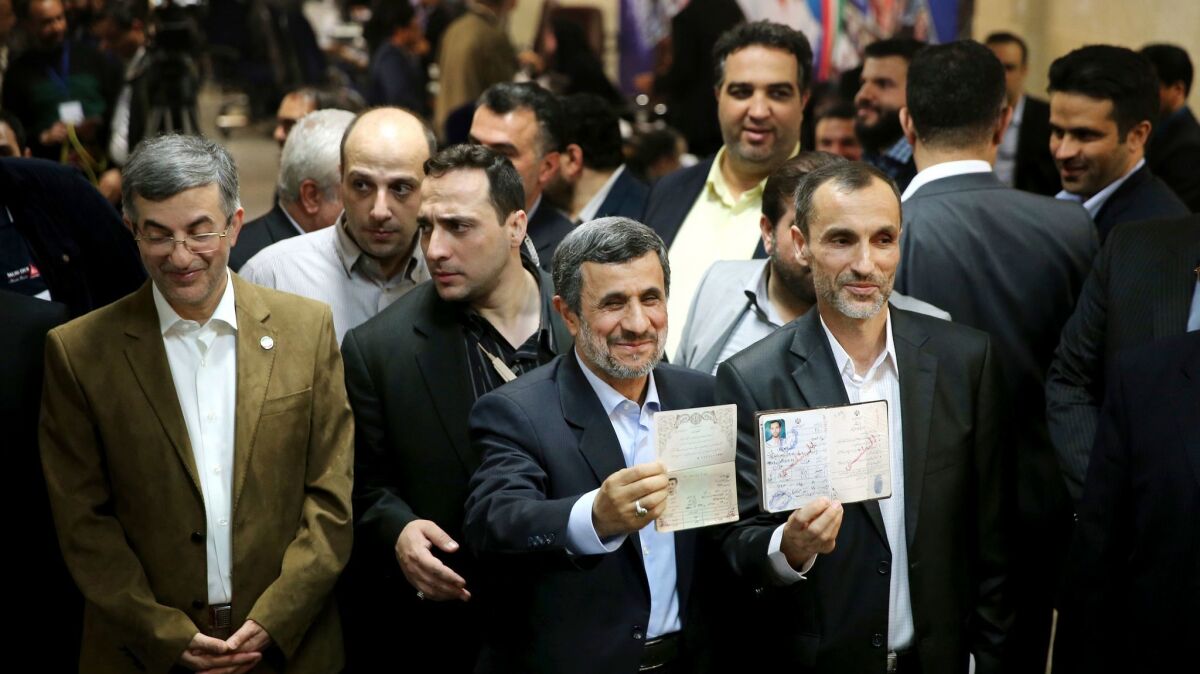 Reporting from Tehran —
Defying Iran's supreme leader, the confrontational former President Mahmoud Ahmadinejad filed papers Wednesday to contest next month's elections, a long-shot bid to regain his post that stunned even veteran political observers.
Supreme Leader Ayatollah Ali Khamenei had advised Ahmadinejad last September not to run again and the ex-president said he agreed, even calling a news conference last week to announce he was backing his former vice president, Hamid Baghaei, for the presidency.
Asked why he changed his mind, Ahmadinejad said, "The supreme leader advised me; he didn't order me," according to the ISNA news agency.
It was a typically brash move for a wily populist and archconservative who confounded Western countries during his eight years as president, when he was prone to aggressive and sometimes demonstrably false statements, such as denying the Holocaust and stating there were no gay people in Iran.
His candidacy must be approved by the conservative Guardian Council, which oversees Iran's elections and is close to Khamenei. Even many hard-liners believe the council will disqualify Ahmadinejad and Baghaei, who was briefly jailed on corruption charges.
The council is expected to finalize the list of candidates in about two weeks.
In one sign of official discontent with his move, several pro-Ahmadinejad websites were blocked in Iran beginning Wednesday morning.
The supreme leader advised me [not to run]; he didn't order me.
— Former Iranian President Mahmoud Ahmadinejad
Ahmadinejad perhaps sees an opening in the May 19 elections because Iran's conservatives have not rallied around a credible challenger to his successor, President Hassan Rouhani, a relative moderate who has championed better ties with the West. Ahmadinejad was barred from seeking a third consecutive four-year term, but is now eligible again.
Conservatives believe Rouhani is vulnerable because the economy remains weak despite the deal he made to curb Iran's nuclear program in exchange for a lifting of most international sanctions.
While in office from 2005 to 2013, Ahmadinejad instituted a program of cash transfers that was popular with working-class Iranians. But the policy also fueled hyperinflation that experts say left Iran's economy weaker in the long run.
Ahmadinejad's popularity faded further as his combative persona and support for the nuclear program alienated the West and led to the harshest sanctions ever imposed on a country.
He also clashed with the supreme leader over top political appointments, and his disputed 2009 reelection prompted the largest protests in Iran in a generation.
The ensuing crackdown saw thousands detained and dozens of dissidents arrested, the memory of which Khamenei was likely referring to when he said an unnamed candidate – widely understood to be Ahmadinejad – should not run again because it would "polarize" the country.
Khamenei's office did not issue any immediate reaction to Ahmadinejad's attempt to run.
"Whatever was former President Ahmadinejad's motivation in defying the supreme leader's advice, it will be a detrimental blow to his political career," Khosrou Dehghan, an analyst close to Iran's reformist camp, posted on Telegram, a social media app.
Some analysts believe the conservative favored by the clerical and military establishment is Ebrahim Raeisi, a former judge best known for ordering thousands of political prisoners to be put to death in the 1980s.
"The ruling theocracy is busy grooming Ebrahim Raeisi," said Hojjat Kalashi, a secular analyst, adding that Raeisi could later emerge — even if he does not win the election — as a possible successor to the aging Khamenei.
"I think Ahmadinejad can't mobilize crowds," Kalashi said. "He will be disqualified and, to some degree, silenced."
Special correspondent Mostaghim reported from Tehran and Times staff writer Bengali from New Delhi.
Follow @SBengali on Twitter for more news from South Asia
MORE WORLD NEWS
G-7 ministers aim to press Russia to stop backing Assad
France's presidential election launches with an unprecedented choice of 11 candidates
As Trump threatens world climate pact, will India keep its promises to cut emissions?
---
UPDATES:
8:00 a.m.: This article was updated throughout with staff reporting.
5:20 a.m.: This article was updated with a quote from Mahmoud Ahmadinejad, as well as background on Iranian political history and details about the election.
7:50 a.m.: This article was updated with new background information and comments from political analysts expressing views on Mahmoud Ahmadinejad's chances.
This article was originally published at 3:55 a.m.
---
Must-read stories from the L.A. Times
Get the day's top news with our Today's Headlines newsletter, sent every weekday morning.
You may occasionally receive promotional content from the Los Angeles Times.