Protest over Islamic dress code clogs Tehran streets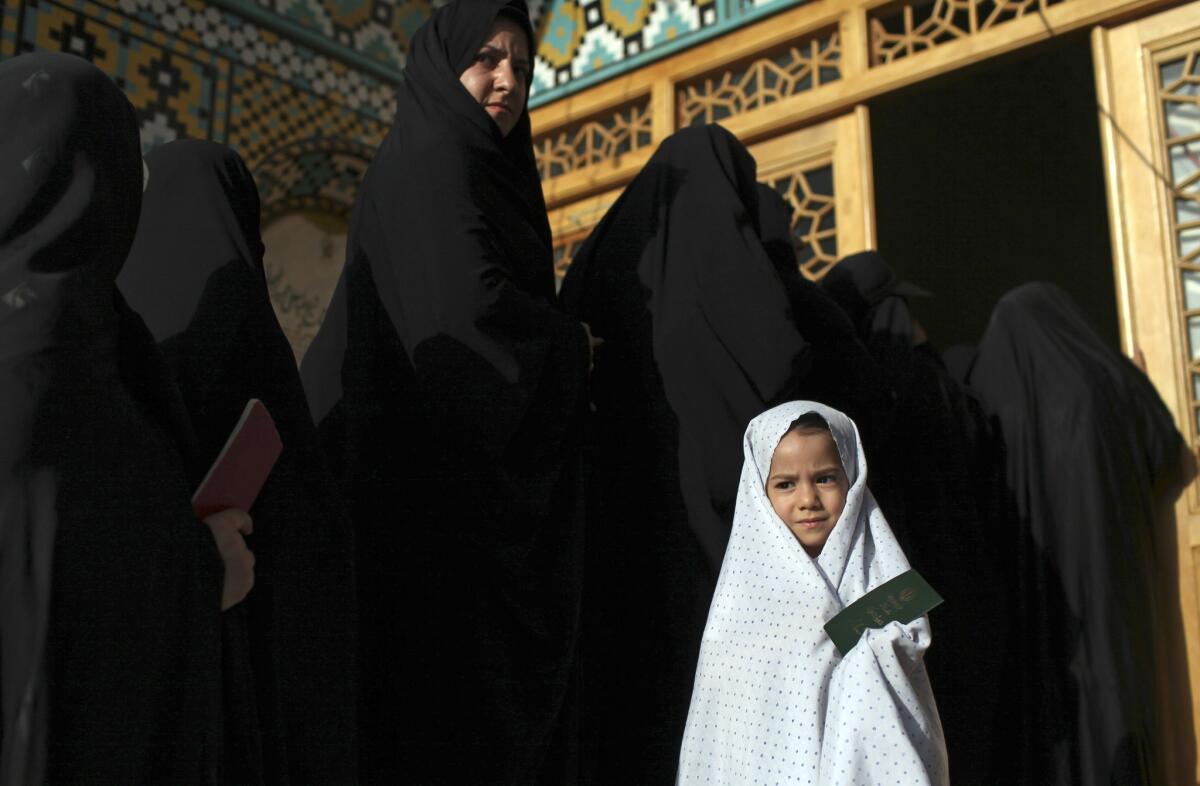 Reporting from Tehran —
Conservatives calling for stricter enforcement of Islamic dress codes for women staged a public protest Wednesday in Tehran, the latest hard-line assault on the government of President Hassan Rouhani.
About 500 demonstrators attended the boisterous rally, among them some women wearing head-to-toe black cloaks known as chadors. Many protesters carried placards bearing slogans such as "Obey Allah and his messenger."
Traffic in the capital was tied up for two hours, drawing the ire of motorists.
"Immorality is so widespread in society, we have to do something before it is too late," said one participant, Fatemeh, 23, who wore a chador and asked that her last name not be used for privacy reasons. "We Muslim women do not feel safe in the public sphere."
Under Iran's imposition of Islamic law, women must cover their hair and wear loose-fitting clothing meant to preserve female modesty. The rules are widely flouted, especially during warmer months and in more upscale urban areas.
So-called morality police make periodic sweeps, however, stopping women judged to be dressed inappropriately. Offenders can face fines and even imprisonment. Many Iranians resent the restrictions and their enforcers. But the demonstrators Wednesday demanded that authorities crack down on Western-style dress.
The demonstration, near the Interior Ministry, included many seminary students, clerics and pro-government Basiji militiamen. The marchers said they did not have a permit, typically required by the government. But the demonstrators insisted they did not need one. Police did not appear to bother the marchers.
"We are peaceful demonstrators," said Ali Fafaei, a broad-shouldered seminarian who was using his mobile device to exchange text messages with colleagues from the nearby Iravani religious school.
President Rouhani, a moderate cleric elected last year, boasted in his autobiography that he was among the first post-revolutionary Iranian officials to push for the imposition of an Islamic dress code for women. Yet he finds himself beset by criticism from hard-liners on that and other fronts.
Conservatives are furious about Rouhani's overtures to the West and his endorsement of a possible nuclear accord with world powers. Conservatives in the parliament this week unsuccessfully tried to censure Mohammad Javad Zarif, Rouhani's foreign minister and top nuclear negotiator, because of his refusal to deny the Nazi Holocaust against European Jews.
Wednesday's protests here ended with the familiar chant: "Death to the USA!"
Mostaghim is a special correspondent. Times staff writer Patrick J. McDonnell contributed from Beirut, Lebanon.
Sign up for Essential California for news, features and recommendations from the L.A. Times and beyond in your inbox six days a week.
You may occasionally receive promotional content from the Los Angeles Times.