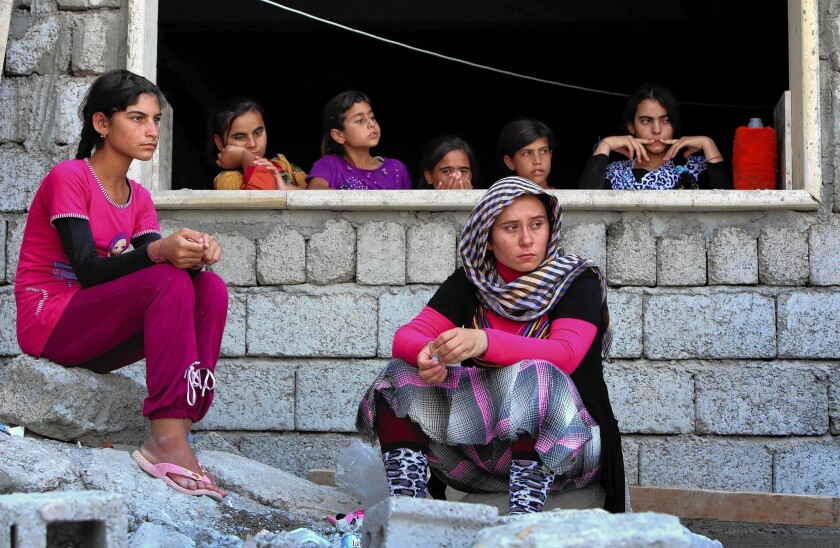 Reporting from Beirut —
U.S. cargo planes escorted by fighter jets dropped food, water and other supplies Thursday for tens of thousands of people who fled an advance by Sunni militant fighters in northern Iraq and are stranded on a barren mountain in danger of starvation, U.S. officials said.
The airdrops, intended to stave off what White House Press Secretary Josh Earnest described as a potential "humanitarian catastrophe," marked another step by the Obama administration back into Iraq, less than three years after the last U.S. combat troops left the country.
President Obama has also been considering airstrikes against fighters of the militant Islamic State, but administration officials said no U.S. ground troops would be sent.
In recent days, thousands of members of the Yazidi sect fled towns in northern Iraq that were taken over by fighters from the Islamic State, the Sunni Arab militant group that has seized control of large parts of northern and western Iraq, as well as about a third of neighboring Syria.
The Yazidis, as well as many Iraqi Christians, moved into Kurdish-held areas of Iraq to escape the militants. But about 40,000 remain trapped on Mt. Sinjar and are in extremely dire circumstances, according to Kurdish officials and international relief groups.
The Islamic State, a breakaway Al Qaeda group, said its forces had overrun more than a dozen towns and other objectives, including the Mosul dam, Iraq's largest, in an offensive that began Saturday. The militants were reported to be engaging Kurdish forces known as peshmerga just 30 miles southwest of Irbil, capital of Iraq's semiautonomous Kurdish region.
The U.S. has several dozen military advisors in Irbil who could become targets of the militant advance, American officials said. In addition, the U.S. has provided support to the Kurds to maintain their autonomy for more than two decades. Danger to the U.S. advisors or to the security of the Kurdish region could meet the test that Obama has laid down for airstrikes: that military intervention should be used when a "core U.S. interest" is threatened.
In less than a week, what had been a static front line between Kurdish and Islamist forces has swiftly been transformed into a raging battle zone. Kurdish defenses once viewed as among the strongest in Iraq now appear vulnerable, and some worried that war could come to the long-insulated Kurdish region.
The wave of those fleeing toward the Kurdish region added to what was already a massive population of displaced people. New arrivals were seen squatting in construction sites and along the sides of roads on the approaches to Irbil. Many minorities fear persecution or execution at the hands of the militants.
The entire Christian population of Mosul, one of Iraq's largest cities and long a center of Christianity, is believed to have fled after the Islamic State issued an ultimatum last month for Christians to leave, convert or pay a special tax. Mosul was among the areas seized by the militants in their June sweep through northern Iraq.
Christians were reported to be fleeing from the town of Qaraqosh, a major Christian center outside Mosul, on Thursday after Islamic State fighters occupied it. Several other Christian towns were also overrun, according to reports from the area.
Tens of thousands of Yazidis, a pre-Islamic sect with roots in Zoroastrianism, fled their homes in and around the town of Sinjar last weekend as Islamic State militants and allied fighters occupied Sinjar and other areas.
Some Sunni fundamentalists view the Yazidis as "devil worshipers" because of their beliefs. Among those also fleeing are Shiites, seen as apostates by the Sunni extremists.
In contrast to its foes in Iraq, the Islamic State is now a mobile, battle-hardened force that has at its disposal massive amounts of arms and military materiel seized since June from Iraqi army depots, including armored Humvees and other U.S. equipment. The militants are also awash in cash, garnered from extortion rackets and kidnapping, looted from banks and pocketed from selling oil on the black market, among other sources.
Kurdish authorities emphasized that areas within the boundaries of Kurdistan were well defended, but there were reports of tension and increased security in Irbil, a boomtown of more than 1 million long viewed as secure from any militant attack. Western oil firms were said to be evacuating employees for safety reasons.
The fact that Kurdish forces have been on the retreat for almost a week has raised new questions about whether the peshmerga can effectively stand up to the well-armed Islamist militants.
Kurdish forces assumed security duties along hundreds of miles of disputed territory across northern Iraq after the hasty withdrawal in June of Iraqi government troops. Kurdish commanders boasted that their forces would never retreat in the humiliating fashion of Baghdad's troops. But in the last week the militants have routed the Kurds time and again, forcing them to retreat.
Most Kurdish fighters appear to be lightly armed young recruits, led by officers who have not engaged in direct combat since fighting a guerrilla war against the forces of Saddam Hussein more than two decades ago.
"Although the peshmerga have received thorough training … many Kurdish units are still inexperienced," wrote Michael Knights, an analyst with the Washington Institute for Near East Policy, a research group. "Their older commanders fought Saddam's army in guerrilla warfare, but those experiences do not necessarily prepare them for vehicle-mounted militia warfare or counterinsurgency."
The Islamic State forces fight alongside allies from Sunni tribes and other Sunni factions opposed to the Shiite-led government in Baghdad headed by Prime Minister Nouri Maliki. The militants' promised march to Baghdad appears to have stalled in the face of stiff defense from Iraqi forces and newly mobilized Shiite militias. But the new offensive in the north has expanded the reach of the extremists' self-proclaimed Islamic caliphate.
Kurdish leaders in northern Iraq have publicly pleaded for additional military aid from the United States to confront the threat from the Islamic State, formerly known as the Islamic State of Iraq and Syria, or ISIS.
"We are left alone in the front to fight the terrorists of ISIS," the foreign minister of Iraqi Kurdistan, Falah Mustafa Bakir, told CNN in an interview Wednesday.
U.S. officials have repeatedly emphasized that the threat posed by the Islamic State cannot be solved by U.S. military action and that Iraqi leaders need to form a more inclusive government that can reach out to the country's Sunni population, a point that Earnest reiterated.
There are "no American military solutions" to the crisis, Earnest said.
News reports Thursday confirmed the Islamic State's assertion that its forces had captured the Mosul dam, chasing Kurdish forces who had been protecting the facility. There was no immediate confirmation from Kurdish officials.
Control of the dam, on the Tigris River north of Mosul, would give the militants access to vast water and power resources.
The Islamic State has already seized oil fields in Iraq and eastern Syria. To the south, the militants are besieging a second major dam, in Haditha, close to the city of Fallouja.
The Islamic State said in an online statement Thursday that it had seized the Mosul dam and more than a dozen other sites in the last five days. The group indicated the attack was in retaliation for the actions of "secular gangs" of Kurds,
in cooperation with Shiite and "crusader" forces, who had bombed Mosul, killing Muslim women and children.
Iraqi government warplanes have reportedly bombarded targets in Mosul since the extremist takeover in June. This week, Baghdad said it would assist Kurdish forces with air power in the fight against "terrorists," referring to the Islamic State and its allies.
McDonnell reported from Beirut and Cloud from Washington. Times staff writer Christi Parsons in Washington contributed to this report.
---