As Iraqi government forces close in on Mosul, Islamic State tries to create a diversion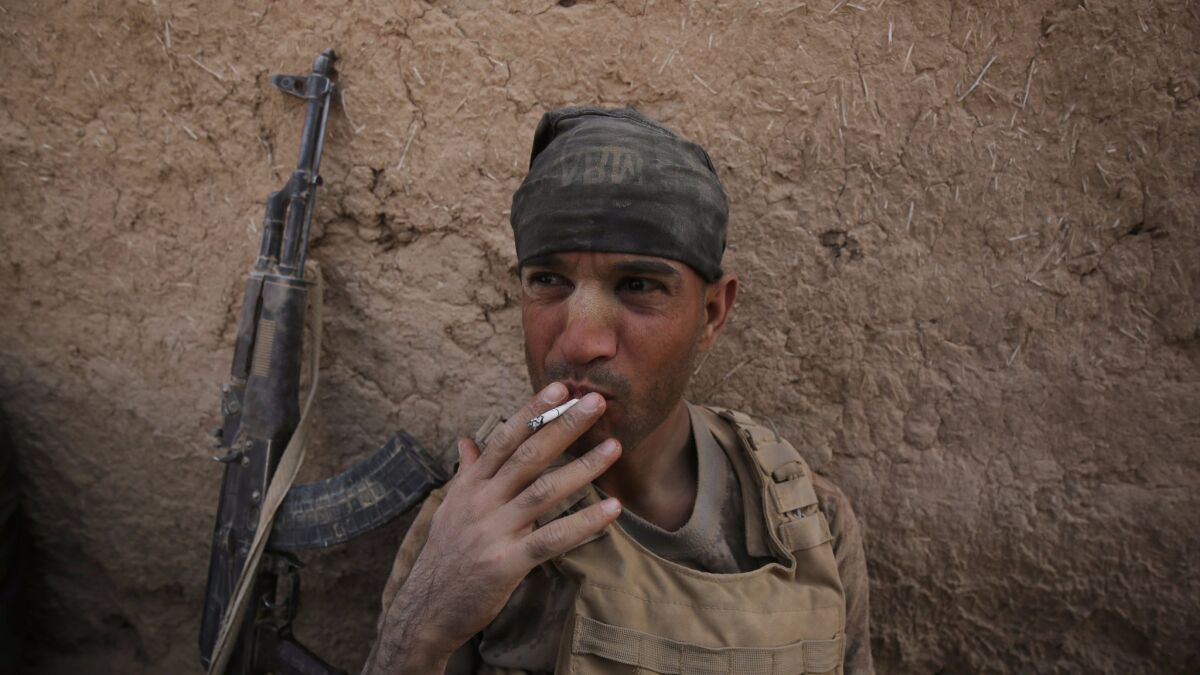 Reporting from Khazir, Iraq —
Iraqi government forces came within six miles of Mosul's outskirts on Sunday, carrying out an essential piece of the campaign to retake Islamic State's primary stronghold in the country.
Kurdish peshmerga troops launched fresh attacks against Islamic State positions northeast of the city, officials said, even as the extremist group apparently tried to create a diversion by assaulting a strategic town close to the border with Jordan.
Kurdish fighters cordoned off villages and secured parts of an important highway roughly eight miles northeast of Mosul, denying the jihadists the ability to send reinforcements into the area, according to the peshmerga's General Command.
Turkey also made its first foray into the campaign Sunday, deploying "artillery, tanks and … howitzers" in support of the Kurds, said Turkish Prime Minister Binali Yildirim, according to Turkey's Anadolu state news agency. Yildirim added that the assistance had come at the request of the Kurds.
The day before, Iraqi Prime Minister Haider Abadi rejected Turkey's offer to help with the offensive, even though U.S Defense Secretary Ashton Carter suggested that Turkey would indeed be involved during his visit to Irbil, Iraq, on Friday. The Turkish government has engaged in an escalating war of words with Iraqi leaders, who say they will treat Turkish troops as invaders.
The Iraqi military expects to breach Mosul in the next two or three days. Iraqi military and police units intend to secure the city's southern and southeastern flanks, allowing Iraqi counter-terrorism operators, backed by army units, to spearhead the fight into the city itself.
Yet even as government forces consolidated their grip in the area, Islamic State launched a fierce multi-pronged attack on the town of Rutbah, the westernmost outpost in Anbar province and a strategic waypoint linking Jordan to Baghdad, 235 miles east, said the town's mayor, Imad Dulaimi, according to local media outlet Sumariyah News.
Islamic State overran the town's police directorate, executing about 30 security personnel while others fled, according to social media reports by Rutbah-based activists on social media and Qatari broadcaster Al Jazeera Arabic. The government later said security forces there "had thwarted" the "gangs of Daesh," employing the group's Arabic acronym.
Nevertheless, the assault demonstrates once again the group's ability to mount offensives in regions said to have been reclaimed by government forces. Rutbah, which fell under the jihadists' control in 2014, was taken back earlier this year.
Bulos is a special correspondent.
ALSO
Inside the underground hide-out of an Islamic State leader
Watch: A 360-degree tour of destruction after Islamic State militants flee Iraqi town
Buying baby formula at $40 a can, and other stories of survival from Aleppo
---
Must-read stories from the L.A. Times
Get the day's top news with our Today's Headlines newsletter, sent every weekday morning.
You may occasionally receive promotional content from the Los Angeles Times.