Iraqi forces accused of human rights abuses against Islamic State fighters during Mosul offensive
A human rights monitoring group said Tuesday it had obtained videos and photographs of Iraqi security forces and allies apparently executing, dragging and mutilating the bodies of Islamic State fighters during the ongoing Mosul offensive.
Human Rights Watch said one video shows a man in military uniform with an Iraqi special forces badge on the shoulder calling for a razor, saying he wants the head of a dead fighter. Another shows uniformed fighters encircling a militant as the cameraman calls on him to put his hands up and surrender before they open fire, the group said.

For the record:
7:24 p.m. Aug. 22, 2019An earlier version of this story misspelled the name of Lama Fakih, deputy Middle East director at Human Rights Watch, as Lama Fakhi.
"The Iraqi government should control its own forces and hold them accountable if it hopes to claim the moral upper hand in its fight against ISIS," Lama Fakih, deputy Middle East director at Human Rights Watch, said in a statement released with a report Tuesday. "The failure to hold commanders and abusers to account does not bode well for the looming battle inside Mosul. Mutilation of corpses is a war crime, as is killing captured combatants or civilians."
Last week, Iraqi troops in Mosul's Zahra neighborhood told The Times that they had dragged the body of a militant, who had also been beheaded. A commander initially said the fighter was beheaded during a gunfight, then added he may have been decapitated when he was dragged, or later, by animals.
Iraqi Brig. Gen. Tahsin Ibrahim, spokesman for the ministry of defense, said the prime minister's office is investigating reported abuses by troops since the offensive began Oct. 17.
Tahsin urged caution, insisting that some videos of supposed abuses by troops – including a video released online last week showing a youth being shot by uniformed men and run over by a tank -- were created by Islamic State to damage the army's image and morale.
After Amnesty International called on the government to investigate reports last week that fighters wearing Iraqi federal police uniforms tortured and killed people suspected of collaborating with the Sunni Muslim extremists in villages south of Mosul, Iraqi Prime Minister Haider Abadi rejected the allegations of unlawful killings as "false information," saying civilians were responsible for killing the militants.
"We are sure our troops don't do bad things like that," Tahsin said. "Our forces deal with the terrorists among the civilians. That's why they lose their lives. We struggle to fix this, fighting by the rules of engagement."
He added that "we put all of our troops under review."
Iraqi forces are fighting with a coalition of domestic allies, including Kurdish, Sunni and Shiite militias. Tahsin said officials are investigating whether those involved in alleged abuses may have been among Iraqi allies. If so, he said, they will be charged and tried.
Tahsin, who was at the joint Iraqi-U.S. coalition air base south of Mosul in Qayyarah on Tuesday for a briefing, said he had not heard of the incidents in the latest Human Rights Watch report.
U.S. Col. John Dorrian, a spokesman for U.S.-led coalition forces who was also at the air base Tuesday for the briefing, said he was troubled by recent reports of abuses by Iraqi troops.
"You reach a point where there's enough of these going on you say there needs to be some higher-level discussions," he said.
U.S.-led coalition forces advise and train Iraqi counterparts, including on the laws of armed conflict. They also provide intelligence. But the forces are not involved with the handling of detainees, intelligence gathering or oversight, Dorrian said.
Iraqi forces retook Qayyarah, about 37 miles south of Mosul, from Islamic State on Aug. 25. On Oct. 3, three residents told Human Rights Watch, some militants unsuccessfully tried to retake the city, were captured and killed.
Both Iraqi troops and Sunni Hashad Asha'ri militia fighters from the local Maraeed and Jabouri tribes repelled the attack, residents told Human Rights Watch.
A resident gave the group 13 videos he said were filmed that day, which the group verified with three other residents. Human Rights Watch also verified the location of the videos from local landmarks and a cloud of black smoke in the background consistent with local oilfield fires. The Times did not review the footage, but the group posted still photos online.
The photos show men in uniform on the back of pickup trucks – at least one with a green military license plate -- dragging corpses. In the background is a vehicle from the Iraqi army's 15th infantry division.
A man in an Iraqi federal police uniform appears to be filming a truck dragging corpses. A man with insignia from Iraqi special forces on his uniform appears with troops executing a surrendering militant.
In the Cahra neighborhood of Mosul, a woman and her children walk in the streets despite the battle between Iraqi forces and Islamic State militants.
(Carolyn Cole / Los Angeles Times)
The sign of coalition bombers circles above an Iraqi soldier, but commanders say that the Americans aren't giving them as much air power as they would like. In the Cahra neighborhood of Mosul, Saffaa Moaid, 26, stands on the tank he's assigned to.
(Carolyn Cole / Los Angeles Times)
In the Cahra neighborhood of Mosul, the body of an Islamic State fighter killed overnight is found in the market area.
(Carolyn Cole / Los Angeles Times)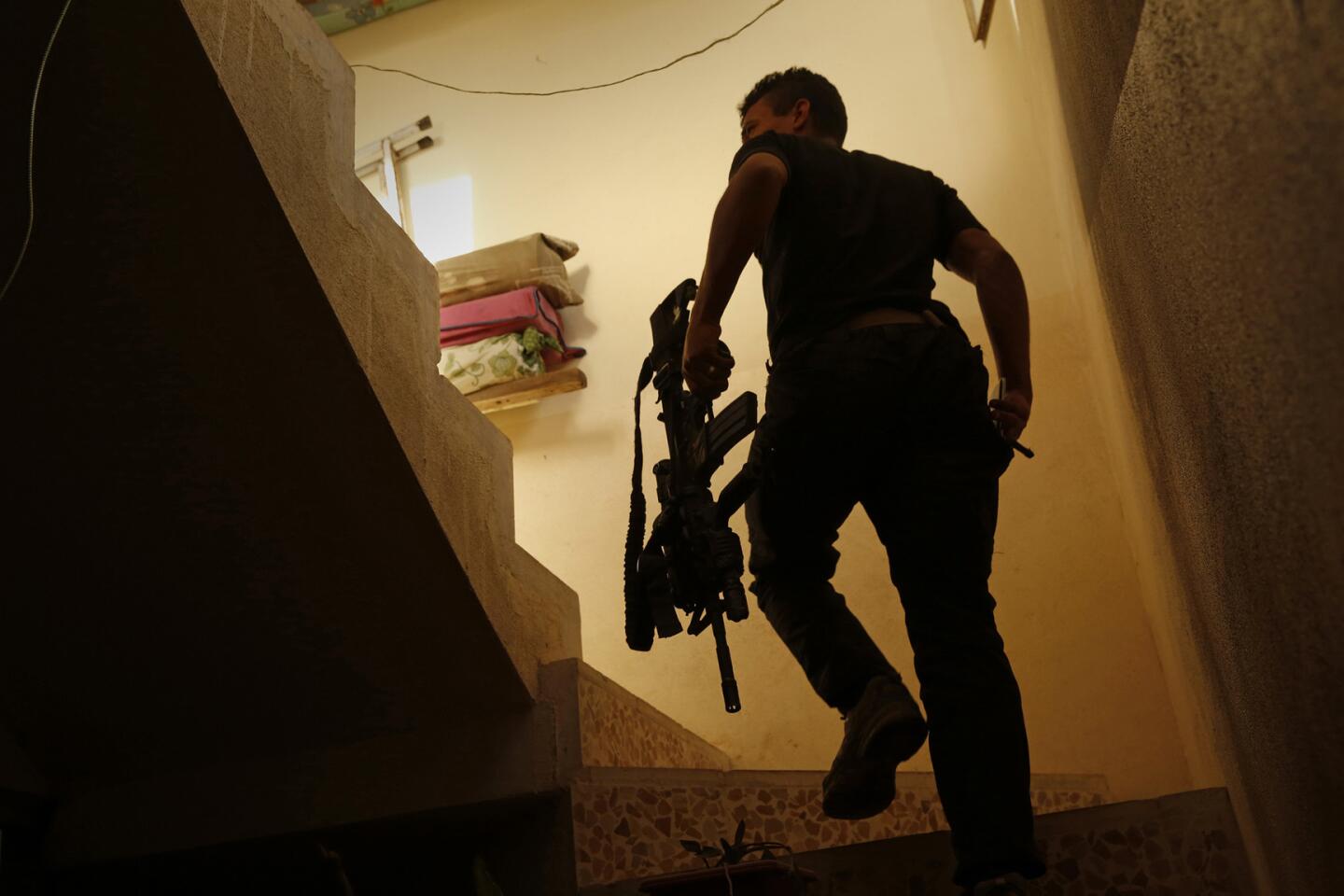 On the frontline in the fight against Islamic State in the Cahra neighborhood of Mosul, an Iraqi special forces soldier makes his way to the roof where the lookout continues for the enemy.
(Carolyn Cole / Los Angeles Times)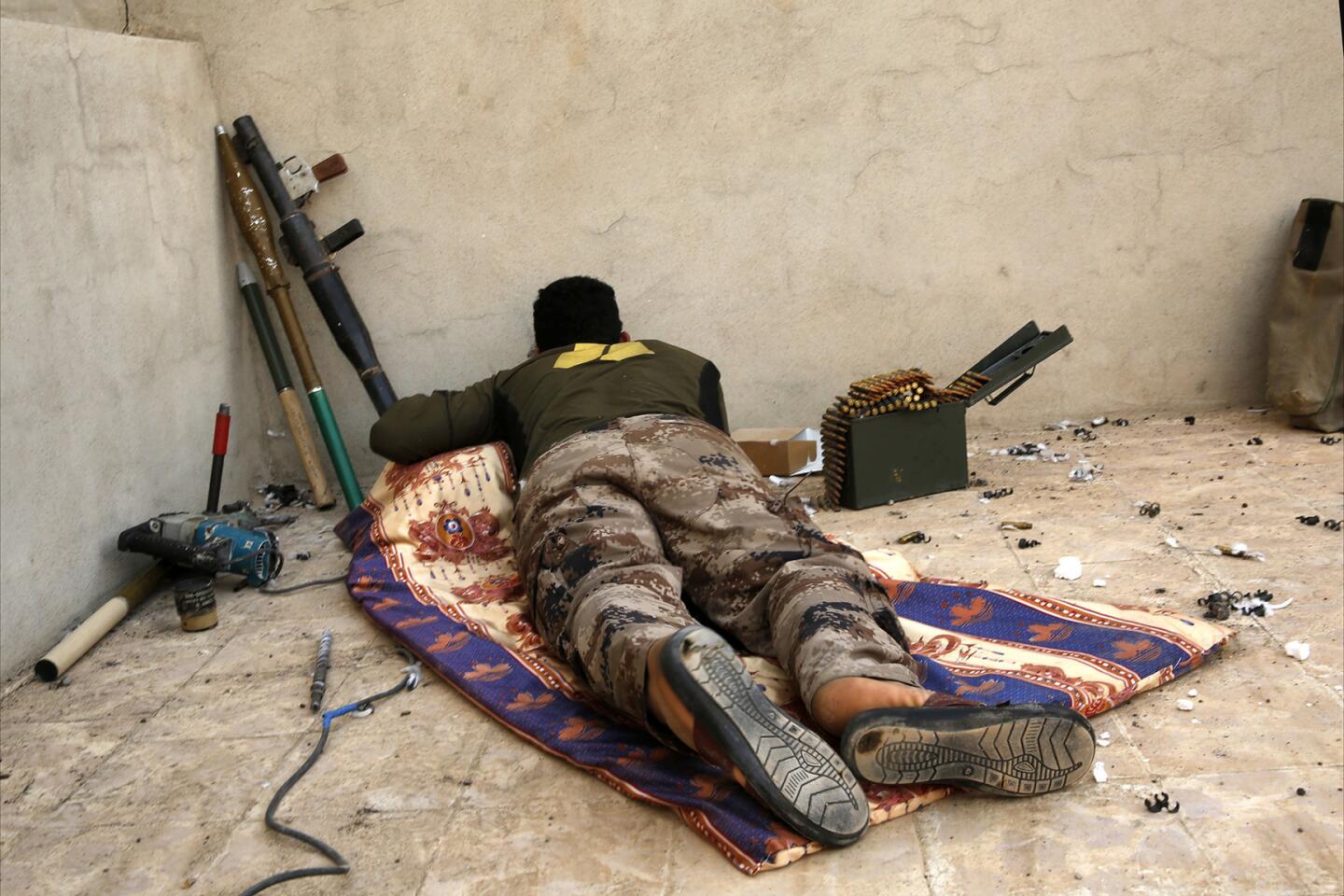 On the frontline in the fight against Islamic State, a soldier watches for the enemy through a small whole in the rooftop wall in the Cahra neighborhood of Mosul.
(Carolyn Cole / Los Angeles Times)
A convoy of Iraqi special forces troops moves through the Cahra neighborhood of Mosul, where heavy fighting has slowed progress to take back Mosul from Islamic State.
(Carolyn Cole / Los Angeles Times)
Human Rights Watch also obtained photos of a militant's body with various organs removed, another strung up by his leg at the entrance to the Qayyarah football field.
The group called on the Iraqi government to independently investigate all suspected abuses, prosecute those responsible and prevent armed groups with records of human rights abuses from participating in the offensive, including Shiite and Sunni militias.
Belkis Wille, a senior Iraq researcher at Human Rights Watch, said the U.S.-led coalition could help by increasing support for a mobile United Nations human rights monitoring unit in Iraq, which has been visiting security screening sites and makeshift detention facilities.
Earlier this year, Human Rights Watch documented abuses by the Shiite Badr Brigades and Hezbollah Brigades during the Fallujah offensive, when men fleeing the city disappeared, were tortured and killed. Both militias were seen by The Times participating in the Mosul offensive southwest of the city.
Hadi Ameri, the leader of the Badr Brigades, defended their conduct during a briefing with his troops south of Mosul this month, saying they shouldn't be considered a militia since they are sanctioned by the government and responsible to the prime minister.
Haitham Mayahi, senior advisor to Ameri, said the group had become more professional since the Fallujah offensive, learning from their mistakes.
ALSO
Koshary is Egypt's 'plate of the poor.' But it's no longer so cheap
Aleppo was Syria's factory floor. Now it's in ruins and business leaders wonder if it's safe to rebuild
Israeli officials face pushback on move to legalize settlements in West Bank
Sign up for Essential California for news, features and recommendations from the L.A. Times and beyond in your inbox six days a week.
You may occasionally receive promotional content from the Los Angeles Times.